Enjoy a hearty breakfast at the hotel. A driver will pick you up in the morning and take you to Volvo's headquarters.
Volvo
offers a unique experience for buyers overseas interested in purchasing a new Volvo. They combine picking up your new car with a personal trip in which you get to test drive your new vehicle. Then when you are finished exploring Sweden, simply drop off your car and Volvo will ship it to your USA address.
Here are the fun details: visit volvocars.com and design a digital version of your desired car. Then purchase your desired Volvo through the company's Overseas Delivery Program and save up to 8% off the US MSRP. Volvo throws in two complimentary round trip tickets to Europe with Scandinavian Airlines (SAS), one free hotel night in Gothenburg Sweden (where you will pick up your vehicle), and a fifteen day European Car Insurance coverage (including Swedish temporary registration).
That is not all! Volvo pays for the shipping (the cargo ships hold up to 7,000 vehicles), handles all clearance for customs and even pays for and arranges inland transportation to your home.
Enjoy a lunch, factory tour, education about Volvo's unique and incredible commitments to safety and a visit through memory lane – viewing some of their older models. After the tour, your car is waiting in front, ready to be driven away!
Driving in Sweden is on the right hand side of the road – the roads are well paved, with well marked signs on both the highways and small rural roads.
Driving time: about 25 minutes.
You will be spending the next few days among the Bohuslan region – an archipelago of 8,000 islands and pretty little fishing villages. Post card pleasing inlets lined by round rocky outcropping, lakes and forests are common here. So to is the fresh seafood. This is a gorgeous part Sweden.
Bohus Fortress
On your drive to Lysekil you can't miss seeing this large stone castle looking building on the right side of the freeway. Construction on this historical fort first began in 1308 – do the math, that is over 700 years ago! The fort resisted 14 sieges over time – none of which were actually successful in it's capture. The look and feel of the fort has certainly changed dramatically over time – at one point when the military abandoned it in 1786 those living in the area were allowed to take stones for their homes and gardens. A major renovation occurred in the late 1800's. Dungeons, the tower and Royal Chambers are some of the highlights of a visit here.
Oh and more mundane, on a warm summers day – an ice cream from the little store near the parking lot is worth a stop!
Driving time: 1 hour 20 minutes
Lysekil is a picturesque town that sits on a peninsula at the edge of western Sweden's archipelago. You will spend the night here – arriving in the late afternoon.
Stay: Strandflickorna B&B – this historical, charming and cozy B&B is located in a residential part of Lysekil perched right above a rocky bay. A small path leads up to a great lookout point in the back of the building. Friendly staff, well decorated with era furnishings and artwork, clean and comfortable rooms, a local breakfast and beautiful views make this a pleasing stay.
Central Lysekil, restaurants and markets are only a few minutes drive away. To book visit: www.strandflickorna.se
Mussel Safari – Orust Shellfish
After breakfast at the B&B drive to North Harbour.
Driving time: about 8 minutes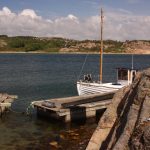 One of the highlights of exploring western Sweden and its small villages and towns along the ocean is the seafood. A unique tour and a good way to spend part of a day exploring the local seafood industry is with Orust Shellfish.
Orust is owned by two partners, Adrian and Lars. Lars grew up in the area and Adrian is originally from Holland. They met at a seafood conference and now offer tours of the local seafood industry as well as cultivate and catch seafood for their commercial operation. You will travel with both men, on their small fishing boat through the archipelago to their Mussel lines to examine the growth of the mollusks.
These mollusks grow on weighted ropes extending down into the water about 6 meters – with thin filaments protruding all around the rope. The mollusks initially attach to these filaments – in their early days of life, they are the size of the tip of a sharp pin. Over the next 18 months they grow to maturity before they are finally harvested.
The boat will dock on Lar's private island – the island is mostly composed of well sculpted, rounded and lichen covered rocks. Oh and a few sheep graze here as well. Here a small 1-room structure awaits – which is where you will enjoy the fresh bounty of your catch – either mussels or oysters. A large metal pot appears. Soon steaming smells of seafood waft from their portable kitchen. Perhaps you would like to bring some beer or wine – this would be the perfect time to invite those alcoholic delights into the company of friends!
There is no hurry to go anywhere – the aromas of fresh seafood, the gentle lapping of the water on the rocks, the quiet of the surroundings, passionate fisherman – are all what makes a visit here uniquely special.
Because of weather, most of their tours run from April through October. They typically can take 6-8 people although slightly larger groups may also be accommodated.
To reserve a tour and for more information about their programs visit: www.orustshellfish.se
Drive to Fjallbacka
Driving time: approximately 50 minutes.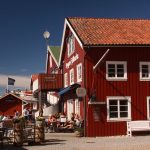 This is one of the more picturesque towns along Western Sweden. Colorful buildings line the harbor – and on a clear and warm day this is the perfect spot to enjoy an ice cream or duck into any of a number of specialty shops. Fjällbacka is also well known among Swedes because the country's top selling crime novel author, Camilla Lackberg sets her novels here. She is most known for her crime stories but she also writes cookbooks based on local cuisine.
As expected the seafood is prolific and the local cuisine incorporates this into the dishes. Interested in doing some fishing or additional exploration while here? You can go on crayfish "safaris" by hiring boats from the Fjällbacka Harbour or go on guided kayak expeditions. Are you going to be here in September? That is the heart of the lobster season!
Fjallbacka sits at the base of Vetteberget Mountain (you can walk to the summit which induces awe inspiring comments such as "wow what a view" of the town and bays and small islands.
The well known actress, Ingrid Bergman spent holidays here every year as well as on an island just west of Fjällbacka. Look for a statue of her in the town square – which is now known as Ingrid Bergman's Square. The Weather Islands are Sweden's westerly most islands and are only about a 30 minute boat ride from the harbour.
Driving time: about 20 minutes.
Vitycke Carvings and Museum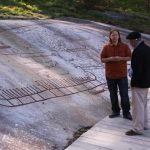 This became a UNESCO World Heritage site in 1994 – a series of bronze age carvings in a giant slab of rock are located about a 5 minute walk from the museum. Today these stone carvings have been painted red so you can easily see their original form. Some of these were carved 3000 years ago – despite being outdoors for centuries, these carvings still show extremely well. There are 500 images shown, a number of which depict boats – the sea was in fact much higher and these stone carvings would have been close to the water's edge. Guided tours are offered daily – these are highly recommended as you will learn much more about the history of these carvings then if you visit on your own.
The museum opened in 1998 – as you enter you will notice the building is in the long shape of a ship – a tribute to the historical ship building heritage in the region. The museum focuses on education – specifically relating to the bronze age and how life would have been at that time. Visit: www.vitlyckemuseum.se
Drive to Salt & Sill in Kladesholmen
Driving time: 90 minutes.
Stay: Salt & Sill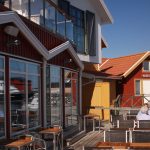 Salt & Sill, Sweden's first floating hotel with adjoining restaurant is located in the charming seaside town of Klädesholmen. This is one of the culinary highlights of a visit to this part of the country. You come here not only for the delicious cuisine but also for the intimate views of the bay and the rocky outcrops in the distance. Seafood is a big part of the industry up and down Sweden's West Coast – and this restaurant embraces this type of cuisine and shows culinary creativity – producing dishes of depth and flavor.
During a recent visit we enjoyed a delicious appetizer: salmon with pumpkin seeds, dill seeds and a blended Jerusalem artichoke spread. Next up came fresh perfectly cooked tender cod with a Swedish roe, local potatoes and wonderfully steamed yellow beets. While wanting to finish on a high note with the the main course, nevertheless we had saved room for desert and ordered the orange sherbert. Served with fresh sweet raspberries and a fine chocolate crumble – the "note" of the dinner became even higher after polishing off this tasty treat.
The hotel next door has 23 rooms spread among two levels. There is even a hot tub on top – which is "the" place to be when watching the sun set during the long summer days. In the evenings, it is quiet here – you hear the lapping of the water, some birds and not much else. It is the perfect place to relax. Visit: www.saltosill.se/index.asp/lang/1033