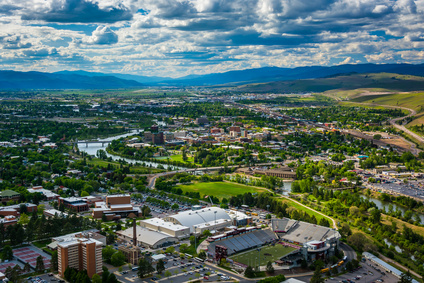 Missoula was once said to be one of the most sophisticated small towns in the United States. Like many towns in Montana, Missoula is located far from other towns. The population of Missoula is about 75,000; it is one of the larger towns in Montana.
Missoula is also a college town. The campus of the University of Montana (Grizzlies) is located just off of the 90 freeway on the east side of town at the mouth of the Hell Gate Canyon. Lewis and Clark's expedition passed through this canyon; they actually camped just west of present day Missoula. This canyon was also the site of many Indian ambushes resulting in numerous deaths.
One of the first area lumber mills began in Missoula. Currently the United States Forest Service still maintains its headquarters here; it has a research station dedicated to forest fire research.
From Missoula one can easily drive a short distance and be in wilderness areas. Rattlesnake Creek Watershed is located 6 miles north of the downtown area. Bob Marshall Wilderness and the Scapegoat Wilderness areas are not far from town either.
Historical Museum at Fort Missoula is located south on Reserve Street and then one mile west on South Avenue. This museum is located on the site of the original Fort Missoula (established in 1877). The interior of the museum contains a number of galleries – while exhibits outside, depict the history of Missoula. Five historic structures remain – all have been renovated. Bring a camera! Guided tours are available by appointment. I recommend about 45 minutes to an hour. Admission is free but donations are accepted. For more information call (406) 728-3476. www.fortmissoulamuseum.org
University of Montana was founded 1893. This is Montana's first university. A walking tour of the campus is well worth the effort. Maps and other university information can be picked up on campus. Like several colleges in California a prominent letter is displayed on one of the hillsides above campus. This "M" stands for both Missoula and Montana. One can reach the 'M' by taking a switch back trail.
The University of Montana has graduated 28 Rhodes Scholars – 12th in the nation among public universities. And 40+ international Fulbright Scholars and 7 Pulitzer Prize winners from their school of Journalism. Several other satellite campuses are in Butte, Helena, and Dillon, Montana.
The primary campus features many turn of the century brick buildings. A particularly good photo is of the large grizzly statue in front of the Main Hall housing the records and admission offices. The University Union is one of the nicer ones that I have seen. It is two stories and houses the bookstore and a typical collection of cafes and small campus shops. Books and other educational items are on the first floor while clothing and souvenirs are on the second floor.
Prior to my trip, I had been told that Montana did not have a sales tax, but it was only when I bought a T-shirt at the bookstore, and they charged me exactly $26.00, that I remembered about no tax. The University Union is unique as it is set up like an atrium featuring glass windows in the ceiling with numerous tropical plants. Plenty of seats and tables are available. Clearly, this would be a nice place to spend some time on cold winter days. Visit: www.umt.edu
Montana has a high brewery per capita ratio.
A few of our recommended microbreweries are:
Bayern is a German microbrewery located at 2600 South 3rd Street. They are open Monday through Friday from 1pm to 5pm. Phone (406) 721-1482. www.bayernbrewery.com
Big Sky is located at 102A Hickory. They are open Monday through Friday from 12pm to 5:30pm. Phone(406) 549-2777. Visit: www.bigskybrew.com