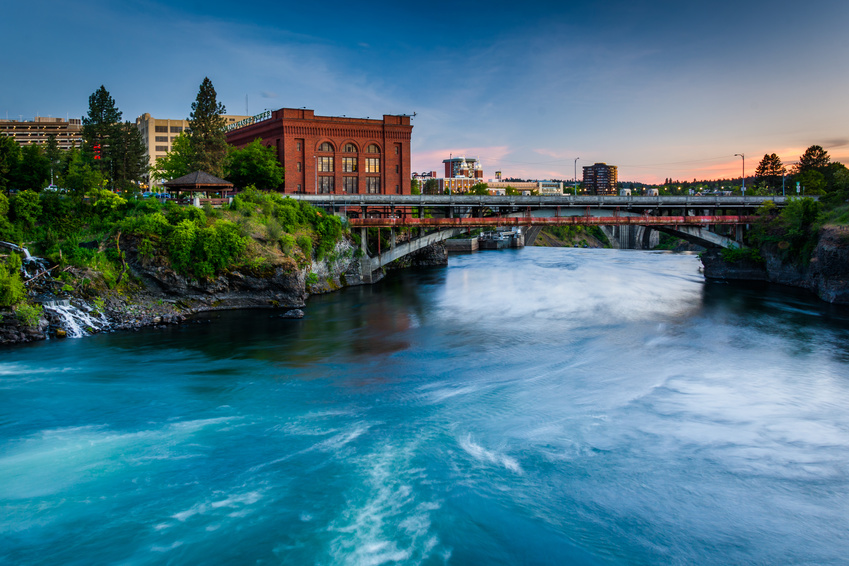 Spokane offers such a wide diversity of attractions and experiences, that even the most vanilla type personality will not be bored. Those who simply want to visit Spokane in the summer and read books can do so in numerous park. Shopping is plentiful. Intriguing architecture. Plenty of museums. Family attractions including for children.
Manito Park is well worth a visit, especially for those who enjoy plants and formal gardens however beware that there are few signs directing one to the gardens. From downtown take Washington Street to Bernard and then turn into the park or use Stevens Street. Stay in the far right lane. Go to 21st Ave and then take a left into the gardens. Manito Park is situated in an older impressive looking residential community. Several brick homes look like the front for a movie set.
Main attractions include Duncan Garden, Gaiser Conservatory, Perennial Garden, Rose Hill, Nishinomiya Japanese Garden and in Spring, the Lilac Garden. Visitors can pick up a walking tour brochure of the park at Gaiser Conservatory. Admission is free to any of the gardens in the park. The park used to be called Montrose Park but later was changed to Manito – meaning "spirit of nature" in the Algonquin native tongue.
Duncan Garden is a formal garden built in 1913; its look has significantly changed over the years. In 1996 the garden was greatly expanded, yet maintained its classical European Renaissance style including a central fountain, central water area, and geometric planting beds. The granite fountain located in the center of the garden was donated in 1956.
For more information call (509) 625-6622. Group tours are given, but only through reservation. General information: www.manitopark.org
The following attractions are within Manito Park

Gaiser Conservatory features a large glass greenhouse and several adjoining greenhouses. A nice place to work during Spokane's bone chilling winters. The greenhouse contains many assorted tropical plants. Flowers for the exterior gardens are initially cultivated here.
Perennial Garden is located just north of the conservatory and features many bulbs, primroses, and chrysanthemums. This garden quadrupled in size in 1996.
Rose Hill is a neat place to literally stop and smell the roses. Features numerous varieties of roses – over 1,500 rose bushes. Recently an arbor was added to the garden to allow climbing rose bushes to grow.
Japanese Garden is rather small. A small walking bridge is built above a small pond. Several rather large carp live in the pond.
Lilac Garden is rather dull except during the Spring when it truly becomes alive with color. The Lilac is the official flower of the city of Spokane. The same variety of lilacs also grow in Spokane's sister city, Nishinomiya in Japan. While smelling wonderful, unfortunately cut lilac flowers do not last long.
—
1st and Jefferson Street Architecture is located downtown, just south west of Riverfront Park. Worth a second glance is the tall building that curves around to a point at the end of one block. Also the members only Spokane Club sports and intriguing look. A long columnar building next door houses state offices and the nearby church is also very photogenic. All these buildings are within walking distance of Riverfront Park – about 5 or 6 blocks away.
Cathedral of St. John is an outstanding example of Gothic architecture. This is one of several interesting churches in Spokane. Features 49 bells each weighing 17 to 5000 pounds. Guided tours are offered Monday, Thursday, and Saturday from noon until 3pm. For more information call (509) 838-4277 or visit: www.stjohns-cathedral.org
Northwest Museum of Arts & Culture (formerly known as the Cheney Cowles Memorial Museum) is well worth visiting. They were closed for a 2-year $30 million expansion during 1999/2000 in which the size of the museum was more than doubled. This regional cultural treasure is located at 2316 First Ave. Their major disciplines are visual art, American Indian and regional history. Allow at least two hours. Open Tuesday, Thursday, Saturday & Sunday from 11am until 5pm. On Wednesday & Friday they are open from 11am until 8pm. They are closed Mondays and on major holidays. Senior and student discounts are available. For more information call (509) 456-3931 or visit their very informative website at: www.northwestmuseum.org
Gonzaga University is located north of Spokane River and is surrounded by Division, Sharp, Hamilton, and Trent streets. This university is one of 28 Jesuit universities in the United States. Can you name the other 27? Gonzaga's student population is about 5000. Gonzaga is one of six universities in Spokane including 2 community colleges. This picturesque campus lies near an old industrial part of town. It was built in the mid 1890's and the buildings reflect this vintage. The main building on campus is huge and houses the offices of records and the academic offices. Photographers will feel frustration if they try to photograph this building from the south side. The reason for this is that it is almost completely hidden by large trees. Jundt Hall (houses art disciplines) is located on the edge of campus towards the industrial section. It stands out because it is the only brick building in the area, and also because of its large spire. It is located next to a small pond. This museum is worth visiting because of their Rodin sculptures. Visit: www.gonzaga.edu
While at Gonzaga University be sure to stop and visit the Crosby Center, named after their famous student, Bing Crosby. Bing grew up in Spokane, attended grammar, high school, and college in Spokane. He is the most famous graduate of Gonzaga. Before he died on a golf course in Madrid, in Spain in 1977 he donated significant time, finances, and energy back to the campus. Today, several buildings are named after him, a bronze statue is erected in his honor in front of the Crosby Center, and the interior houses an intimate museum about his life. The museum displays numerous musical awards – his gold and platinum records, as well as mementos from his early childhood. Admission is FREE. Bing's boyhood home is now the home of the Gonzaga Alumni Association. It is located at 508 East Sharp Street and also houses additional Bing Crosby memorabilia.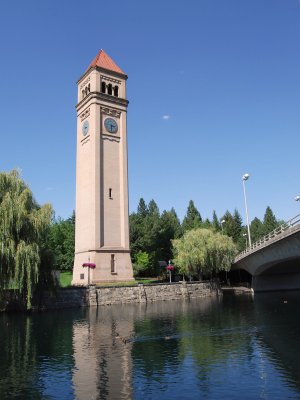 Riverfront Park is a place the entire family can enjoy. The Spokane River flows directly next to the park; I was crossing one of the pedestrian bridges when I happened upon a family fishing from the bridge. I thought they were crazy and wouldn't have a chance of catching fish from a river that flowed through a large city. Imagine my surprise when I peered over the railing of the bridge and saw several large shiny trout being held in the water by a nylon rope.
After talking to this family for several minutes I found out that this river is well fished and people always catch trout. They were using only bread for bait. It was the first time that I had heard of trout being attracted to bread. They said that they also catch quite a few salmon from the Spokane River.
Riverfront Park is the former site of Expo '74, the World's Fair. The park is 50 acres. During the right time of year, mainly the latter part of winter and Spring one can view the rushing Spokane Falls. These falls are similar to Niagara Falls in that they are very wide. In comparison to the amount of water both falls generate, Spokane Falls is much smaller.
Some attractions still remain from the World's Fair including amphitheaters, the Opera House, the Convention Center, and the IMAX theatre. This theatre features a 5 story screen showing a variety of films. Some of the nicest people I have met work in this IMAX theatre. They were extremely helpful in giving me directions and providing me with inside travel information.
Located on the south side of the park is an old carousel. It was built in 1909 by the man who put the first carousel on Coney Island, New York. Admission to this is nominal. Near the carousel is a tall clock tower, visible from most anywhere in downtown Spokane. Also check out the oversize red wagon here.
A gondola ferries people over the Spokane River, the Spokane Falls and over other parts of the park. This gondola is located on the west side of the park. Admission is reasonable. For more information call (509) 625-6600.
One other thing worth mentioning is that in the summer a large carnival is located in the central portion of the park, near the IMAX theatre. This carnival consists of many children's rides and food vendors.
Those who enjoy bike riding, consider a ride on the Spokane River Centennial Trail. This 39 mile long paved path is 12 feet wide. The trail is closed to all motorized traffic. It starts at the junction of the Spokane and Little Spokane Rivers and ends at the Idaho border. From the border, the Idaho Centennial trail connects to downtown Coeur d' Alene. www.spokaneriverfrontpark.com
Splashdown Waterslide Park is off of the 90. Take exit 289 and then go south of Mission Ave in the Valley Mission Park. There are five water slides. They are open Monday through Saturday from 10am until 7pm and Sunday from noon until 7pm. These times are good from Memorial Day through then Labor day weekend. Discounts are given for those between the ages of 3 to 11. For more information call (509) 924-3079. www.splashdownwaterparkspokane.com