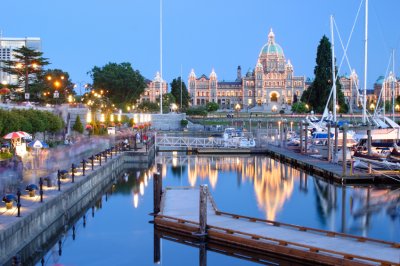 Victoria is accessible via ferry from Vancouver or from select areas in the state of Washington. Victoria is the capital of British Columbia. It is a very quaint city. It also has among the more mild climates in Canada, and often times when the rest of Canada is covered with snow, Victoria is cold, but free of snow.
The ferry ride from Vancouver to Victoria takes about 2 hours. It is a beautiful ride especially in the summer months and on a clear day. The ferry to Victoria is extremely large and contains a very large cargo for cars and trailers. I recommend getting to the ferry departure points quite early as there tends to be a long line of cars backed up waiting for the next ferry (especially in summer). If you arrive at the departure point too late you may miss the ferry and will end up waiting for the next one.
The ferry route from Vancouver to Victoria is picturesque passing by several islands. Your ferry may pass other returning ferries, carrying passengers from Victoria to Vancouver. Victoria has many old buildings and quaint walkways. Be sure to visit the Parliament buildings easily seen from the harbor. They first opened in 1898. They are quite beautiful at night – easily seen from a distance by the thousands of lights lining the outside of the buildings. It is also sorth taking some time to explore the interior.
Victoria offers excellent shopping especially on the side streets away from the major attractions. I found it quite relaxing to slowly stroll down streets window shopping, stopping to people watch, or to listen to the local street musicians. We visited the following in Victoria:
Art Gallery of Greater Victoria is located at 1040 Moss Street. This gallery is considered by many to be among the finest art galleries in all of Canada. It is the home to nationally recognized Oriental and European art from the 15th to the 20th century. They also display works from First Nation artists.
Butchard Gardens (www.butchartgardens.com), although not in the city of Victoria, deserve a special mention. Signs for this unique horticultural wonder begin appearing in Northern California and extend up the major highways in the great Pacific Northwest. In 1904, Jenny Butchard decided to change her husbands limestone quarry into a beautiful garden. The gardens have grown tremendously in size and variety from Mrs. Butchart's original plans. Today they are open every day of the year, and feature spectacular botanical displays such as the Italian Garden, Rose Garden, Japanese Garden, Sunken Garden, the Star Pond, several fancy fountains and a greenhouse full of an eclectic variety of plants and flowers.
Carr House is also worth seeing. This home is located only several blocks from the Helmcken House. This house is the birthplace of Emily Carr, one of Canada's most famous artists. A gift shop if located here and also reproductions of Emily Carr's works. It is open from June 16 to September 26, Thursday to Monday from 11am until 5pm.
Empress Hotel (www.fairmont.com) is located near the Parliament buildings at 721 Government Street. Over 100,000 people walk through her doors annually. This is an extremely fancy hotel. I find the best ways to get an overview of a city that I am not familiar with, is to take the elevator to the highest accessible floors of hotels or tall business buildings.
The Empress Hotel provides an excellent opportunity for this type of quick sight seeing. From the top story one can see the harbor and much of Victoria. From the top one can also identify possible streets for later exploration.
Take advantage of several picturesque views in front of the Empress Hotel for selfies or other photography. The city hangs flower pots from quaint looking street lamps. In mid summer these flowers pots are a blaze of reds, orange, and purples. These lamps can be used to frame the Parliament buildings in your photographs.
The Empress Hotel is also home to "Miniature World". This exhibit features over 60 small attractions. These "attractions" are miniature displays of history's greatest moments. Miniature World also displays a large miniature railway.
Helmcken House is British Columbia's oldest house still open to the public. J.S. Helmcken used to live here; he was a pioneer doctor and the first speaker in the Vancouver legislature. Today the home is filled with relics and memorabilia relating to his career. One item of interest is a medical collection from the nineteenth century.
Pacific Undersea Gardens (www.pacificunderseagardens.com) are located adjacent to the wax museum mentioned above. An underwater theatre plays films that include detailed narration by scuba divers.