Lifestyle
Travel is a major focus of these sites but also with beauty, fashion, lifestyle and or society. Our general travel blogs are categorized in our Blogs of Travel Directory, not here.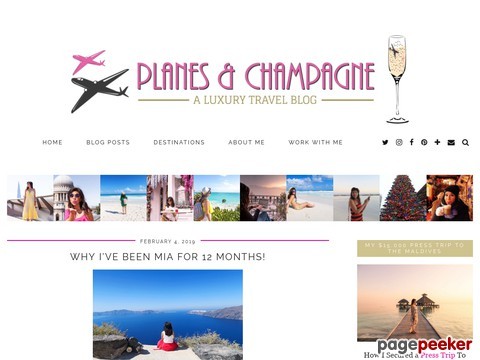 Like most people I know, I fell into my career path in banking and financial services without really knowing who I aspired to be or what I wanted to do. Now 10 years on, I've only really started to figure this out, so I am now putting pen to paper to follow my dreams of becoming a freelance food and luxury travel writer through documenting my jet setting adventures.

Founded in 2007, Purveyors of Time assists celebrities, executives, music industry professionals, personal assistants and others. The company offers on-call/as needed services as well as comprehensive packages and is small enough for that personalized service, yet large enough to maintain a large database of vendors and resources to meet every need. Gift certificates are also available
If you were looking for some daily inspiration, you came to the right place. Sarah Ann's blog will explore life in many forms, including fashion, beauty, travel & design. A thoughtful, editorial platform, the blog and social pages will provide relief for the modern millenial, looking for a quick escape.
I am Ronda Wylie. I started Say Hello Blog in 2014. I wanted a way to share my adventures and have an outlet for photography. I have always been a somewhat healthy eater, but recently I've had to do some drastic changes in my diet for health reasons. So now I share healthy recipes that inspire me to eat well.
Six out of ten is an online travel and lifestyle magazine for people who like to have fun, in whatever way that means to them. So. That could be a luxury weekend away in a spa hotel being fed grapes from a male models hand, to mud wrestling a friend to the ground at a festival. Its a place where honest reviews meet informative content, with a little light-hearted fun along the way.
Category Stats
Listings:
209
Regular:
209
Last listing added:
Dec 26, 2017