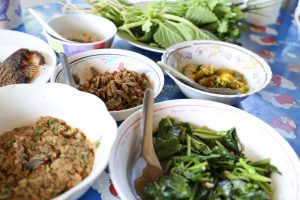 After a few days in Bangkok we took a van to our village and our niece immediately ran up to us and gave us big hugs around the legs (she is only 6 years old). She proudly showed us her Thai/English language book she has been studying in school.
One chapter quickly caught my eye, chapter 8 – "Language for Nightclubs". I spotted phrases such as "you have a nice dall face" – presumably supposed to say "doll face" and "can I have a cigarette", "Is she above board in everything", "She is a looker alright" and "Your Thai Whiskey is very strong"!
We were treated to a big dinner with various freshly grown vegetables and a culinary highlight – the rat curry. Normally we catch rats in the surrounding rice fields with homemade bamboo traps and then BBQ them. When they are used for curry apparently they are just chopped up evidenced by all the little bones in this particular dish!
Every time we return to the village there are changes – this year my wife's brothers home has walls and windows rather than just a roof on top of supporting poles. He and his wife let their daughter choose the color of the outside – her favorite color is pink, so naturally they painted the outside walls pink.
We also purchased our first house – for $1000 US dollars. This empty wooden house needs to be moved – but it won't have to travel to far. With a nearby home-site formed from soil that we had excavated to create create a surrounding ditch (to keep out the wild dogs), and a well we had dug (120 feet down for water) – we are well prepared for when we move the house.