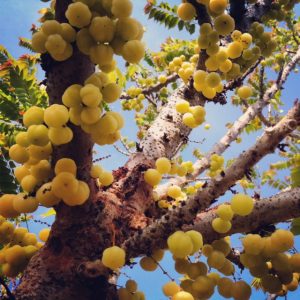 The coldest temperature Bangkok ever recorded was 10.5 C back in the 1950's. It has been cold here the entire month of December. With low temperatures running between 15 and 17 in Bangkok over night for the past few nights – it has not felt like a normal Thai winter. At our village in Eastern Thailand we have had to pull out the sweaters and warm blankets for the evening. Normally this time of year it cools off at night and by 10am the next morning it warms up quite nicely. With a breeze it has been staying remarkably cool all day.
I've been coming to Thailand, usually at least twice a year since 1996 and this is the first year I can remember sitting in our truck in the early afternoon this time of year, with the windows cracked and feeling a refreshing breeze blowing through – normally we have the air conditioning cranked up, yet we are still sweating!
This year our diet has consisted of mostly leaves and rice. We are climbing trees to harvest the youngest shoots – one particular tree produces both edible leaves and flowers. We have small leaves, large leaves, bitter ones, tasteless ones and all colors. The bitter ones are tamed best with salty fish and accompanying sauce.
Ok must cut this short; we have a pigeon infestation in all crooks and crannies of our metal roof overhangs, so I need to go help climb up the tall bamboo ladder to locate the nests and move them elsewhere – and install protective thorny plants as coverings. In the early morning it sounds like a racetrack overhead with so many feet scratching as they run across the roof back and forth. And I thought the calls of chickens at 430am was bad!