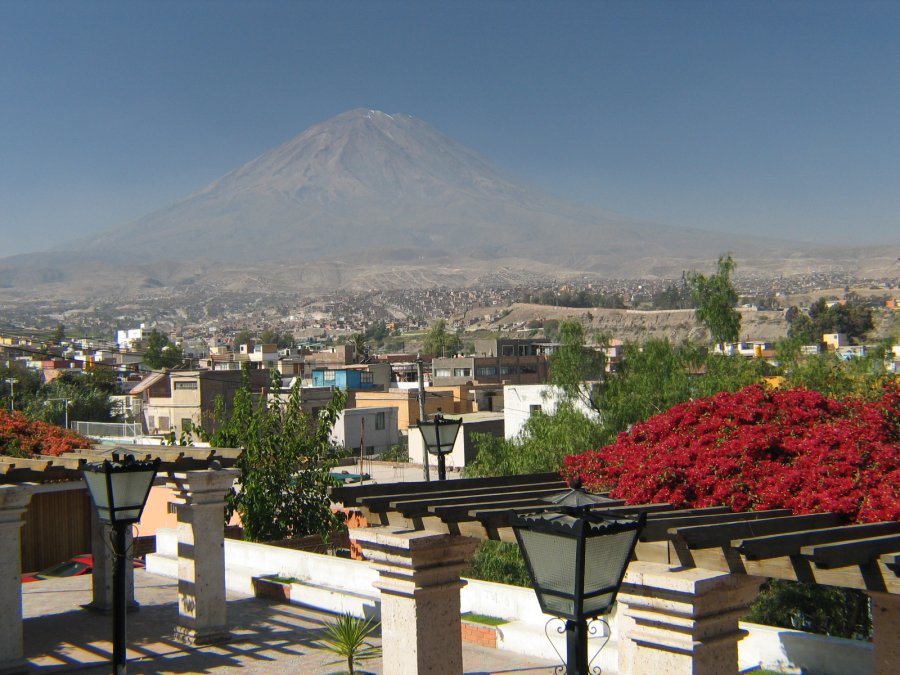 Arequipa (the white city) is predominately built of Sillar, which is the Spanish name for the white rock made from the plentiful volcanic ash in the area. Arequipa is located at about 8300 feet in Southern Peru. It is a city surrounded by tall mountains and a prominent volcano yet is only a couple of hours from the ocean by bus. The weather is dry, crisp and clear with pleasant days and cool nights most of the year. As you fly into this city you will be treated to views of Ampato the 6000+ meter peak (the highest mountain in the area) and El Misti, the famed volcano which towers above Arequipa.
The actual city spreads quite a distance in all directions and on the outskirts you will see nothing but miles and miles of brown mud-brick homes. This is a high desert town and aside from the water used from the main Chili river to irrigate local terraced fields, the surrounding parts of town are bone dry. Central Arequipa is definitely a walking town – most of the main attractions, museums, cathedrals, restaurants & travel agencies are located within several blocks of the main square, Plaza de Armas.
The weather is normally perfect during the days, not too hot and not too cold. This type of weather is very relaxing. Arequipa's weather has been called "eternal spring". The sun shines over 300 days of the year!
While in Arequipa be sure to try some authentic Peruvian food such as the Ceviche (raw fish soaked in lemon juice), the Adobo stew, the somewhat spicy Recoto Relleno (Chile Peppers with meat and potatoes) the Cuy (roasted Guinea pig), Pisco Sour (Peru's alcoholic National drink), and the Chica – a purple somewhat sweet drink made out of corn juice. Arequipa also has very good "cheese" ice cream which you can typically buy from street vendors.
Must sees include the Santa Catalina Monastery, the Santuarios Andinos museum where the mummy Juanita is housed and the world's deepest canyons Colca and Cotahuasi. We have visited Arequipa several times and always leave craving more time in this wonderful city.
Read on for more information about what there is to do and see in and around Arequipa!