You may wonder if all that gold foil you see on statues and in temples in Bangkok is real. Yes, this is real gold ranging in purity from 96.5 to 99.99 percent pure. It is an extremely time consuming process to create gold foil that thin from the original gold bars. Once the gold reaches the stage where it is thin enough to be shipped to the Wats bamboo scissors are used to cut it into small square pieces. Regular scissors are not used because the gold foil sticks to the metal of the blades.
There are several hundred wats in Bangkok. Some of the select ones we have visited during significant time spent in Bangkok are listed below in alphabetical order.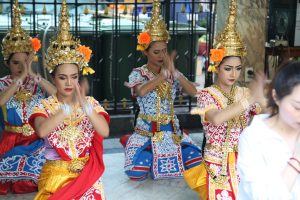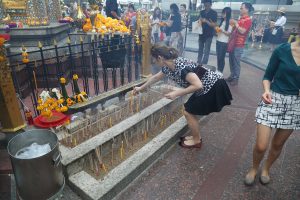 Erawan Shrine is an often very crowded Hindu Shrine located in the heart of Bangkok's shopping district at the Ratchaprasong Intersection of Ratchadamri Road. An elevated walkway leads past a number of prominent shopping areas in this part of town easily allowing pedestrians access via the second story to some of these shopping centers as well as providing a bypass over crowded intersections.
The closest BTS Station to the Erawan Shrine is Chit Lom (only a few minutes walk from the station). The shrine itself is located at the base of the Grand Hyatt Erawan Hotel at the Southeast corner of the street intersection. It features a golden image of the Brahma God and was originally constructed at this location in the 1950's. However note that this is not the original statue – it was destroyed by an insane man in 2006 and was soon replaced with a new statue.
Today it attracts people from many countries all over Asia including many from China as well as those walking by curious to see why there are so many people here. Flowers line the gates in front of the statue (can be purchased from nearby vendors) and people come to light candles and pray at it's base. We have also often seen Thai dancers performing under a nearby covered tiny stage along with musicians seated next to them. Any cash left is managed by a group that then donates it to various charities in the country as well as to select hospitals in need of equipment for their patients.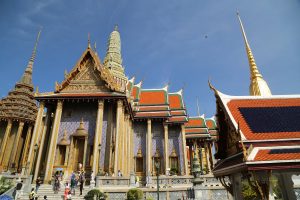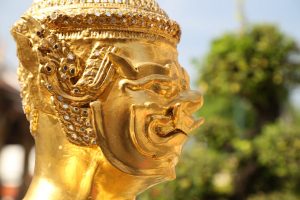 Grand Palace began construction in 1782 and is one of the primary highlights for both locals and travelers. It is open from 8:30am to 3:30pm each day. The palace is bordered by four roads – Mahathat, Thai Wang, Sanam Chai, and Na Phra Lan. Completely surrounded by high walls on all four sides, the Grand Palace spans several acres and contains numerous buildings. It is located next to the Chao Praya River.
Being one of the most recognizable landmarks in Bangkok it is easily characterized by its gleaming golden temples, hundreds of spires, and brightly colored tile roofs – most of which are a prominent dark orange color.
A couple of things you will want to be aware of: Only persons wearing long pants are allowed to enter the Palace grounds. For many years you also needed to wear closed toe shoes but recently this rule has been relaxed and you can now enter the Grand Palace with sandals. If you do not have on the proper attire, you will need to change into the appropriate attire, although we found that these rules do not seem to apply to many of the local men who work in the palace.
A changing room is located to your immediate right as you walk in the main entrance. For 200 baht you can rent long pants – you *must* have exact change. When you return the clothing the attendant will return your 200 baht.
Tickets to the Royal Palace are 500 baht. The ticket windows are located a minute or two or more if very crowded from the main entrance. You will be inspected for the proper clothing at the main gate. Be sure to pick up one of the very informative brochures available in several languages at the gate. This brochure provides a map inside and also describes in detail the history of the buildings and the palace. Aside from the sheer impressiveness of the all the detailed gold and glass work in the buildings (bring your sunglasses!) you will want to visit the famous Temple of the Emerald Buddha.
Emerald Buddha (inappropriately named because it is actually made out of jade) was first found in the northern province of Chiang Rai in 1434. It is housed in Wat Phra Kaew on the grounds of the Grand Palace. It was originally covered with plaster and when a priest saw some green coloration through the plaster, he mistakenly thought it was emerald, and the name has stuck through the centuries.
The temple that contains this Buddha feels intensely spiritual and is often well packed with throngs of people inside and outside. The Emerald Buddha is set about 20 or 30 feet above the floor on top of a gold throne. Inside will be people on their knees praying towards the Emerald Buddha. You will probably see many flowers, vegetables and other organic items that have been left here. Depending on the time of year (the seasons – cold, warm & wet the Emerald Buddha will be clothed in different golden clothes. All Royal clothes not being worn by The Emerald Buddha are found in the Royal Museum located near the ticket gates (museum mentioned below).
Note: there are many Tuk Tuk drivers hanging out near the Grand Palace and they *love* to prey on tourists! They will insist on taking you to a jewelry store for a reduced transportation rate. Even after you insist back that you are not interested they may still physically take you to a jewelry shop sometime during your ride. Its best to walk away from the Grand Palace area and flag down a moving Tuk Tuk.

In addition we've had several reports of innocent looking Thai bystanders who approach confused looking tourists and insist on helping them or giving them a ride to their next destination but then taking them to a jewelry store. Be aware of these "scams" most prevalent around the Grand Palace.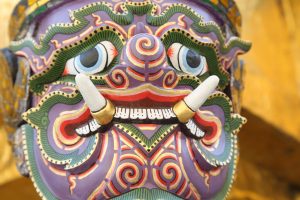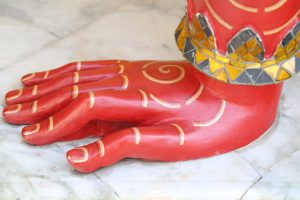 When the seasons change, the King of Thailand is responsible for removing the "old" clothes and replacing them with the current season's attire. If the King is sick or unable to do this, usually his brother or another member of the Royal Family will change the clothes.
One of the largest buildings in the Royal Grand Palace is the Chakri Maha Prasat Hall (Royal Throne Hall).
As you leave the main palace there will be an exit to the main courtyard and the Chakri Maha Prasat Hall (Royal Throne Hall). Be sure you are ready to leave as there are signs saying you are not allowed back into the main palace once you exit to the main courtyard courtyard. Guards are on duty here to make sure of this. Be sure to visit the Coronation Room – this is where the world's longest reigning monarch, the King of Thailand was coronated in 1946. Photography is not allowed in here. Nearby weapon museum rooms are also available – some displaying very old weaponry and worth visiting.
Notice the European influence in the lower two thirds of the Royal Throne Hall – it was designed by a European architect in the 1880's. The upper half contains several tall colorful spires. There are some very nice bonsai trees growing in front of this building. In addition you might want to consider taking your photo with one of the Thai Royal Guards standing in front of this building. Sometimes I've even been able to make them smile for the photo but more often then not, no matter what I say, they retain that grim looking expressionless stare. Other times security guards don't allow you take photos of the Royal Guards.
Queen Sirikit Museum of Textiles is located next to the ticket booths inside the main entrance to the Grand Palace. As you enter the main gate walk straight past the clothing attendant on your right and in several hundred feet turn left toward the actual stalls that you walk through when you have your ticket in hand – you make your left turn once you reach the ticket booths. On your right is an unassuming entrance into the Queen Sirikit Museum of Textiles. I suspect most tourists fly right by this museum – with most wanting to simply get inside the Royal Palace as quickly as possible.
This museum is well worth visiting – not to mention the air conditioning inside works quite well. This museum showcases how Queen Sirikit brought Thai silk to the world and how it ultimately become one of Thailand's most associated products. The museum also features many dresses from Queen Sirikit's personal collection. Tour groups often visit this museum, so one minute a room might be full of people and then the next minute quite empty. The tour groups tend to push there groups through quite rapidly, probably in anticipation of seeing the actual palace.
"Next door" is the coin museum featuring a number of ancient coins. You enter this museum through the far right walkway next to the main entrance stalls – and you use a separate ticket to gain entry that was given to you at the main ticket office. This museum is fairly small – you used to be able to access it from the Queen Sirikit Museum of Textiles on the second floor but during our latest visit access was closed..
It is also interesting to note that Thai people can visit the Royal Palace for free. In addition if you are a foreigner and you are with a Thai person you may be granted free entry (but not usually). More information and latest updates about the Royal Grand Palace can be found here: www.palaces.thai.net Estimated visit time for the Grand Palace and Museum is 180 minutes.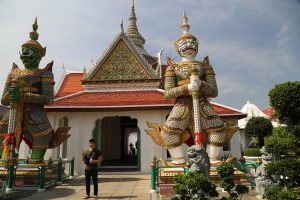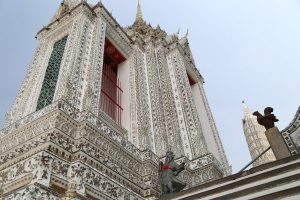 Wat Arun , a smallish temple located on the western side of the Chao Praya River, is accessible via ferry boat from Wat Po directly across the river using the Tha Tien Pier. There are many small local restaurants located along the wood planks that border the edge of this portion of the Chao Praya River. For authentic Thai cuisine you can't beat some of these restaurants.
From select parts of Wat Arun you have excellent views of the Grand Palace and of Wat Po on the other side of the river. You will certainly be attracted like a magnet to a refrigerator to the tall tower, called Phra Prang, which is in the center of Wat Arun. It is worth walking around this tower about 1/3 of the way up on the concrete walkway. This tower is 243 feet tall and is decorated with thousands of little pieces of colorful porcelain.
Even though Wat Arun is also known as the "temple of the dawn" – sunset is an excellent time to be here as there are not that many crowds and its a peaceful time watching the sun set over the Chao Praya River and Bangkok. Estimated visit time 60 minutes.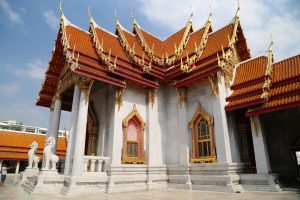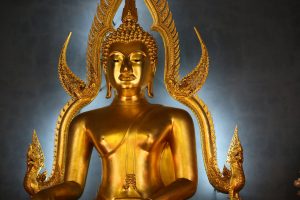 Wat Bench amabophit (called Wat Ben by locals) or otherwise more simply called the "Marble Temple" is highly worth a visit (and certainly sees less visitors then more famous Wats like Po and Arun – both because it is small and possibly becuase of it's location outside of the historic center of Bangkok near the Chao Praya River). Located near the Dusit Palace, Dusit Zoo and the Vinmamek Teak Mansion. Worth making the trip out here from the central historical core of Bangkok. Also can take a taxi from the Victory Monument Skytrain stop which is how we usually make this trip based on where we stay while in town.
Opulent and elaborate are two words to easily describe this remarkable temple. It was built in 1899 and it's name translates to "Temple of the fifth King located nearby Dusit Palace". It was built in part with Carrara Marble imported from Italy (to see more nearby Carrara marble in use visit the Ananta Samakhom Throne Hall located just down the street.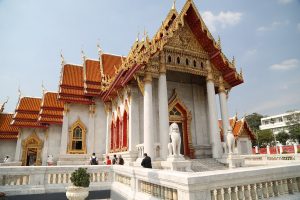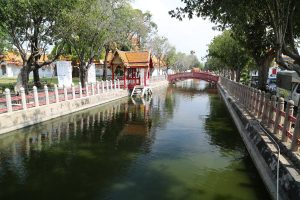 Very popular with visitors so a nominal admission fee is charged. Be sure to enter the primary building on site, the ordination hall – one of the most impressive back lighting for a golden Buddha we have seen is housed inside. The Buddha dates from 1920 and stands over ashes of King Chulalongkorn. The nearby courtyard and views of the ordination hall are equally as impressive. A canal runs through the property with some quaint curved bridges standing over the water. Also of note is this wat is featured on the 5 baht coin and was in an episode of the TV show, The Amazing Race.
During our latest visit, several large banners erected presumably by Thailand's Tourism Authority, offered visitors a chance to take their photo in front with the words as a backdrop – "I am at Wat Ben".
Not a lot of food vendors in the immediate vicinity.

Wat Bophitphimuk Worawiharn has seen a number of name changes over the years based on certain eras and kingdoms. One of it's names 'Lain', referred to all the mud in the area due to its low lying location relatively not far from the Chao Praya River.
At one point cholera killed many people in the area and their bodies were taken to this temple's graveyard. Originally wood – it has seen been replaced by concrete. The residences of the monks on site are built in both Thai and Chinese styles. Within about a 15 minute walking distance of the Siam Museum.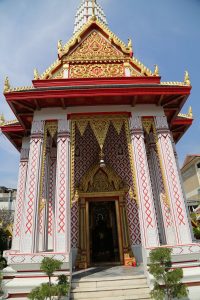 Wat Chakrawatrachaw Woramahawihan or otherwise more simply known as Crocodile Temple features several small and one large crocodile – kept in several enclosures right at the base of one of the temples on property. Located on the edge of Chinatown this wat was first founded as a royal temple in 1825 (pushing nearly 200 years old). Plenty of history here aside from the novelty of seeing crocodiles housed on the grounds!
Like a number of lesser visited wats around town we found some of the buildings locked on site during our visit. An open-air car parking area is located adjacent to the temple. A security guard collects a nominal parking fee as you exit. Also houses one of the larger communities of monks and novices in Bangkok. A very long and narrow, very crowded during the day shopping soi is located just down the street.
Wat Chana Songkhram Rachawora Mahawiharn (how is that for a mouthful) is located between the Chao Praya River and Khao San Road (within a very short walk of Khao San Road). Popular with locals and tourists alike. We don't often see nuns in Thai temples, but we have seen nuns at this temple before. During our latest visit to this temple, a local was introducing himself to tourists and showing them around the temple. A stop here is a welcome respite from the often chaotic and noisy nearby streets including Khao San Road.
Estimated visit time 20-30 minutes.
Wat Hua Lampong is locacated near Bangkok's busy Silom District and can easily be accessed via the closest Metro stop, sam Yan (directly next to the main temple entrance) or a short walk from the Sala Daeng Skytrain stop. This is a sizable temple that we have visited numerous times. Because it is located in such a crowded part of town, it has always been quite crowded during our visits.
Nominal admission fee charged to tourists to enter the main temple. A number of shrines are located on the property; a number of monks also live on site. Estimated visit time 20 minutes.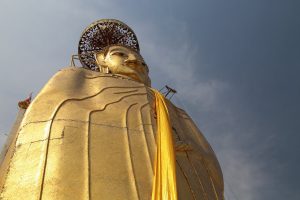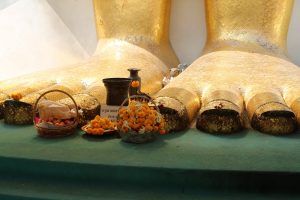 Wat Inthar awihan (Wat In for short) is home to the one of the world's tallest standing Buddhas – at 32 meters tall. The Buddha is dressed in gold tiles that rise the length of his body. Construction started in 1867 and was finished in 1927. The abbot at the time of the early construction actually died at the base of the statue. It can be hard to get good views at the base of the statue (sometimes there are portable tents setup here in the way – if you walk to the nearby Ordination Hall (prayer hall) near the main entrance and climb up the steps you will have a better glimpse of its size from slightly further afar. Regardless of where you view this, this statue is quite impressive.
The statue was refurbished in 1982 with golden tiles. This held up pretty well into the 1990's. During our most recent visit in 2017, some of the files are showing wear and some are missing, especially in the lower part of the statue. Entry is by donation only. Wat In borders Thanon Wisut Kasat is only about a 10-minute walk from Khao San Road. Estimated visit time 30 minutes.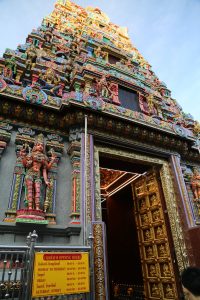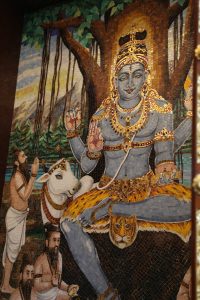 Wat Khaek Silom or it's more formal name Sri Mahamariamman Temple, is a beautiful and rare (for Bangkok) intricately designed Indian temple. It was built in 1879 by a number of Indians living in this area. Easily accessed via a short walk from the Chong Nonsi Skytrain stop, it is located at the corner of Silom Road and the small soi, Pan Road.
Easily noticeable due to it's unique and colorful design. And you may also notice the flower vendors lined up along Pan Road selling a a variety of mostly yellow flowers for those who come to the temple to worship. No photography is allowed inside but you can take photos from the street.
An annual 10-day/10-night festival is held here in September/October called Navaratri – in which attendees worship a variety of gods. Look for a procession on the last day of this event in and around this temple in which part of Silom is actually blocked from through vehicular traffic. Also a number of budget hotels and hostels within a very short walk of this temple.
Wat Pasee was originally built in 1847 by a landowner who collected fees from nearby merchants. A cemetery on site has a rather dark history – it was used by the government to behead prisoners and later by execution (using guns). Located next to the raised intersection of Ekkamai Soi 63 and Phetchaburi Road – don't go to this intersection but rather turn off on a small side soi just before entering this intersection as you drive north on Ekkamai Soi 63.
Very noticeable because of the newer extremely golden hall that was more recently built next to the main temple. Also several very tall buildings located nearby contrast dramatically with the temple buildings. The Ekkamai BTS Station is about a 20 minute walk (or hire a taxi from there).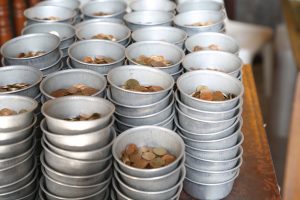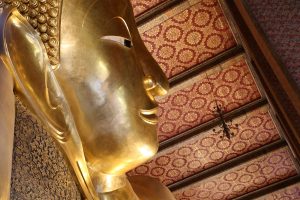 Wat Phra Chetuphon or also called by the name Wat Po is home to the reclining Buddha. This is the oldest and biggest temple in Bangkok – it is quite impressive and well worth your time to visit it (very photogenic). There are colorful temples, tall spires and ornate artwork everywhere! Upon close inspection you will find that the colorful buildings, spires and statutes are decorated with thousands of small pieces of colored glass. Colorful paint is liberally applied to many of the statues.
The inside of Wat Po underwent a remodel including the reclining Buddha itself as well as the wonderful detailed murals on the walls inside. As a result when you visit this temple today everything is in excellent shape. This Buddha was created from concrete and bricks and is covered with a layer of real gold. The feet of the reclining Buddha are quite impressive – they are layered with mother of pearl. Also spend some time looking at all the very detailed murals on the walls as hundreds of these were painstakingly restored by very patient individuals.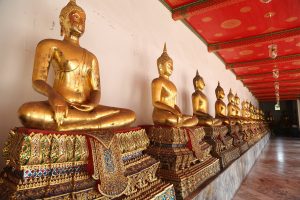 We have visited this temple many times – several times during the actual remodeling. We watched one of the workers work on a mural; it was almost too painful to watch – his progress was excruciatingly slow. Also note that if you arrive at this temple in the afternoon chances are the ticket attendants will yell at you and say "5 minutes, 5 minutes to closing" when in reality if you are there anytime in the early to mid afternoon you are no where near their closing time. We asked the guards why they say this and they say it is to try and get people to hurry up and not wait around blocking the entrance!
Also note, that Wat Po is famous for their massage school for both foreigners and Thais. You can come to Wat Po and pay for a massage. More information is available here: www.watpomassage.com Estimated visit time for entire temple 60 minutes.
Wat Rachsingkorn (Royal Temple) is located 'next door' to Asiatique – there is no direct access from Asiatique but visitors may access it via Soi Charoen Krung 74 off of the main Charoen Krung Road – just a short walk down this soi and then across the temple's own parking lot.
It is located close to the edge of the Chao Praya River. Features a pretty golden stupa (must smaller then the big one at the Grand Palace) and old bell and an ordination hall. We saw no other tourists here during our visit – some bathrooms in the far back hidden a bit behind some of the buildings on site.
Wat Ratchaburana Ratchaworawiharn was built by a Chinese man (Liab) who lived in the area – like other wats we have visited, this one also has gone through a number of name changes. Housed numerous images of Buddha during one period. Was damaged by bombing during WWII and was subsequently rebuilt following the war. The present temple was rebuilt in 1960.
Located close to the Rama I Memorial Bridge and a sizable public park. Opens early! 6am.
Wat Samphandhawongs (Wat Koh) is located in Chinatown – a visit here makes for a relaxed time away from the crowds of some of the larger wats. Like many of the wats we have visited, this one also dates from the Ayutthaya period. Was called Wat Koh at one point. The main hall was locked when we visited but nice monk indicated we could walk around at our leisure. A picturesque small wat that is certainly off the beaten path.
Located along the one way Song Sawat Road near the edge of Chinatown.
Wat Sapatum Wanaram is a great place to stop if you are looking for some relaxation and quiet time after shopping in many of the huge shopping complexes that surround this wat. It is the temple of the King Rama the IV and is located between two major shopping complexes, Siam Paragon and Central world.
Despite being located in the middle of this concrete jungle, once you are in the Wat – its like being in a totally different world. You are surrounded by trees and it is much quieter than the nearby roads. Look for the elephants with long white tusks located on the grounds; they often contain temporary decorations.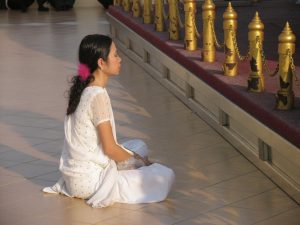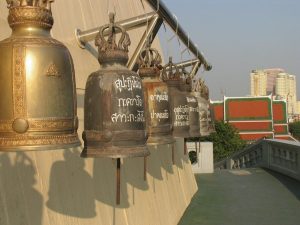 Wat Saket or "the golden mount temple" is located not far from the Chao Praya River not far from all the main temple complexes. It is situated on top of a small man-made hill and as a result from the top of this temple you have excellent views of most of Bangkok in 360 degrees. What differentiates this temple from the others, is its hill top location (over 300 steps need to be climbed to reach the Stupa) and the sheer size and brilliance of the golden Stupa located in a small courtyard on top of the temple.
There is a small entry fee to enter the uppermost part of the temple. This area becomes extremely crowded during National Holidays. Estimated visit time: 45 minutes

Wat Suthat is located about a kilometer from the Tha Tien Pier along the edge of the Chao Phraya River – you can either walk or catch a taxi nearby this pier. This is one of the older temples in Bangkok with construction having first began in 1807 but not finished for another 40 years. The "giant swing" is located in front of this temple. Admission to the temple for foreigners at last update was 20 baht – payable on the entrance closest to the Giant Swing.
Wat Sutthiwararam is a very tiny wat located along the river side of Charoen Krung Road – about a 20-25 minute walk south of the Saphan Taksin BTS Skytrain stop and about the same distance walk north of Asiatique.
This was originally named Wat Lao – was deserted for many years. It was restored in 1885 and today features an ordination hall, bell tower, crematorium and cemetery, a pavilion and a school. Totally off the tourist map – good example of a temple that is not busy with tourists every day!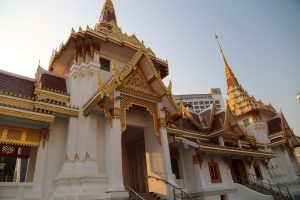 Wat That Thong dates from a site where two ancient temples stood – more recently a original civil temple was built in 1937. Originally was intended to be used to build a Bangkok port. The temple today stands in place of the original two temples and takes it's name by combining parts of the names from these two temples. Located almost directly across from the Ekkami BTS Station and near the Eastern Bus Terminal – it allows for very easy access on foot. To make sure you are on the correct side of the street as the temple when you exit the BTS station – choose Exit number Three.
Nice place to walk around leisurely among the buildings – a school is next door and can be crowded in the early am with students coming to school. A pretty golden Buddha is contained inside the main temple. Visit: www.facebook.com/pages/Wat-Pasee/243856929057199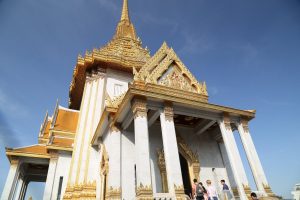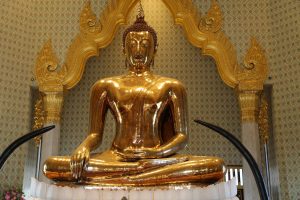 Wat Traimit is home to The Golden Buddha, the world's largest solid gold statue of a Buddha (somewhere between 700 and 800 years old). It weighs over 5.5 tons and is quite impressive. It was originally covered in plaster to conceal it's true value from enemies invading Thailand many years ago. It is 15 feet tall and measures over 12 feet in diameter.
If it is crowded you may need to hold up your camera over your head in order to get a decent photograph. And it most often is very crowded – this is a popular stop with buses and tour groups and as an independent traveler you most likely will have to weave your way through them to reach the ticket counter. Open daily from 8 until 5pm – we've been here soon after 8am on a weekday and it was already crazily crowded!
This wat is located close to the Hua Lampong Railway Station (the main train station in Bangkok). If you know where to look there are faucets and hoses just off some of the main paths leading into this wat – these are a good source for splashing cold water on one's face and clothes.
Also notice the neat trees in which the branches are thin and cordlike and hang almost to the ground level. Several of the vendors have tied some of their goods to the ends of these branches. Be sure to pick up a free brochure which describes the history of this great stature. Estimated visit time 30 minutes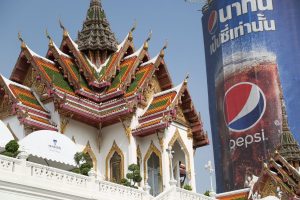 Wat Yannawa or simply called the 'boat temple' is located just a few minutes walk south of the Saphin Taksin BTS Skytrain stop (on the river side of Charoen Krung Road). If you stand in front of the entrance you can actually see this skytrain stop not far down the street. Wander in the short distance it takes to enter the grounds past the imposing gatehouse and you will soon discover why this temple has it's name. A prominent boat modeled after a 19th century Chinese sailing vessel serves as this temple's viharn (sermon hall).
The old feel of this temple contrasts dramatically with some of the newer buildings in the area. A dramatic view of the nearby Ghost Tower is also available from the temple grounds – with giant ads draped down this never finished skyscraper also contrasting dramatically with the temple.
This temple seems to be under most tourist's radar – during our visit we saw only a couple of other curious tourists on the grounds.