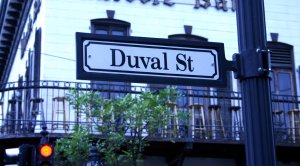 These are just a few of the many neat shops that can be found on or around Duval street in downtown Key West. Most of the ones listed below happen to be ones that Dave visited. They are by no means the only ones worth seeing.
One neat thing about these shops that you can't find in most small US cities is that many of them are open late into the night. Most are open until at least 10pm. Key West is also home to many different artists.
Alexandre Art Gallery, Finest European Creations specializes in furniture, antiquities, and other neat art objects. This store is well worth a visit. For more information about objects for sale call phone 305 296-7722. You can email Lucien Benisti at Bemosto@IBM.NET
They also have a store in Boca Raton.
Columbian Emeralds International Cuban Club is located on Duval Street. Besides the whares sold in the main part of their store they have a separate room devoted entirely to cigars. The prices range from several dollars to over 100 dollars. They have cigars available for all tastes. www.keywestcubanclub.com
Cuba! Cuba! Specializes in products from Cuba. They are located at 814 Duval Street. They have many neat objects of art and other trinkets. This store is worth a visit if you are interested in Cuban heritage. Phone 800 621-3596 or 305 295-9442. Their web page is www.cubacubastore.com
Fletcher on Duvall of Key West Inc. . carries Island furniture and other accessories. They are located at 1024 Duval Street. Phone 305 294-2032. Ask for Bob Chaplin.
Margaritaville Store is located on Duval Street next to the Margaritaville Cafe. This is an excellent store to load up on Jimmy Buffet memorabilia and T-shirts. www.margaritavillestore.com
Wings of Imagination is a beautiful butterfly gallery well worth a special trip to upper Duval Street. Galleries like this are far and few between. They have several different size display cases of brilliantly colored butterflies for sale. The prices range from approximately $20 to over $3000. You can purchase a single butterfly or you can buy up to 100 in a single display case. All cases are hanging on the walls. They ship just once a week, and due to the limited space, the cases that sell contain a sold sticker until they ship them. This gallery is located at 1108-C Duval Street. Phone is 305 296-2988. They are found on the web at www.wingsofimagination.com
Kermit's Key West Lime Shoppe sells Key Lime pies – you can even order online using their website: www.keylimeshop.com