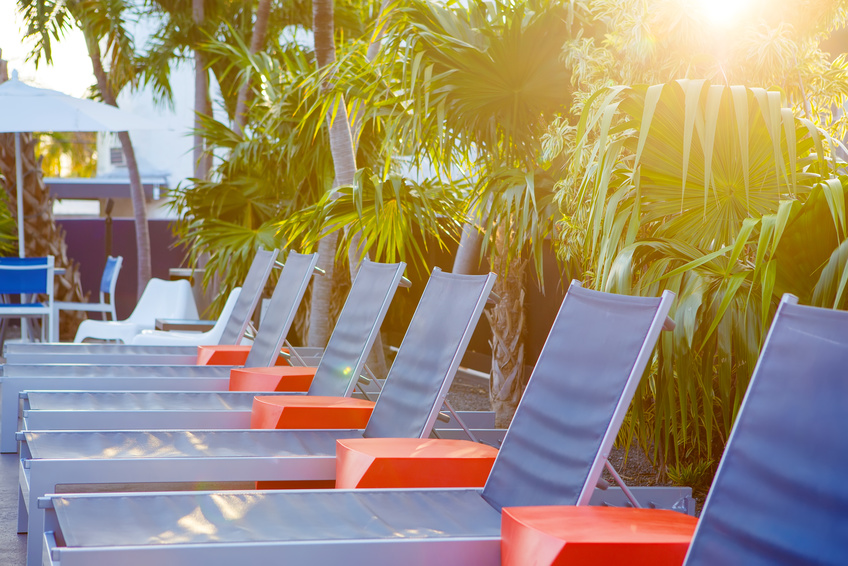 Prices are listed where available. Generally the prices for lodging are quite a bit higher then in the rest of Florida, especially during the "on" season during the winter months. Prices may drop by half during the off season in the summer. However, the prices will still be quite high.
Visitors to Key West should start their journey at the Key West Welcome Center located at 1601 North Roosevelt Blvd. Friendly staff provide current travel information about Key West activities and experiences as well offering discounts on hotels and various water sports. Often they are able to provide deeper discounts versus booking through hotels directly. Call: 305.296.4444.
Accommodation
At Home in Key West offer luxury and affordable rentals in Key West. They are located at 3201 Flagler Ave, Suite 506. Call 888 4KY-WEST or 305 296-7975 for more information. Ask for Toye, Ivy, or Sybille. Web address: www.athomekeywest.com
Banana Bay Resort is quiet, intimate and romantic. They cater for romantic escapes and Island Weddings. Call 800.BANANA x 1 for more information or 305 296-6925. Web address: www.bananabay.com
Best Western Hibiscus is located at 1313 Simonton Street. For more information call 800 972-5100 or 305 296-6711.
Coconut Mallory Resort & Marina is located right on the waterfront at 1445 S. Roosevelt Blvd. They have luxurious 2 bedroom and 2 bathroom suites with private balconies and excellent views of the ocean. Give them a call at 800 958-2628 or Phone Number 305 292-0017. Visit: www.mallorykeywest.com
Conch Heritage Inn contains spacious elegant rooms with either antique or wicker furnishings. They are located at 625 Truman Ave and they serve a complimentary breakfast. They are located in the heart of old town and they have a pool. For more information call 800 207-5806 or 305 293-0020. Visit them on the web at: www.conchhouse.com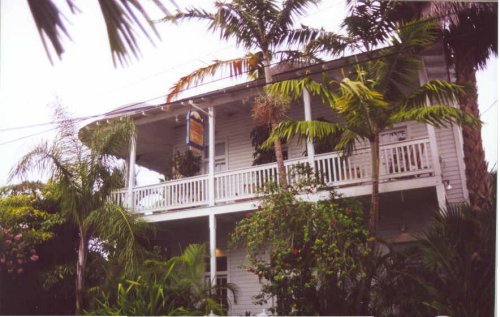 Douglas House . We stayed here for one fine evening. Because of a major holiday the room rates jumped up to $219 the next day. Naturally we left before the rate increase. This was a beautiful colonial style mansion only a block or so from the Hemmingway House. It had free parking which is a rare occurrence with the limited parking space available on Key West.
It was located a bit far from the waterfront and main shops, however there were shops close by on Duval Street. As we stepped out of my palatial room we were greeted with a sight of a mango tree dropping fresh mangoes onto the balcony. The mansion is surrounded by tropical foliage. For more information call Jennifer Cleaver the General Manger at 800 432-4849 or 305 296-0465. Visit: www.douglashouse.com
Duval Inn is located in the heart of historic Key West at 511 Angela Street. This is a historical guesthouse – as far as prices go for Key West, this place is downright affordable! For more info call 877 418-6900 or visit: www.duvalinn.com
Gardens Hotel located at 526 Angela Street is simply one of the fanciest hotels to stay at in Key West. Beautiful old world charm. It has been listed as one of the best places to stay in the world. For more information call (800) 526-2664 or visit: www.gardenshotel.com
Key West B&B is a good value – this historic hotel has a corner location in old town at 725 Truman Avenue. For more information call 800 549-4430 or visit their informative website here: www.historickeywestinns.com
La Concha Hotel & Spa is located at 430 Duval Street. This is a historic Holiday Inn. Call them at 800 745-2192. Visit: www.laconchakeywest.com
La Pensione Inn is a historic Inn located at 809 Truman Ave in the heart of the Old Town. This is a quaint yellow and white two story colonial style mansion. Phone 800.893.1193 or 305 292-9923. Web address: www.lapensione.com Email: LaPension@aol.com
Ocean Key House Resort & Spa is located at Zero Duval Street. They are Located right on the water front. They have 4 stories. For more information call them at 800 328-9815 or 305 296-7701. They are on the web at www.oceankey.com
Ramada Key West Resort is located at 3420 N. Roosevelt Blvd. They feature Key West's newest and largest tropical pool and Tiki Bar. They are located on the Gulf of Mexico, just minutes from historic old town. For more information call 800 330-5541 or 305 294-5541.
Seascape is a tropical Bed and Breakfast located at 420 Olivia Street. Call them at 800 765-6438 or 305 296-7776 for more information. The New York Times gave them a great review. Web address: www.seascapetropicalinn.com
Sheraton Suites Key West is a large suite hotel located at 2001 Roosevelt Blvd. It is located on Smather's Beach. They have a lagoon style pool with a waterfall, a Jacuzzi, water sport activities, and free shuttle service to the airport and to Duval Street. "Reach the Beach" by calling 800 45-BEACH or 305.292.9800.
Southernmost Beach Resort , South Beach Motel is located at 1319 Duval Street. They have three pools, a Jacuzzi and 2 pool side tiki bars. The beach and public pier are close by. They have conference facilities and plenty of parking. Phone 800 354-4455 or 305.296.6577. Visit: www.southernmostbeachresort.com
The Laureate Key West contains full kitchen suites with a private water view balcony. They also have standard hotel rooms. They are located on 3444 N. Roosevelt Blvd. Phone 800 578-7878 or 305 296-7593. Visit: www.thelaureatekeywest.com
Traveler's Palm Inn is found at 815 Catherine Street. They have cottages and apartments. They have a pool and Jacuzzi. Give them a call at 1 800 294-9560. Visit: www.travelerspalm.com