Exposition Park is located across from USC and is one of LA's cultural hubs. This park is located off of the 110 freeway – well marked signs on the 110 indicate which exit to take. The Natural History Museum, California Science Center including the Air & Space building, the LA Coliseum (home to the 1932 and 1984 summer Olympics), the sunken rose garden, the African American Museum and other outdoor attractions are located here.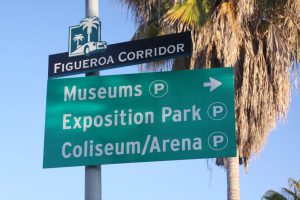 Admission to the Rose Garden, the African American Museum and the Air & Space building are free. Exposition Park has its own paid parking garage on Exposition Park Drive (off of South Figueroa) although you can, if very lucky, find a parking spot along parts of both sides of Exposition Blvd directly across from USC and walk into the park through the sunken Rose garden. Hundreds of various roses are planted in this garden and its a relaxing place to either sit down or walk through. A new parking garage is now open right next to the Natural History Museum (accessible off of Exposition Blvd). The Gold Line of the Metro runs right by USC and Exposition Park and you can easily walk from the nearest stop across Exposition Blvd to the entrance to Exposition Park.
The Los Angeles Memorial Coliseum stands behind the main museums – it was constructed in the early 1920's and is a famed sports arena, having played host to two Olympic summer games, two Super Bowls and one world Series. If there is not an event being held when you visit you will not be able to enter as it is surrounded by high chain link fence. You can however take some photos with the Coliseum as your backdrop. Be sure to Photoshop out the chain linked fence.
Be sure to also visit the teeter totter near the main parking behind the IMAX & the Science Center. A several ton truck hangs from one end and at the other end are ropes set along various distances of the other end of the teeter totter.
You can pull down on the ropes with not too much force and you will lift the entire truck – almost effortlessly. (even kids can do this!) A United Airline Jet and other military planes are anchored to the ground nearby and make good photo opportunities.
Local Expo Park attractions:
www.nhm.org – Natural History Museum
www.lacoliseum.com – LA Coliseum
www.casciencectr.org – California Science Center includes a large IMAX theatre
www.caamuseum.org – California African-American Museum

Museums

The California African American Museum is a short walk from the first (top) floor of the parking garage. This rather small museum has several different wings (galleries) and features rotating works of art often by popular African American artists. Admission is free – allow about 30 minutes to 1 hour for viewing. Visit: www.caamuseum.org

The Natural History Museum is not to be missed and is one of LA's premiere museums. Currently most of 2 floors of exhibits are available for viewing in the main building. A major exhibit on dinosaurs opened in the summer of 2011 and features two floors of all things related to dinosaurs including full skeletons, footprints and even several fossil bones you can touch. This is an exhibit that will appeal to all ages. The museum has two entrances – north off of Exposition Blvd and on its south side. The museum has its own parking garage located on the north side.
In 2012 a history of Los Angeles exhibit will open and in 2013 a number of outdoor exhibits and gardens will open in time for the museum's 100th year anniversary. We recently visited during the "first Friday" of the month. This is an opportune time to visit; the museum stays open until 10:30pm at night (normal closing is 6pm) and live bands and food vendors setup shop within some of the exhibit halls. Walking into the main entrance is almost like being in the movie "Night at the Museum" with Ben Stiller. A large Triceratops dinosaur sits in the middle of the elegant main room at the entrance.
Most people come to this for the live music, as a result we found the exhibits to be extremely empty and we were the only people in some of the exhibits. Another benefit of this particular day are some of the south land's finest professors give short lectures on a variety of research or museum related topics. Allow at least 2 hours here.
Some of the highlights at this museum are their extensive gem and mineral collection, a major gold nugget collection (very coarse specimens), the world's largest known Ammonite fossil, one of the worlds only 5 carat cut red diamonds, meteorites, an intriguing insect collection, a huge display of birds and a large exhibit focusing on California's history. A well-stocked large Museum store is located on the main floor. Your ticket is issued for the day of your visit so you can leave the museum and return inside at no extra charge. A large grass field separates the north entrance to the museum from the Coliseum and this can be a great place to lay down and relax on warm days. Visit: www.nhm.org
California Science Center is the centerpiece of Exposition park – this museum is all about the "hands on" experience and the exhibits are well organized and are diverse in scope. Exhibits are fun for children but are presented in a way that they are educational for adults as well. This is certainly not a quick in and out museum – allow at least half a day and maybe longer. Three floors are contained inside with a strong emphasis on science and education based exhibits and "how things work". Displays with unique themes do rotate – check the website for current exhibits. A ride for the adventurous is available on the 3rd level. Try to ride a bike across a tight wire; don't worry (too much) about falling – there is a safety net!
Rotating exhibitions are diverse such as displays on mummies, the living world, Los Angeles and the ocean. There is even a small "Rot" room – with one of the highlights being maggots feeding on raw meat! Admission is free. The only complaint we have about this museum is their lack of diversity in the food court on the first floor: McDonald's and Taco Bell and a basic cafe? Ouch.
An IMAX Theatre is located directly across from the main Science Center. Tickets are purchased outside – shows usually run for about 45 minutes. Visit: www.casciencectr.org
Space Shuttle Endeavor flew over Los Angeles on its final flight in early Fall of 2012 – once it landed at LAX it had to make the seemingly short journey via road to its final resting place at the California Science Center in Exposition Park. This is not a long trip but for the shuttle it was a very long trip. Trees had to be cut, telephone poles and electricity poles taken down and a special vehicle was used to transport it. Thousands of people lined the streets at day and night watching the Endeavor slowly make its way to Exposition Park.
The shuttle is currently in a temporary home – a huge hangar called the Samuel Oschin Pavilion. Tickets are timed and can be purchased in advance, online. An exhibit has already been setup in the main California Science Center with displays relating to the shuttle and its history. Well worth watching before leaving the exhibit, is the large screen video of how the Endeavor was moved from LAX to its current home. Fundraising and plans are currently underway to build a permanent home for the shuttle in the new Samuel Oschin Air & Space Center ($250 million will need to be raised for this ambitious project). Currently the shuttle is displayed horizontally but when it is moved to its new home it will be displayed vertically – and stairs next to it will allow one to get up close and personal with the shuttle. www.californiasciencecenter.org/Exhibits/AirAndSpace/endeavour/endeavour.php
Air & Space Exhibits are located inside its own building – about a 8-10 minute walk from the main parking lot. This narrow building contains 4 floors with one side of the building focused on Air travel and the other side on Space travel. The exhibits and information are a bit outdated – there is a good collection of re-entry pods used in the 1960's.