Los Angeles offers a wide variety of outdoor flea markets and swap meets ranging from clothing to used electronics and everything in between. The Rose Bowl Flea Market in Pasadena sets the bar in the south-land for size – with over 2500 vendors represented the second Sunday of every month. But there are many more much smaller markets scattered throughout Los Angeles – some open every day, some with more limited hours. Here are a few we have personally visited and reviewed.
Alpine Swap Meet is held outdoors in the large parking lot adjoining to the Bavarian styled Alpine Village (full of cute shops). Location: 833 W. Torrance Blvd in Torrance – just south of LAX near where the 110 and the 405 freeways intersect. There are over 350 vendors here at any one time with piles of old electronics, cords, speakers, phones and other random, often very used electronics. What you can find at this market can be pretty much anything – with most of it rather low end used products.
Open Tues through Sunday from 7am until 4pm. Admission is 50 cents on the weekdays and $1 on the weekends. Chain link fences covered with some sort of green mesh surround the vendors. Parking is free although can get crowded especially on weekends. Lots of used tools, plenty of plants and flowers (near the entrance) including various fruit trees (some nice avocados) we saw growing in pots. Spanish is spoken here and is the language we used to order breakfast burritos – several food trucks are gathered together within this swap meet and most specialize in Mexican food. Bring Cash, although there are ATM machine located just outside of the entrance.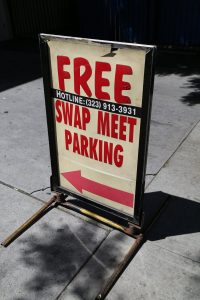 LA County College Swap Meet is held every Saturday and Sunday from 9-330pm in the open-air parking lot at Los Angeles County College at 4133 Marathon St. Parking is inside the multi-story garage located right next to the swap meet and is free. The 101 freeway just north of downtown is your closest artery access to this swap meet. Admission is about a dollar (varies slightly depending on which day you go).
This swap meet features more than 200 vendors in many cases with prices much lower than normal retail pricing. During a recent visit we saw vendors selling clothing with the original price tags still on – with the market price signifiantly priced down. As with most clothing vendors at swap meets you have the unique challents of searching to both find the right size and the piece of clothing that is attractive to you.
Other vendors sell various tools, electronics (including phone accessories), plants and trees and a number of various art. Several food venders are tucked away right next to the parking garage (but inside the entrance). Visit: www.laccswapmeet.com for more information.
Pasadena Rose Bowl Olde Tyme Fleamarket
is held monthly all year on the second sunday of each month. Several thousand vendors come here from all over Southern California and beyond in some cases to sell a wide diversity of items. This is not your average flea market – first in regards to its huge size, but second in regards to the quality of items sold here.
The market wraps around the Rose Bowl and extends off in several directions. One section is devoted to arts and crafts – including some very unique collectible items as well as ceramics, photography and other artistic products. Vintage is a big part of the market – including era decorations (with a little time spent here, one can shop by decade!) as well as an excellent selection of various clothing. Can vintage meet hipster? Yes, it can at the Pasadena Rose Bowl Flea Market! Shopping for props or set decorations – this is the market for you.
There are thousands of parking spots the encircle the stadium and beyond (on flat grassy areas). You can easily be sucked in by paid parking closer to the stadium – but there is plenty of free parking in the surrounding lots. There is even parking on the shoulder on the west side of Western Ave (a bit of a walk, but not to bad). There is only one entrance to the flea market and that is in the front of the stadium under the famous "Rose Bowl" sign.
You can exit at several exits around the flea market but if you plan to return be sure to get your hand stamped for re-entry. Admission starts at 7am – often these are serious or local buyers looking to beat the crowds and find some rarer items before they are sold. Admission varies by a few dollars between 7 and 8am and 8am and 9am. The market generally closes by 3pm although people can stay and still purchase items until 430pm.
For more information visit: www.rgcshows.com/rosebowl.aspx
Note: This page is undergoing a major update; we will continue to visit and add more area flea markets to this page over time including the following:
Long Beach Antique Market: www.longbeachantiquemarket.com 3rd Sunday Monthly
Los Feliz:
Melrose Trading Post: www.melrosetradingpost.org Every Sunday
Topanga Vintage Market: www.topangavintagemarket.com 4th Sunday Monthly