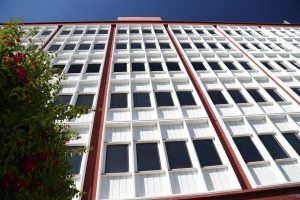 Los Angeles, CA – Koreatown lies in the western backyard of downtown Los Angeles and from this vaguely defined "town", on most days you can easily see downtown Los Angeles (unless its too smoggy of course). This is one of the more densely populated regions of Los Angeles as a result driving can be a real challenge here. Parking lots at the small 2-story malls are very limited, with narrow space, narrow lanes and exits.
Trying to turn left is often at an unprotected left on a very busy street- drivers are more aggressive here because of the traffic and reaction times have to be quicker as a result. Turning right on red or green can be a stressful experience. Between the throngs of pedestrians always in this area during the day on the major boulevards and the traffic – sometimes your lucky if only one or two cars can make the right hand turn on the end of the green or orange light. If a driver behind you spots a quick opening in traffic to make a turn and you have not made the turn, horns often blare. Drivers often turn right in between the two sides of the crossing pedestrians. This can be somewhat dangerous and we've seen tempers flare from both drivers and pedestrians.
The name, "Koreatown" is somewhat of a misnomer based on how diverse the area really is. However, much of Koreatown is clearly Korean influenced from the shopping plazas to the plethora of restaurants, all the signs are in Korean and you might find yourself eating at a "whole in the wall" with no language translation on the menu to English and or talking to someone who doesn't speak much English.
There are no official boundaries to Koreatown, but it starts north of the 10 freeway along S. Vermont Street with the true heart of Koreatown along parts of Olympic Blvd. Wilshire Blvd skirts the edge of town although many Korean businesses can be found on both sides of Wilshire. Because Koreatown is so close to downtown and based on its very high population density, the underground metro (purple line) actually runs out here. The last stop is Wilshire & Western – although there the metro further is currently under construction further to the west.
RESTAURANTS
Probably the greatest number of establishments open 24/7, 365 days per year in the Los Angeles area within Koreatown. This is how a city should be – you can get food on your own clock, whenever you want regardless of the hour.
Cafe House has several bakeries in the greater Los Angeles area but the one in Koreatown is located in the Plaza Galleria at 3250 W. Olympic Blvd. They deal in volume and so what you purchase is always fresh, even often warm, right out of the oven. Great selection.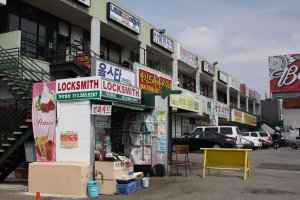 Case in point is the decent Korean restaurant Hodori located along 1001 S. Vermont Ave in in a shopping center (not far from the private college, USC – so you sometimes will see a plethora of college students eating here). It is small like most of the other shopping plaza located restaurants but size isn't important, unless you happen to be waiting outside in line at 3am which is fairly common on the weekends. They serve a variety of Korean foods all brought with small starter plates including some nice Kimchi. Also nice soups.
They are open 365 days a year, 7 days a week including holidays of course. Use the small ringer buzzers installed at every table to bring your waiter over when you need service.
Hwal Uh Kwang Jang is located in Koreatown at 730 S Western Ave. This very tiny restaurant is in the corner of a small one-story shopping center and a certain amount of off street parking is available in the small parking lot. Perhaps one of the more unique dishes you will ever see served is their live octopus plate. The tentacles are chopped up into small bits – and immediately served. These tentacles are constantly moving – and are best eaten when they arrive at your table. Note they still retain their excellent suction ability and will grab onto pretty much anything placed among them.
The Hwaedupbap or Rice Sushi Bowl is highly recommended. It appears on your table as an assortment of raw fish, fish roe, lettuce, sesame seeds, seaweed strips, rice and an awesome vinegar Chile sauce. Directions: mix well and eat!
Order a bottle of Soju and throw back shots with your seafood. Phone: (213) 386-6688.
Kang Ho-Dong Baekjeong is located at 3465 W 6th St in Koreatown. This Korean BBQ is open from late morning until 2am every day of the week. Parking is via valet in the tiny lot in the back of the restaurant – or you can try to find a free spot on one of the side streets. Every table has small gas flame cooker in the middle surrounded by a variety of condiments. There is a two order minimum from their beef menu; we recommend the skirt steak. Most of the meats are cooked in front of you – once cooked you combine the meat with the condiments (tasty corn, kimchee, mushrooms etc). Very good service. Phone: 213 384-9678
There are a plethora of small Korean restaurants along this part of S. Vermont Street and also just around the corner as you head down W. Olympic Blvd. Many of the businesses in this area display their business names only in Korean, or English is also listed, its listed much smaller than the Korean characters.
SHOPPING
Plaza Galleria is located at 3250 W. Olympic Blvd near S. Western Ave and is a multi story shopping mall with the large Galleria Market located on the first floor. If you don't have much experience with Korean food and enjoy trying new cuisine and food items, this is a great market to spend some time in. They have a nice Kimchi section as well as a plethora of different tofus, Korean sauces, as well as a help yourself Korean food section.
Koreatown Plaza is located at 928 S. Western Ave and is one of the premier shopping centers in all of Koreatown. Congestion and parking can be headache inducing in this part of Los Angeles and fortunately there is a parking garage next door. Parking is free if you take a receipt from a purchase at one of the stores inside. However on weekends and during busier shopping times this garage can become completely full. The plaza boasts 3 levels, more than 90 shops and a large food court. Wifi access is free and available on all three levels. Visit: www.koreatownplaza.com
BATH HOUSES/MASSAGE
There are a number of massages and spas in Koreatown – some of the bath houses are for male or female only.
One "hole in the wall" is Chinese Foot Massage located at 1234 S. Western Ave – you have to really look for this small business as its tucked in the corner of a very small single story shopping center next to an automotive business. They are open 7 days a week from 10am to 10pm. Parking is on the street if you can find it or in their small parking lot. During a recent visit the masseuse who had been working there two years said he had only seen two Caucasians come in during that entire time! Ask for the masseuse, Mr. Lee – he's a young guy who is well trained in massage. Phone: 323 766-8800.
Chrystal Spa: www.crystalspala.com
Hankook Spa: www.hankooksaunaspa.com
Wi Spa: www.wispausa.com
For more information about Koreatown visit: www.experiencela.com/Adventures/Koreatown.htm