Irvine (current population over 230,000) takes its namesake from James Irvine, the founder of Irvine Ranch (along with two partners). This huge ranch was originally 185 square miles of land (about a 1/4 of the entire present day Orange County). Irvine's son, also named James – inherited the ranch and then founded The Irvine Company in 1894. After his death in 1947 the company was controlled by his Foundation and stock holders. Eventually it was sold to a private firm and today is controlled by real estate developer, Donald Bren and continues to operate as The Irvine Company, a major real estate development firm centered in Irvine.
For a sense of the city's history, there is no better place than to start at the Irvine Historical Society & Museum:
Irvine Historical Society & Museum
highlights some of Irvine's rich historical past and is located on what used to be one of the largest private ranches in the country. With the rapid growth of Irvine over the past 40 years, unfortunately there is not much left of the original ranch. The Irvine Historical Museum is housed in the oldest standing structure within the original boundaries of the ranch – a house that dates from 1877.
A number of historical items are contained within the museum including blacksmith equipment, ranching items, and relics from agricultural use. Jamboree is a major (at one short section is 12 lanes across) boulevard that runs all the way from the 5 freeway to Pacific Coast Highway in Newport Beach. The Boy Scouts of America held their annual Jamboree on the site of what is now the major Fashion Island Shopping Center in 1953 – the only time it was ever held on the west coast. Part of this road was put in place in 1953 to service this gathering of 50,000 people to area trains stations.
While most of Irvine is very modern, there are several other historical sites in the city that the Historical Society has worked to preserve – one is the Irvine Ranch Historic Park (13042 Old Myford Road) that is open to the public daily and features more than 20 historic buildings and also focuses on Irvine's ranching and agricultural history – and Old Town Irvine (located at Sand Canyon & Burt Roads).
The Museum is open Tuesday and Sunday from 1 to 4pm. It is located adjacent to the Rancho San Joaquin Golf Course clubhouse at 5 San Joaquin. Visit: www.irvineranchhistory.com
Lyon Air Museum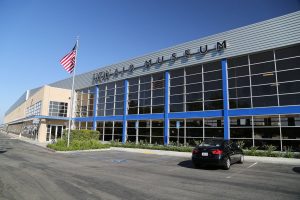 is conveniently located at John Wayne Airport (SNA) in Irvine. This museum was founded by area resident, Major General William Lyon a former WWII pilot. General Lyon has led a storied career as a military man and as a businessman having founded Lyon Homes, one of the country's largest home builders, a real estate company, Aircal, a regional airline that later merged with American Airlines and more recently, Commercial Bank of California.
The focus of the museum is on the history of World War II Aviation including significant aircraft from the era as well as a number of ground vehicles used during the war.
The aircraft and ground vehicles in the museum itself are of course highlights but what really brings the experience alive is a tour with one of the docents. They are extremely well educated on World War II history, its airplanes and historical aviation.
Unlike most historical aviation museums, all the aircraft contained here are aviation ready – meaning they are ready to fly when needed. Common events where they go airborne include local airshows.
Arguably the visual center-points of the museum are the large "B" aircraft – the Boeing B-17 Flying Fortress and the North American B-25 Mitchell. But there are also some unique vehicles on display. Take for instance the tough and unique looking Kettenkrad that seems to be a cross between a motorcycle, a tank and a trailer. It looks slow but this vehicle was actually clocked up to 44mph. The pristine looking 1939 Mercedes Benz touring wagon is one of only several still in existence that was used in WWII a number of times to transport Hitler. The windshield and side windows are bullet proof.
Major General William Lyon also collects classic cars – the museum rotates over 130 of these throughout the year.
Because the museum is located right next to the active runway at John Wayne Airport – you will see and hear planes constantly taking off during your visit. For more information visit: www.lyonairmuseum.org
Marconi Museum

When one meets founder Dick Marconi for the first time, one soon realizes just how passionate he is for both the thrill of racing and the vehicles that he has acquired over the years. But it is not only all about his personal interests – as some private car collections can become. His passion goes much deeper than that and ultimately his goal with the museum is to leverage it as a vehicle to give back to the community and help raise funds for a variety of charities – especially those that involve at-risk children.
By creating a foundation for the museum, he has ensured that it it will remain long after he is gone. As a result, he created the Marconi Automotive Museum and Foundation for Kids with the museum donating a large percentage of its proceeds to local children's charities. Their goal is to donate at least a million dollars each year.
Dick's first introduction to automobiles was in 1951 when he and his younger brother built a vehicle for a soap box derby in Akron, Ohio. They didn't win first place, but they took second prize which was a 1951 brand new Chevrolet Bel Air. After this introduction they were hooked – Dick remembers he and his brother hitch hiking to Indianapolis and sitting in the parking lot – just trying to get glimpses of the Indy cars.
He headed west in 1954 wanting to find a place where as he says, "I want to work where I enjoy living". He had never been to California before – when he arrived he rented a place from an old Dutchman for $40 or $50 dollars per month in Garden Grove. He then built a number of successful careers which allowed him to pursue racing and acquire one of the finer car collections in Orange County.
He says "most often the father teaches the son, but in my case it is the opposite". His son became involved in racing and encouraged Dick to learn the sport. At age 57 Dick was the oldest person to qualify for the Long Beach Grand Prix – starting in 18th place he ended up finishing in 8th place.
One thing led to another and eventually Dick located an old salad oil plant – purchased the building and started using it as a space to store his vehicles. Today the collection is valued at over $50 million and includes classic cars, racing cars and specially built cars. A number of racing motorcycles are also on display.
Each car comes with a story, some certainly more interesting than others and there is no better way to hear these stories than with a personal tour from Dick.
One vehicle, a Pantera has a powerful 427 Cobra Engine which can be switched to burn the fuel based on the decomposition of nitrous oxide rather than air. When this is switched over, the vehicle jumps up to 1200 HP. Dick bought this vehicle at an auction in Newport Beach. They said, "Dick, we will ship it to you", but then Dick said "no, you are only a few miles from me, I'll drive it myself!". They told him he had to be very careful when hitting the nitrous oxide button despite the extremely wide tires. He hit the button prematurely coming off an exit on the freeway and wasn't quite straight – the car went crazy, doing wheelies, spinning around and ultimately tore out the rear engine based on the incredible amount of torque. As it ended up, it cost him more to fix the vehicle than its purchase price. It has since been completely restored and has certainly given Dick a memory he won't forget.
Dick later acquired a special racing Jaguar and at the time of purchase the buyer told him not to drive the car. Dick said, "what do you mean, I like to drive my vehicles" but then learned that this car has no cooling and will catch fire at speeds below 200mph. He heard about the same vehicle catching fire in England when driven at a lower speed. Dick did not drive this car.
Then there is the Chevrolet that dates from the early 1990s. As you would expect, this is no ordinary Chevrolet. In fact, this vehicle defies the word ordinary in all possible ways. It was given to boxer Oscar De La Hoya after he won a gold medal in the 1992 Barcelona Olympics. The vehicle is decorated with Latino themed murals, has an incredible 32 speaker sound system with 3,000 watts of amplifier power and will brighten up the darkest room with its 14-carot gold plated rims, sound system (showing brightly in the back of the truck) and its hydraulic tubing.
Then there are the celebrity racing vehicles ranging from Mario Andretti's last racing car to a late model Ferrari F-1 that Michael Schumacher raced in – in 1996. One Ferrari certainly stands out simply based on its bright purple paint job; it has an appropriate nickname – the "atomic blueberry" – raced successfully by Dick's wife Bo.
The "red row" sits against one side of the building; this is an impressive line-up of bright red Ferrari's. A special Ferrari next to these red beauties is the Ferrari FX, painted blue. Only nine of these cars were specially made – with six of them delivered to the Sultan of Brunei. After the Sultan canceled the order for this particular car, Dick purchased it. It's top speed is somewhere in the range of 205 mph!
As we wander among this stunning collection of unique and rare cars, Dick pauses a moment in front of one special car, a 1950 Ferrari 195S – reaching for the memories that were created when he and his son drove this car in the Mille Miglia in Italy. He recalls he and his son being so far ahead of the rest of the drivers that they were disqualified – but they still finished the race. He remembers driving through Assisi and seeing the crowds making hand gestures indicating they wanted them to hit the gas to have the vehicle make more noise!
The museum hosts a number of events including proms, birthdays and field trips for children. Dick says he can identify the most popular car with kids based on the number of finger prints he finds after they leave. This is nearly always one of the black Ferrari's that vaguely resembles the "bat-mobile" from the Batman films.
When kids visit the museum Dick shows them his car keys and tells them they can have one of these cars but it is important they do certain things in life. "One, stay off of drugs, stay in school as long as you can, have a dream as dreams don't come true unless you have one and lastly, work your behind off – the harder you work, the luckier you will get".
One of their more popular events is "Fight Night" pairing Dick's love of boxing with charitable efforts. These events are sanctioned by the California Athletic Commission – guests pay for specific tables (each table has one celebrity), comes with dinner and then a number of boxing matches take places including women fighters.
Dick's wife Priscilla "Bo" is the CEO of the museum and is involved in a number of philanthropic efforts. Dick convinced her a number of years ago to also learn how to race so that as he says, "I didn't want her to be like a golf widow, I didn't want her sitting by the race track while I was racing so we had her enroll at the Bondurant Racing School in Arizona". Ultimately she became an accomplished racer in her own right. She competed so well against the male dominated ranks of Formula Ford racing that she was invited to participate in Indy racing. She declined this offer to run the museum.
Marconi Automotive Museum is located at 1302 Industrial Drive in Irvine and is open Monday thru Friday from 9am until 4:30pm for self-guided tours. Appointments can be arranged by calling: (714) 258-3001. A "social media" kiosk on site allows one to quickly and easily take a #selfie with a number of the cars and broadcast it out via a number of social media networks. For more information about the museum visit: www.marconimuseum.org

Irvine Improv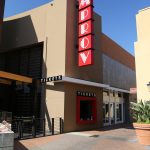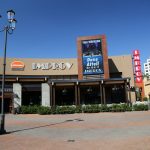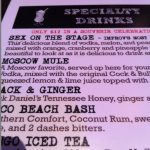 is located within the Irvine Spectrum Mall at 31 Fortune Drive, Suite 216. This is one of a number of Improv's located around the country. The original Improv began in Hells Kitchen in New York in 1963 with a second one in Los Angeles opening in the mid 1970's. Unlike some of the comedy clubs in Hollywood which are tucked away, are in older buildings and have some character this venue is in a new building that is prominently located in the mall. Parking is free – in a nearby parking garage which is only a few minutes walk to the venue.
This is a world class venue with top name acts scheduled. Over the years some of the biggest names in comedy have performed in various Improv locations.
Food and drinks are delivered right to your seat – with intruging names such as "Sex on the Beach" which is a concoction of various fruit juices anchored by plenty of vodka, the "LA Water", which is anything but, and an "Oh My Tai" are just several of the tasty cocktails to preface the show. Both booth and long table like seating available.
As with most comedy club venues, if you sit in the front row seats, you have a greater chance of becoming "interaction" fodder for the comedian on stage.
An Umami Burger restaurant (an original Southern California chain that started in Los Angeles in 2009) is associated with this club (located adjoining) and you can enjoy food either prior or after the show. For more information visit: www.irvine.improv.com