The following attractions are in or around the town of Mt. Shasta – or slightly further afield, but all are in Siskiyou County.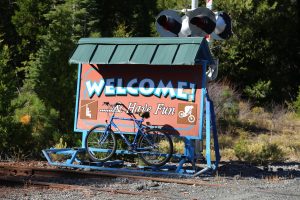 Mt. Shasta Ski Park is located off of Highway 89 at 104 Siskiyou Ave. This location is 10 miles east of Interstate 5. There are excellent views of Mt. Shasta as you drive into the park.
The ski park operates daily in the winter – usually mid December through early to mid April. They are open from 10am until 5pm. This park offers chair lift rides as well. They transport you over 1000 vertical feet to a vista point. Those interested in going off the groomed slopes should check out the Beyond The Boundaries, a backcountry guide service for skiers and snowboarders. Part of this experience includes a visit to a stone cabin at 7,400 feet.
Mountain Biking is a popular sport at the park in the summer. You can use your own bike or you can rent. An all day chair lift pass rate is quite reasonable.
The climbing tower is another popular activity in the summer months at Shasta Ski Park. This tower stands about 30 feet tall. Trained staff are on hand at all times.
Some of the attractions you can expect in the summer are the following (most of these events are held on Saturdays): Blues and a BBQ, Micro Brewery Festival, Mountain Bike Festival, and a World Music Festival. Note that often outside of the ski and summer season, the gate about 1 mile before the Mt. Shasta Ski Park will be locked. For more information visit: www.skipark.com
Dunsmuir Gardens are located in the town of Dunsmuir, only 10 miles south of Mt. Shasta City. These picturesque botanical gardens contain many species, including but not limited to, dogwood trees, rhododendrons, ferns, and azaleas. There are also 11 different varieties of Japanese maples. An interesting botanical note is that these gardens are the home of a unique plant found only in the Shasta area, the Shasta Lily.
The gardens are also next to the Sacramento River. Visitors who are familiar with the size of this river down by Redding and Red Bluff will have a hard time accepting the fact that this river is so narrow as it passes through Dunsmuir. During the late summer months and into Fall one can actually cross it by food. A park is located next to it's banks with some nearby picnic tables. Very easy access off of the 5 freeway (within a several minute drive once you actually exit the freeway). Visit: www.dunsmuir.org
For more information visit: www.dunsmuirbotanicalgardens.org
Lake Siskiyou is well worth a visit if you have some time, and you want a place to either relax, windsurf, boat, fish, drive a paddle boat, or camp. If you are going to camp overnight, you most likely will need to get reservations. To get to this lake from Interstate 5, take the Central Mount Shasta exit and head west to Old Stage Road. Turn south on this road and stay to your right when the road splits. Follow the road signs to the lake. For more information about camping and the area call PHONE NUMBER (530) 926-2618, or visit them on the web at: www.lakesis.com
Gold Exhibit in the main lobby of the county courthouse in Yreka is well worth seeing. It may be small but the collection contains some fine specimens as well as other neat pieces of gold.
To find this exhibit, exit Interstate 5 at Central Yreka. Turn west and drive to Fourth Street. Lastly, turn left on 4th Street and you will soon see the courthouse.
Lake Shastina is a good place to catch catfish and bass. Camping is FREE of charge, but they are a bit primitive. They do have portable bathrooms, fresh water, and a BBQ. There are excellent views of Shastina mountain as well as of Shasta itself.
To access this beautiful lake exit Interstate 5 in Central Weed and drive to Highway 97 north. After about 5 miles you will come upon a sign directing you to Lake Shastina.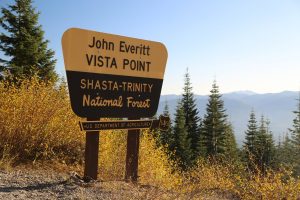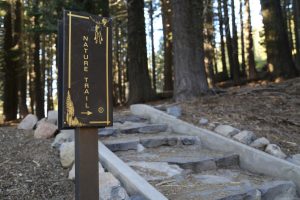 John Everitt Vista Point is named after a firefighter. John used to be an avid protector of the natural resources on Mt. Shasta. John died a short distance away from where the current vista point is located. In fact there is a small monument to him, which marks the exact spot where he died. There are parking and restrooms located here as well. The views of Mt. Shasta and of Strawberry valley are incredible. There are several hiking trails in the area. Two areas that come to mind are the trails at Bunny Flats, and the trails at Panther Meadows. Either location are only minutes drive from the Vista Point.
To get to the Vista Point take the central Mt. Shasta turnoff from Interstate 5 and drive east on Lake Street through the stop lights, to the top of the hill. Lake Street will eventually bend and become the Everitt Memorial Highway. The Vista Point is only 6 miles up the road. This road is almost all uphill to the Vista Point. A short road leads to a small parking area next to a Nature Trail. Otherwise this area is surrounded by a thick strand of trees and you aren't able to actually see much from the parking lot.
Living Memorial Sculpture Garden is located not too far from the town of Weed. This is a tribute sculpture to men who have died in US wars. There is a large section dedicated to the Viet Nam War.
From Interstate 5 take the Central Weed exit and drive to Highway 97. Drive for about 13 miles. When you see road A12, you will be about 1 mile from a sign for the Sculpture Gardens.
Castle Crags are well worth a visit. Besides Mt. Shasta, the crags are what most people remember about their drive north on Interstate 5. These sharp rock formations rise in elevation from 2000 feet to over 6500 feet. There are over 27 miles of developed hiking trails in the Castle Crags area.
Pull into the main entrance (conveniently located within a very short drive of the 5 freeway – pay the admission at the ranger station and then continue your drive up to the vista point. The vista point is located about 1.5 miles in from the main entrance – note that before this single lane road starts to climb up the hill there is a pull around spot for campers and RV's (as the road is way to narrow for large vehicles). Sunset or sunrise are great times to be hanging out at the end of the Vista Point Trail (only about 1/4 of a mile hike) as the sun's golden rays kiss the top of these dramatic rocky spires.
There are a number of camp sites near the main park entrance. For more information visit: www.parks.ca.gov/?page_id=454
Seven Lakes Basin is a series of seven lakes. This is a great fishing area especially for cold water fishing. There are also several well marked hiking trails in the area.
To access this area take the central exit from Interstate 5 through Mt. Shasta City. Drive west to Old Stage Road. Next turn south on Old Stage Road and stay to the right when this road forks. Follow the signs to Lake Siskiyou and follow the road past the campgrounds, along the south fork of the Sacramento River. Eventually you will arrive at Gumboot, which is the main area for accessing the seven lakes.