Pukekura is is the smallest town on the entire West Coast of New Zealand's South Island – permanent population two!! This is the home of the famous historic Puke Pub (which allows deer to wander in and out!) and the Wild Game Restaurant across the street which serves a variety of Road Kill Grills, including possum, and their famous possum pie. If you eat a possum pie, you will be helping out the New Zealand environment as this "introduced" critter does severe damage to the forests. Stopping at the pub and the Wild Game Restaurant is a must. You've never seen such a variety of eclectic food items and very humorous quotes which are scattered around inside the restaurant and pub (see photo below for some of the quotes contained within the Wild Game Restaurant).
The pub looks like an old western mining cabin, with old relics scattered throughout. Notice the coin collection from countries around the world. We have included a photograph current as of January 2005 which shows the coins they do have. If you have coins that are missing from this list, by all means bring them with you and donate them to the Puke Pub.
The "two" that make up the population of this very small town are Pete & Justine. If you stop here, chances are you will see them serving food in the Puke Pub or behind the bar delivering drinks.
Aside from the Pub and Restaurant there is also good fishing, hunting and gold mining in the local area. You are in a rainforest, so expect rain – try out one of the Rain Forest Bush Walks. You can stay overnight in this town. Camping, luxury tents, cabins and several campervan hookups are available.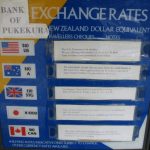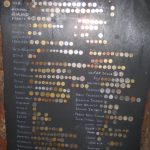 Be sure to visit their website: www.pukekura.co.nz
The Bank of Pukura Exchange Rates & details
On left: bring them coins from countries they do not have already