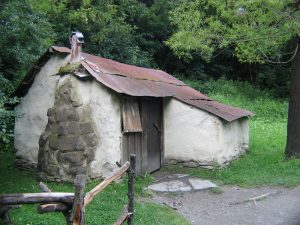 Arrowtown is an old gold mining town rich in history, located near a small creek (Arrow River) which was known as the richest yet smallest gold bearing river for its size anywhere in the world. One can still pan for gold at this creek for free, but don't expect to get rich from doing so. Forgot your pan? The visitor center rents gold pans.
Contemporary Arrowtown is a collection of extremely nice upscale tourist shops and galleries. The town contains everything from some of the best gold shops to jade shops to fur/wool shops. Main street is called Buckingham Street and is where most of the shops and galleries are located.
Arrowtown is made for walking; it is situated along just 3 or 4 blocks. The best and easiest parking is on the back street overlooking Arrow River.
Be sure to visit a partially restored Chinese settlement – this gives you an idea of how rough life was for the Chinese during gold rush days. Its a free tour and visitors walk on pathways among the restored/reconstructed buildings. Some of the actual shelters were extremely small & built right into the sides of the steep mountains.
Numerous lodging is available – most are small hotels located in the surrounding residential neighborhoods. It is important to make reservations as during the height of the summer season as most likely all the accommodation will be fully booked. Several of the galleries worth visiting are the following: The Gold Shop had by far the best collection of gold nuggets (small and quite large) and gold jewelry of all the shops I visited in the South Island.
Jade & Opal Factory is also well worth visiting. A very large collection of New Zealand jade, both raw and carved stone. Located at 30 Buckingham Street, PHONE 03-442-1654
Gold Nugget is a very nice shop carrying a variety of low to high end tourist items. This store features three levels full of intriguing souvenirs. Those looking for very inexpensive souvenirs, try the back corner on the bottom floor – they have a little section tucked away called "clearance" or "discount" items. Located at 43 Buckingham Street. Phone: 03-442 1877 or email: cruises@igrin.co.nz
Several fine restaurants are located in Arrowtown. We ate at Arrow Thai located just off the main street on 27 Ramshaw Lane. The cook appeared to be Japanese and the server was Chinese. Besides the fact that there didn't appear to be any Thai people in the restaurant at the time, the food was in fact quite delicious. PHONE: 03-442 1115