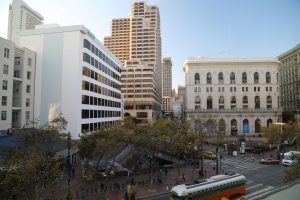 The following is only a partial list of lodging options in San Francisco. A wide range of hotels are listed that accommodate various budgets. Prices range from the low (single occupancy/off season) to the high (double occupancy/high season) and are subject to change at any time. The downtown/financial district tends to be quite expensive and crowded. For budget travelers recommended lodging is in the outskirts of San Francisco – for example a stay in South San Francisco or Daly City. Prices are subject to change without notice.
For a list of San Francisco Hostels which provide cheaper lodging than the below hotels please visit: www.sfhostels.com and www.norcalhostels.org Dave recommends the Fort Mason International Hostel. Its not located in the heart of the City, but public transportation makes it easy to get anywhere to and from this hostel. Its popular so reserve early.
All Phone Numbers are in the 415 area code unless otherwise noted.
Argonaut Hotel is a prominent luxury hotel located within a short walking distance of Fisherman's Wharf and Pier 39. It is located next to the old Del Monte Cannery operation which has long been turned into a cute shopping center. The hotel itself is in an old brick warehouse (complete restored). An exercise room is on site and guests are treated to wine receptions in their lounge. With a name like Argonaut, it their marine/ocean theme and decor should not come as a surprise. Visit: www.argonauthotel.com
Beresford Arms is located at 701 Post Street. They are rated 3 stars and the prices range from $92 to $109. Dining is available. Phone Number 974-6400. Website: www.beresford.com
Best Western Americania is located at 121 7th Street. They are rated 3 stars and the prices range from $129 to $209. Phone Number 626-0200. Website: www.jdvhotels.com/hotels/americania
Best Western Carriage Inn is located at 140 7th Street. They are rated 3 stars and the prices range from $149 to $209. Phone Number 552-8600. Website: www.jdvhotels.com/hotels/carriage
Broadway Manor Inn is located at 2201 Van Ness Avenue. They are rated 1 star and the prices range from $59 to $99. Phone Number 776-7900. www.broadwaymanor.com
Chancellor Hotel on Union Square is located at 433 Powell Street. They are rated 3 stars and the prices range from $99 to $175. Phone Number 362-2004. Website: www.chancellorhotel.com
Clift is located 2 blocks west of Union Square at Taylor Street. An inspired fusion of old-world hotel elegance with distinctly contemporary energy and glamour, the Clift, in the heart of San Francisco's Union Square, takes modern luxury to another level.

Their address is 495 Geary Street. They are rated 4 stars and the prices range from $315 to $500. Phone Number 673-6040.Website: www.clifthotel.com
Comfort Inn By The Bay is located at 2775 Van Ness Avenue. They are rated 2 stars and the prices range from $100 to $209. Phone Number 928-5000.
Website: www.comfortinn.com/hotel/ca004
Deluxe Inn is a one-story motel located in South San Francisco and is run by your hosts Jay & Jiten. This is a very affordable simple hotel that is absolutely perfect for those who need to stay a night or two before or after a trip that requires use of the San Francisco Airport. Its merely 8-10 minutes from the airport, located in a clean quiet and safe part of South San Francisco. Another great feature of this hotel is that you can leave your car for FREE for up to 2 weeks parked in one of their parking spaces which is surrounded by the motel building. HBO, Cable, Remote Control TV, & direct dial telephones available in each room. This motel was remodeled in 2000. They are located at 920 El Camino Real. PHONE: 650-583-2408.
Fairmont Hotel and Tower is located atop Nob Hill at 950 Mason Street. This is one of the more posh spots in town – with nice hotels located nearby and easy access to Union Square. Nice views from the upper floors. Excellent service accompanied by luxury. Be sure to check out their infamous Tiki Bar – its a throwback to another era – moving stage, water and great cocktails. Phone Number 772-5000. www.fairmont.com/sanfrancisco
Golden Gateway Motel – is a Holiday Inn motel located at 1500 Van Ness Street.
Visit: www.goldengatewayhotel.com
Grand Hyatt San Francisco is located at 345 Stockton Street. They are rated 4 stars and the prices range from $189 to $259. Phone Number 398-1234. http://grandsanfrancisco.hyatt.com/hyatt/hotels/index.jsp
Haiyi Hotels (pronounced "hi-YEE") is a collection of five boutique hotels all centrally located in San Francisco, adjacent to local attractions, corporations, major retail, arts and renowned dining. The portfolio includes Americania Hotel, The Carriage Inn, The Good Hotel, Hotel Vertigo and Hotel Metropolis. For for details on any of these properties, please visit: www.haiyi-hotels.com
Holiday Inn-Civic Center is located at 50 8th Street in the South of Market District (SoMa). They are rated 3 stars and the prices range from $85 to $199. Less then a 10 minute walk to the Civic Center Plaza. Phone Number 626-6103. Visit: www.hiccsf.com
Holiday Inn Express at Fisherman's Wharf is located at 550 North Point St. They are rated 3 stars and the prices range from $130 to $199. Phone Number 409-4600. Visit: www.hiefishermanswharf.com




Holiday Inn Fisherman's Wharf is a full service hotel located at 1300 Columbus Avenue, San Francisco CA 94133, within walking distance of many SFO attractions- Pier 39, Alcatraz and Bay Cruise ferry piers along the Embarcadero, and Ghirardelli Square. The Cable Car and antique trolleys provide a convenient ride to downtown San Francisco Union Square, Financial District and Moscone Center, Chinatown and AT&T Ballpark, home of the San Francisco Giants. This hotel is rated 3 star, prices range from $129 to $259. PHONE: 415-771-9000. Website: www.hifishermanswharf.com
Hotel Monaco is located at 501 Geary Street. They are rated 4 stars and the prices range from $179 to $399, year round. Phone Number 292-0100. www.monaco-sf.com
Hotel Nikko is located at 222 Mason Street. They are rated 4 stars and the prices range from $185 to $190. Phone Number 394-1111. www.hotelnikkosf.com
Hotel Rex is located at 562 Sutter Street. Convenient location to Union Square. They are rated 3 stars and the prices range from $179 to $209. Phone Number 433-4434. Visit: www.jdvhotels.com/hotels/california/san-francisco-hotels/hotel-rex
Hotel Triton is centrally located just several blocks off from the main Union Square shopping district. This is a very unique boutique hotel. They have 140 rooms, all are decorated with lots of imagination – there are even "celebrity" suites that you can stay in! All rooms are eco friendly and cleaned with eco products. A portion of all income from the hotel is donated to the Trust for Public Land. If you are lucky you might catch one of their surprise events that tend to randomly "happen" at this hotel from time to time – things like stuntmen jumping from high levels, or fire eaters walking around! Hotel Triton is located at 342 Grant Street right next to the main entrance to the tourist part of Chinatown. Visit: www.hoteltriton.com
Hotel Zepher is a hip hotel located within a very short walk of Fisherman's Wharf. This hotel is sizable – it takes up a full city block. Modern and stylish, some rooms also have balconies. Nice outdoor space with a fire-pit. Rooms looking east have views of the San Francisco Bay and Fisherman's Wharf. Visit: www.hotelzephyrsf.com



Hyatt Fisherman's Wharf is located at 555 North Point Street. They are rated 3 stars and the prices range from $109 to $239. Phone Number 563-1234. Features free wifie and a hot breakfast. Easy walk to Fisherman's Wharf and the Bay Street Cable Car station. Clean, comfortable and modern rooms. Visit: www.hiefishermanswharf.com


Hyatt Regency San Francisco is located at the foot of California and Market Streets at 5 Embarcadero Center. They are rated 4 stars and the prices range from $139 to $260. Phone Number 788-1234. http://sanfranciscoregency.hyatt.com/hyatt/hotels/index.jsp
Il Triangolo Hotel is a tiny hotel tucked away among a number of nearby restaurants – located at 524 Columbus Ave in the North Beach neighborhood. Popular with visitors from Europe. Family friendly. Free wifi in every room.



JW Marriott Union Square is located at 500 Post Street. Great choice if shopping is what you are after! They are rated 4 stars and the prices range from $360 to $670. Phone Number is 771-8600. Website: www.marriott.com/hotels/travel/sfojw-jw-marriott-hotel-san-francisco
King George Hotel is located at 334 Mason Street. They are rated 2 stars and the prices range from $79 to $159. Phone Number 781-5050.
Website: www.kinggeorge.com
Loews Regency San Francisco is located in the Financial District at 222 Sansome Street. This was the Mandarin Oriental Hotel until 2015. They are rated 4 stars and the prices range from $470 to $740. Phone Number 885-0999. www.loewshotels.com/regency-san-francisco
Mark Hopkins Inter-Continental is located at 1 Nob Hill. They are rated 4 stars and the prices range from $470 to $775. Phone Number 392-3434. www.intercontinentalmarkhopkins.com
Marriott San Francisco Fisherman's Wharf as the name implies is located near Fisherman's Wharf. This hotel has recently unveiled its 7,000 sq. ft. newly renovated "Executive Meeting Center". This includes a brand new "State of the Art" executive boardroom with a built in plasma screen in addition to 6 meeting rooms perfect for use as stand alone or breakout rooms. The Marriott Fisherman's Wharf is a 2 block walk to the center of Fisherman's Wharf and Pier 39.For more information please visit: www.marriottfishermanswharf.com
Motel Capri is located at 2015 Greenwich St. in the Marina District. Family run, they have been in operation since 1957. Old school. Free parking! They are rated 1 star and the prices range from $70 to $90. Under a 10 minute walk to Fort Mason. Phone Number 346-4667. Visit: www.sfmotelcapri.com
Nob Hill Lambourne is located at 725 Pine Street, 3 blocks north of Union Square. They are rated 2 stars and the prices range from $189 to $289. Phone Number 433-2287. http://nob-hill-lambourne.visit-san-francisco.com
Palace Hotel is located at 2 New Montgomery Street. They are rated 4 stars and the prices range from $159 to $539. Phone Number 546-5089. www.sfpalace.com
Park Hyatt Hotel is located at 333 Battery Street. They are rated 4 stars and the prices range from $195 to $315. Phone Number is 392-1234.
Website: www.parkhyatt.com
Phoenix Hotel is located at 601 Eddy Street. They are rated 2 stars and the prices are $109 to $155. Phone Number 776-1380.
Website: www.jdvhotels.com/phoenix
Pick Wick Hotel is located at 85 Fifth Street. They are rated 3 stars. Website: www.thepickwickhotel.com
Renaissance Stanford Court Hotel is located at 905 California Street. They are rated 4 stars and the prices range from $199 to $339. Phone Number 989-3500.
Ritz-Carlton San Francisco is located at 600 Stockton Street. They are rated 5 stars and the prices range from $375 to $475. Phone Number is 296-7465.
San Francisco Mariott Marquis is located at 780 Mission St minutes walking from world-class shopping, restaurants, bars, and the theater district. From this hotel's ideal downtown location, you can walk to your meeting at the Moscone Center or the Financial District, have lunch in Chinatown and end the evening with a game at AT&T Park, home of the San Francisco Giants.

They offer nearly 1500 guest rooms, including suites with spectacular views of the Bay and the city skyline. With high-speed internet access throughout plenty of meeting space and a full-service business center, this hotel is perfect for working professionals. Their on-site restaurant, fitness center, and close proximity to Union Square and plenty of shopping makes this the perfect luxury hotel for leisure travelers too! www.marriott.com/hotels/travel/sfodt-san-francisco-marriott-marquis
San Remo Hotel is located in a building that dates back to the year of the infamous San Francisco earthquake – 1906. In located between North Beach and Fisherman's Wharf, a stay here is conveniently located within short walks of either part of town as well as numerous restaurants and shopping opportunities.

There is a lot of history to like about a stay here. The hotel was built and founded by Bank of America founder A.P. Giannini – originally it was called the New California Hotel" but changed to the San Remo (named after the town in the Gulf of Genoa in Italy). The oldest restaurarnt in the country, Fior d'Italia, founded in San Francisco in 1886 moved to the ground floor of the hotel in 2005 (after a fire destroyed their prior North Beach location). A pretty sweet stay, with plenty of old world Victorian charm. Visit: www.sanremohotel.com

Sheraton at Fisherman's Wharf is located at 2500 Mason Street. They are rated 4 stars and the prices range from $149 to $279. An underground parking garage on site is available for guests – with hourly or daily rates. Self park or valet park. We've attended several conferences here – a number of conference rooms are available. Phone Number 362-5500. www.sheratonatthewharf.com

Super 8 Motel is located at 2440 Lombard Street. They are rated 2 stars and the prices range from $59 to $170. Phone Number 922-0244. Website: www.super8sanfrancisco.com
The Wharf Inn is located within a short walk of Fisherman's Wharf and many nearby shops. No need to park in another part of the city and Uber ride to this location because of steep hotel parking rates.

Remarkably they offer free parking on site (an oddity and rarity in this anti-car city). And if you don't have a car – they are within shorts walks to various public transportation options including cable cars. Very good value stay for this part of town. 51 guestrooms available. Visit: www.wharfinn.com

W Hotel is located at 181 3rd St about a block from the Yerba Buena Center for the Arts and easily within walking distance the Moscone Convention Center. This is the SoMa District (South of Market). Guests here on leisure will find this hotel's location is in an deal part of town for walking to several museums including the San Francisco Museum of Modern Art. Shopping? It is only about a 12 minute walk to what is arguably the best shopping district in San Francisco, Union Square.

Upon checking in notice the blinking artwork installation above the main desk. This is actually represents a geographical outline of San Francisco with certain color lights indicating streets and other areas of significance. Some of the rooms look out over the bay or onto the city skyline. Trendy bar and hangout place on the lobby level. For plenty of workspace, good lightning and a nice ambiance, we recommend one of their Mega Corner Rooms. A good variety of rooms to choose from even if you do not opt for a corner room. Trace, the hotel restaurant is located on the lobby floor – great cocktails and fresh California cuisine. Also a notable wine list because all the wines represented here are either produced organically or biodynamically.

Phone Number (415) 777-5300. Website: www.wsanfrancisco.com

Washington Square Inn is a boutique property that dates back to 1910 (4 years after the infamous San Francisco earthquake). They are located in the heart of North Beach across from Washington Square Park and close to plenty of small Italian eateries and just down from Coit Tower.

Continental breakfast is included with a stay here. Complimenatary Wine and Hors d'Oeuvres are served for 90 minutes in the afternoon. Features 15 cozy and charming rooms – each individually and well decorated. Visit: www.wsisf.com

Westin St. Francis is located at 335 Powell Street. They are rated 4 stars and the prices range from $129 to $599. This hotel is located on the west block of Union Square. This is an extremely fancy hotel. As you walk into the main lobby you are greeted by a doorman. In front of this hotel is a Bell Hop who will take your luggage for you, depending if you are staying at this lush hotel. Just inside the main entrance are fancy chandeliers and murals on the walls. There are some good shops in the main floor of the St. Francis, but they are very expensive. There used to be an incredible restaurant at the top, but unfortunately they closed down many years ago. The views from the top are incredible and if you can sneak your way to one of the top floors, you will be greeted with a great overlook of The City. Phone Number 397-7000. Website: www.westinstfrancis.com