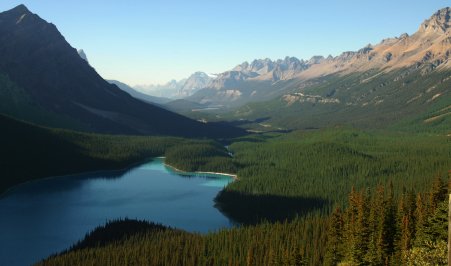 The total trip described on this page took 17 days – This includes travel time to and from your original location. The times and attractions are only listed as suggestions. Any names of hotels or motels I stayed at have been included here along with their Phone Numbers. See the More Information section in this article for additional information.
Day 1 : Stay at a motel near the airport that you are flying out of. This saves the hassle of driving to the airport on that same day that you are flying, unless of course you live in close proximity to the airport. Some motels will also let you park your vehicle on their property during the duration of your vacation. Their parking fees are often times cheaper then those charged by the airport.
Day 2 : Leave for airport from the motel very early.
Fly Alaska airlines to Seattle instead of to Vancouver. This is because airfare to Seattle is often much cheaper then the fares to Vancouver. Driving time between the two cities is about 3 hours. I did not have much of a problem crossing the border going either direction. There was a slight delay coming back into the United States. When I drove across the border into Canada, the customs agent just rattled off some questions about whether I was carrying any fruit or firearms. When I told her that I had neither in my possession I was waved on through.
It is best to land in Seattle as early as possible as there is still some driving time on this day. Also there are a few sites in Seattle that are worth seeing, sites that can be seen in a few hours. I landed in Seattle at 11:12 in the morning. From there I saw the Space Needle and the museums at its base. I picked up a rental car and after the short sightseeing stint in Seattle I was headed for Bellingham Washington via Highway 11. The driving time on this day is about 2 hours and 40 minutes. I stayed at the Hampton Inn located at 3985 Bennett Drive. Phone Number (206) 676-7700.
Day 3 : Leave very early. Drive from Bellingham to Clearwater, BC, via Highway 539 to 546 to Highway 1 to Highway 5. Highway 5 is called the Coquihalla Highway. Stop at the Fraser River Canyon. If time permits take a short drive up the canyon. There is a river gorge tram that provides exceptional views of the gorge and river. Stop in Kamloops and survey the town for possible hotel sites as you will be staying here on your return trip. Get a motel in Clearwater, preferably on or overlooking Dutch Lake which is an ideal swimming area. The total driving time is 6 hours. Motel: Jasper Way Inn, located on 57 E. Old North Thompson Highway. Phone Number (604) 674-3345.
Day 4 : In the early morning visit Wells Gray Provincial Park. Must sees include Dawson Falls and Helmcken Falls from the canyon viewing platform. Visit the David Thompson river. Then leave for Jasper, Alberta via Highway 5. Stop and stretch in Blue River, a ski facility. Make sure you stop at Mount Robson, the highest point in the Canadian Rockies. You will see a number of red flags lining the highway and local roads in many of the Canadian National Parks. These flags mark sites where automobiles have struck and killed wildlife. Get a private room at someone's house (home stay) in Jasper. Jasper offers private accommodations at a price less then that charged by a hotel or motel. The total driving time today is 3.5 hours.
Private accommodations: Rainee's Rooms is owned and operated by Lorraine & Eric Dietiker, located at 6 Aspen Crescent. Call by 6:00pm if you are going to be late. Phone Number (780) 852-5181. Email: raineesroomsjasper@telus.net

The Jasper Home Accommodation Association puts out a yearly brochure that lists over 50 private accommodations in the Jasper area. For all of the Jasper Home accommodation listings, visit their very informative website: www.stayinjasper.com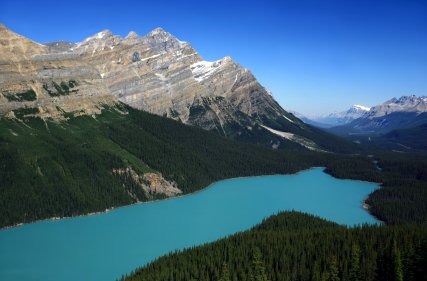 Day 5: The top priority for this day is to relax after the previous fast-paced days. The tram ride to the top of the mountains overlooking the town of Jasper is fantastic. There are many hiking trails and lakes nearby. Visit some of the mountain goat lookouts and Athabasca Falls. The driving time is very negotiable. One nice thing about this town, being just about the most northerly point of the trip, was that daylight was present until at least 11:00pm. Again, stay at private accommodations (Rainee's Rooms)
Ammolite, one of nature's rarest gems is mined solely in Alberta. This gemstone is in many of the geological and jewelry shops around Alberta and in British Columbia. The stone is a mix of brilliant reds, greens, and blues. Ammolite comes from a rare mineralized fossil, the ammonite.
Much wildlife can be seen in many of the Canadian Rocky Mountain parks, not excluding Jasper National Park.
I found ten campgrounds in the Jasper city area. www.pccamping.ca/parkscanada/en
Pocahontas 140 sites Snaring River 66 sites Whistlers (Electricity) 781 sites
Wilcox Creek 46 sites Jonas Creek 25 sites Wapiti (Electricity) 366 Sites
Wabasso 238 sites Columbia Ice field 33 sites Honeymoon Lake 35 sites
Mount Kerkeslin 42 sites
As far as scenic and natural beauty very little rivals Jasper National Park. This was one of the must sees on the trip for me. I had long heard of its vast and unparalleled mountainous beauty. This park is less crowded and less developed then its sister park to the north, Banff National Park. That appealed to me. Jasper National Park is Canada's largest Rocky Mountain National park and encompasses over 4,200 square miles. The best way to describe Jasper National Park is to give you a list of all the natural attractions in the area.
Jasper Park Lodge is a rustic yet sophisticated resort overlooking the shoreline of Lac Beauvert. This lodge would be the perfect location for a honeymoon. When I was there a soft rain was falling. It soon stopped and a gorgeous rainbow appeared and as it cleared I saw that I was surrounded by impressive rugged looking mountains. Pick up a map at the lodge detailing area walking trails. There are many, most within several miles round trip of the lodge. Some meander along the river and some visit small canyons and lakes.
The small lakes in the area are called "pothole lakes" and are not fed or drained by an apparent river system. All these lakes are connected by a vast underground water system. Note: In this country the weather can change quite drastically and dramatically. Always be prepared for the worst even on what appears to be a bright sun filled day. ALWAYS take extra clothes and food. It is also important to tell someone where you have gone.
The following are more Jasper attractions. Some of these are located south of Jasper and you may want to see them on your way down to Banff National Park.
Athabasca Falls is another must see in a must see park. These falls thunder and twist and churn their way through narrow canyons. The actual falls are quite wide and there are several trails winding around them offering many distinctive views. The falls are located 14 miles south of Jasper. You can easily see where the falls have carved their way through rock.
Goat Lookout is located 23 miles south of Jasper. From this location you have a great view of the vast Athabasca Valley and the steep cliffs leading down to a wide river. When I was there I was able to spot not only the agile mountain goats but also grizzly bears and bighorn sheep. The reason many of these mammals are in this area is because of the vast amount of salt and mineral licks.
Sunwapta Falls are located 33 miles south of Jasper. Most of the waterfalls are located near the major highway and unless you really enjoy waterfalls, allow no more then 35 to 45 minutes of viewing time. There are also a number of good picnic spots overlooking the falls. All these sights have very nice maintained gravel or paved hiking trails. The Sunwapta Falls are narrower than the Athabasca Falls so they appear to be quite powerful. In the winter there are many ice formations along side the edges of the waterfall.
Stutfield Glacier is located 57 miles south of Jasper. This is a small arm of the massive Columbia Ice field. This arm of the glacier presents an impressive display of power by flowing 3000 feet over vertical cliffs.
An accessible arm of the Columbia Ice field is located 63 miles south of Jasper. This is the largest ice field south of Alaska. This glacier covers over 233 square miles. For an up close and intimate look at the glacier you can take the Snow Coach, a large bus that drives you right onto the glacier. Guided Glacier walks are also given.
Mount Edith Cavell can be a dangerous place as I found out. The beauty is impressive. A milky blue lake lies below the glacier. You can see the Canadian Rockies well reflected off of the surface of the lake. At the end of the curving road that winds its way up to the parking lot, you will find a trailhead that leads to Angel Glacier. Steep jagged mountains rise directly above parts of the glacier and the lake. You can see many chunks of snow and ice falling straight down the jagged cliffs. Often you will hear loud noises that sound like claps of thunder, becoming loud all at once, and then slowly fading into softer sounds. When I first heard the noise I was puzzled because it was a clear day. Then I looked in the distance and I saw immense chunks of ice plummeting downward at a rapid rate, and I understood what was causing the noise.
The trail to the glacier is fairly short. It starts out somewhat steep. Don't be discouraged. The beauty is too awesome to be turned away by a short steep section. The total distance of the trail one way is between 1/4 to 1/2 a mile. If you want to actually climb onto the glacier you will have to cross a small creek that empties out of the glacier fed lake. This requires some rock hopping and some agility to keep from becoming wet. Then on the other side of the small creek you will have to hike about a hundred yards to the tip of the glacier. I did this and entered the heart of the glacier through an intimidating ice cave.
Long icicles hung from the mouth of the cave. The mouth was about 30 feet in diameter and about 10 feet high. There was a greenish glow coming from deep within the cave. I started hiking back towards the gut of the cave. Soon I had left all the tourists behind and was alone in the greenish light. I kept hiking and then was slowly plunged into darkness. Fortunately I had a small flashlight with me. I kept walking and the cave kept getting smaller and smaller. Soon I had to duck to avoid banging my head against the hard ice. The ice being reflected by the flashlight looked like solid rock with a slight translucent look.
It was about this time that I decided that I should probably turn back. I felt slightly claustrophobic but not in too much danger. I figured that I was many feet beneath the surface of the glacier and the ice was providing plenty of support. Just as I was about to turn back I caught a faint greenish glow. By this time I was crawling on my knees and the cave was sloping upward. The greenish glow became stronger and soon I could make out a very narrow exit onto the glacier. I seized the day and crawled on through safe and uninjured. I came out on top of the glacier many feet from the end of the arm that I was on, I could see rocks and chunks of ice on top of the glacier and as I turned around and looked up, I saw that I was not too far from the steep cliffs. I decided that I would be wise to get off of the glacier ASAP. I headed for the end of the glacier and as soon as I made it I could see that I was out of any danger and only then did I reflect on just how dangerous glacier caving and walking on glaciers could be – especially without the proper training and equipment. It was then that I finally relaxed and let all the tension drain out of me. I was finally satisfied that I was out of danger and I snapped many pictures of the surrounding area.
Punchbowl Falls is located 29 miles East of Jasper. The rock formation on either side of the falls are curved and resembles a punchbowl. There is a clear pool beneath the falls.
Miette Hot Springs are located 36 miles East of Jasper. Access here is from May through Labor Day. These are the hottest springs in the Canadian Rockies. Water is cooled from a high of 130 degrees F to a more comfortable 102 degrees F. The springs are located in a scenic valley. There are hiking trails and picnic sites nearby.
Maligne Canyon is an impressive site located 7 miles South East of Jasper. This is a spectacular deep gorge, in some places descending to heights of 165 feet. There is a long trail that winds its way along the gorge and crosses in six places. On some parts of the trail you can lean over the railing and be misted by some of the smaller waterfalls. Looking down you first see moss covered banks and then if you glance a bit further down, you will see swirling blue water way below. Don't miss this gorge!
Medicine Lake is another must see. There is so much in this park! The towering jagged peaks rise in all directions around the lake. It is located 19 miles South East of Jasper. This may be a large lake, a small lake, or no lake at all depending on the time of year that you visit. The lake level also varies from year to year due to fluctuations in rainfall. Medicine Lake used to be a source of Indian myths and legend. The lake level varies so much because of a unique underground drainage system which actually feeds many of the lakes in this area of the park. Between Medicine Lake and Maligne Lake there is a stop area just off of the main road that looks down on a large river emptying straight out of a mountainside. That is also worth seeing.
Maligne Lake is located 29 miles South East of Jasper. Continue past Medicine Lake to see Maligne Lake. This lake is located in the majestic Maligne Valley. This lake is the second largest glacier fed lake in the world and is a must see. It stretches 14 miles at its longest point. There are cruises that will take you out on the lake for about an hour and a half. At one end of the lake, where the main river crosses underneath the road, there is a picturesque island in the lake. This is an ideal spot for taking pictures.
Lake Edith and Lake Annette are located 3.6 miles from Jasper. The water in these lakes is somewhat warm and people do go swimming here. Hiking and bicycling trails surround both lakes.
Patricia and Pyramid Lakes are 5 miles from Jasper. A winding road leads to these lakes. They both feature very good visibility. Boating and hiking are very popular here.
Whistler's Mountain is located 5 miles south of Jasper. The Jasper Tramway is located here and whisks you up the mountain to 7,496 feet. There are stunning views of the Jasper valley and the surrounding mountains. Once you reach the top you can hike up a somewhat steep trail to the top of some high ridges for even better views of the awesome Canadian Rockies. When I walked this trail I took several hours for the roundtrip hike. On a very clear day, which I did not have, you can see white covered slopes of Mount. Robson in the distance in British Columbia. Come prepared for windy conditions. The tops of the slopes are above tree line and are very unsheltered from the wind. There is a gift shop and restaurant at the tram.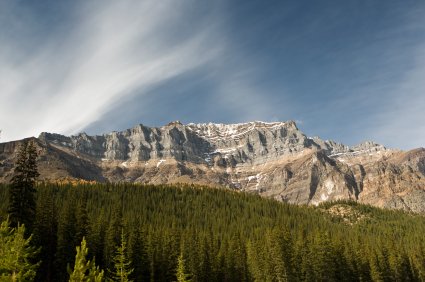 Day 6 : Visit the Canadian Ice fields. The Miette Hot Springs via Highway 16 are a possibility. Malign and Medicine Lakes are a must see. There is an underground river that empties into one of these lakes. There are some great hiking trails near these lakes as well as well carved river canyons.
When I was here the visibility was severely limited due to some forest fires. I could only catch glimpses of how awesome the scenery was around me. The driving time is negotiable. Stay in private accommodations for the last night (Rainee's Rooms).
Day 7 : Leave Jasper for Golden via Highway 93 to Highway 1. Slowly make your way down Highway 93. Stop at the ice fields. You can walk onto some of the glaciers. In some of the glacier parks you will see where people have been marking the retreat of the glaciers with small signs that list the year when the terminus of the glacier was actually at the sign. The Sunwapta river is an ideal location for lunch. There are several glacial fed lakes here that also provide excellent lunch stops or photo opportunities. The lakes in this part of Canada are among some of the most beautiful that I have ever seen in my travels. The reason for this is because these lakes are glacial fed and the water is a mix of aquamarine, blue, and green. The glacial sediment is carried into the lakes and forms this exquisite array of color. Stop at Lake Louise. This is a MUST stop! This is the queen of the glacial fed lakes. Take several hours or extend your vacation and take several days here. Spend time hiking around the lake or on some of the many trails in the area or go canoeing on her milky waters. From the large multi storied hotel on its shores you can see and hear large chunks of ice breaking off of the mountains in the distance. The grounds are well manicured here and there are some awesome photo opportunities. Get a motel in Golden. The driving time is 4.5 hours. We stayed at the Columbia Valley Lodge on Highway 95. They had a quaint restaurant. Phone Number (604) 348- 2508. Visit: www.columbiavalleylodge.com
Day 8 : There are several options for this day, depending on what and how much you want to see. First, you could return to Lake Louise. Second, you could drive the Radium Hot Springs Loop, visiting Kootenay National Park via Highway 1 to Highway 93 to Highway 95. View the Indian painting grounds in Kootenay. Lastly, you could spend the day in Golden relaxing on the Columbia River or Kicking Horse River. Motel: Columbia Valley Lodge. The Driving time is negotiable. Visit: www.columbiavalleylodge.com
Day 9 : Leave Golden for Kamloops via Highway 1. Definite stops include Glacier National Park and Mount Revelstoke National Park. These mountains, although quite spectacular, are not in the same class as the mountains near Jasper and Banff. I found Kamloops to be a wild town. Teenagers seemingly had nothing to do except cruise the streets and make trouble. People down on their luck were slinking around. Many of the shops were run down and selling suspect goods. However, there were several outstanding rock and gem shops. Motel: Ranchland Motel, located at 2357 E. TransCanada Highway. Off of Highway 1 take the River Road exit westbound. Phone Number (604) 828-8787. The driving time is 5 hours. Visit: www.ranchlandmotel.ca
Kamloops is a rough town of 67,000 people located about 3.5 hours from Vancouver. However these two cites are worlds apart, one is sophisticated and exhibits an international flavor, the other seems to be stuck in another age, an age of economic depression. Kamloops used be be a center of economic prosperity during the gold rush of the 1860's.
There are several attractions worth mentioning. One is the British Columbia Wildlife Park. They are located along Highway 97 (the Trans Canadian Highway) about 15 minutes east of downtown Kamloops. Phone Number (604) 573-3262. The adult admission is $5.50.
The Kamloops Museum and Archives is located at 207 Seymour Street and it portrays the city's history. Phone Number (604) 828-3576.
Day 10 : Leave for Whistler via Highway 1 to Highway 97 to Highway 99. Stop in Liloett, a small town halfway between nowhere and somewhere. The people in this town were very nice, but they seemed to be living in slow motion. I was forced into a detour when I arrived in town. I found out that a little old lady had been setting fire to all the wood bridges in the area and also destroying them by other means. I was not able to follow my original route because she had destroyed the main bridge out of town, and there was no way across by automobile. So I lost a good chunk of time driving on perilous dirt roads, dirt roads that eventually led to the ski town of Whistler. The normal driving time for this route is about 5 hours but it took me closer to 8. There are lots of accommodations in Whistler because it is world-famous ski town. However, lodging tends to be a bit pricey.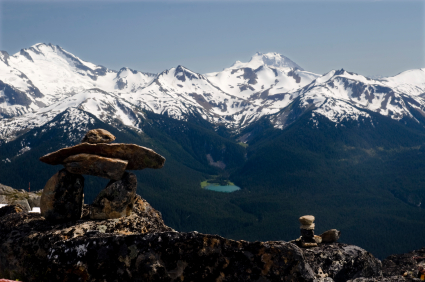 Whistler is a popular year round resort village of about 3500 residents. The tram is open year round. I hiked about 1/4 of the way up into the Whistler hills following the shadows of the tram cars. I stopped at the first unloading area about a 40 minute hike from Whistler village at the base of the ski resort. I walked into the unloading area and started talking to one of the tram lift operators.
After talking for a while he offered me a free ride to the top and then back to the bottom. It was an offer that I could not refuse. I hopped into the tram car and in about 12 minutes I was standing on the top of the mountain. An eerie mist came over the mountain and cut me off from the rest of the world. I was lost in this fog and from the deck of the high lodge I could barely make out glaciers in the distance. I stood at the top and stared out over the ski fields. I read a plaque that said the founder of the Whistler Ski Resort modeled his resort after Squaw Valley in California.
Some good Whistler vicinity hikes are available after taking the tram up the mountain. I suppose you could walk up from Whistler village but you surely would be tired out by the time you reached some of these trail heads! The Whistler Village Gondola also allows you to take your mountain bikes up and from the top there are 4000 vertical bike descent trails.
1. Harmony Meadows is a 1.6 miles round trip distance. Total time is between 30 and 60 minutes. Elevation gain is 200 feet.
2. Ridge Lookout Trail is about 1.4 miles total distance. You hike one way in and one way out. The hike culminates at a spectacular lookout. Elevation gain one way is 250 feet.
3. Musical Bumps Trail is for the serious hiker. This trail is about 15 miles one way to Whistler Village. Total time for a hiker in decent shape should be around 5 to 6 hours.
Day 11 : Take the Cheakamus Lake hike which straddles the lake in old growth forests. The trail ends at a beautiful alpine lake. There are glaciers nearby. The total trip is about 2 miles and there is minimal elevation change. Visit Blackcomb at Whistler, the famous ski resort. A tram can whisk you to the top of the resort in about 15 minutes. Driving time is negotiable. Hotel: The Whistler Fairways Hotel & Resort is located at 4005 Whistler Way. Toll free Phone Number from North America 1-800-663-5644.
Day 12 : Visit Lake Garibaldi and the famous Garibaldi Falls. Also visit Nairn Falls Provincial Park and take the Nairn Falls hike. The total hiking time is about 2 miles. The town of Whistler is very quaint. There are lots of shops in the central part of town. The shops are oriented in a village like setting. They are in buildings along open air cobblestone courtyards. Driving time is negotiable.
Day 13 : Leave for the large city of Vancouver via Highway 99. Stop in the small town of Squamish and view the Bald Eagles that flock to this town. (Squamish population = 16,000) Stop at the British Columbia museum of gold mining a few miles south of Squamish. This museum is located right next to the main Highway that goes through the town of Squamish. Stop at Horseshoe Bay. Once you reach Vancouver you may just want to relax or see a few sites before you find you lodging. I highly recommend getting a room at the University of British Columbia. During the summer months rooms are rented out to anyone who needs accommodations. You can call Phone Number (604) 822-1010 for more information. Driving time is about 2 hours.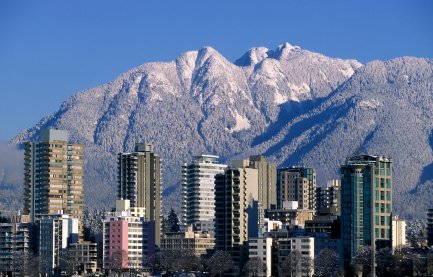 Day 14: There are many sights to see in Vancouver. See the section titled Vancouver for much more in depth information. Some are listed here. The Sri Lankan Gem Museum is located downtown and is well worth a visit. I enjoyed walking around the Van Dusen Botanical Gardens. Stanley Park is also a nice setting for picnics. There are many shops located in downtown.
This is a good day to take a ferry to the beautiful town of Victoria located on Vancouver Island. I HIGHLY recommend that if you are staying several days in Vancouver, that you visit Victoria. Victoria is the capital city of British Columbia. The population is about 90,000 and the metro population is 415,000.
This city boasts many gardens and flowers that bloom year round. Victoria used to have more of a British feel but over the past 10 years more and more high rise condos keep rising in the downtown area.
The Parliament buildings are well worth a visit and can be used as a backdrop for taking pictures of your loved ones. Many of the light poles located near the parliament buildings contain hanging pots of flowers. These can be used to frame your photograph.
There is one ferry (the British Columbia government ferry) that makes the trip from Vancouver to Victoria. It travels a number of times per day. You may want to consider going by foot and leaving your car behind in Victoria especially in the summer where waits can be up to 8 hours to get a car on despite the fact each ferry carries more than 450 cars. For schedule & other detail information visit: www.bcferries.com
There are also ferries that make the trip to Victoria from Seattle and other smaller cities in British Columbia. If you take the ferry from Vancouver call (604) 386-3431 for more information. I recommend that you take one of the early ferries if you are just going to be in Victoria for a single day. Keep in mind that in the summer months there is extended daylight. Its best to arrive early for the ferry. If you have never taken a car/passenger ferry you will be surprised at the number of cars that they are able to fit on boar. I am estimating that the ferry trip from Vancouver to Victoria took about an hour and a half.
There are many quaint tourist shops in Victoria. I had a great time just wandering around this safe town from one block to the next. Most of the good shops are located towards the water, near the harbor.
Briefly, some of the highlights besides the shopping and parliament buildings are:
Royal British Columbia Museum is located at 675 Belleville Street. This museum displays the human and natural history of British Columbia. Admission varies based on the time of year and whether you just want to see the museum exhibits, IMAX or both. This museum is located right next to the parliament buildings. Be sure to tour the inside of the parliament buildings also. Phone Number (604) 387-3701. www.royalbcmuseum.bc.ca
The Empress Hotel is located directly across from the harbor. This is an attractive and distinctive hotel, recognized world wide. Needless to say it is very photographed. When I visit luxurious hotels, I always like to sneak up to some of the higher stories and peek into the rooms or walk through some of the banquet rooms. I try to act like I know what I am doing. I always walk with authority. These hotels usually have many stories, and I find that when I take the elevator up to the top story I can get my bearings in what ever city I happen to be in. I can take pictures that capture the entire city and can spot interesting sights many miles away with my trusty pair of binoculars. Visit: www.fairmont.com/empress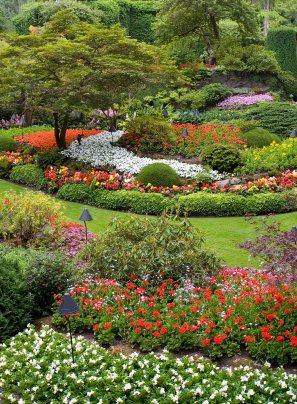 Butchart Gardens (www.butchartgardens.com) are recognized worldwide for their impressive display of foliage. I have even seen signs along California's Golden State Freeway (The 5) advertising these gardens. This is one place that I still kick myself for not seeing when I had the opportunity. I will have to take another trip to this area some time down the road just to see the Butchart Gardens. Besides the many different sub gardens (Rose, Italian, Japanese etc) there are two restaurants here, the Butchart Dining Room, and the Blue Poppy. Evening entertainment is also offered Monday through Saturday from June through September. Fireworks displays are also held on Saturday nights in July and August.
Other attractions include a tropical conservatory, Victoria Butterfly World which contains rare and endangered butterflies, the Maritime Museum of British Columbia, and the Royal London Wax Museum. The Bay Center, a quaint shopping area provides a free walking tour brochure. There are several walking tours listed in this brochure and it also identifies points of historical interest.
Day 15 : Visit Queen Elizabeth Park and Bloedel Conservatory. From just outside of the conservatory you have great views of the entire city of Vancouver. In the foreground you will see a large stadium which used to be home to the British Columbia Lions of the Canadian Football League (CFL).
Other options – visit the Metrotown giant mall. Visit the Science Conservatory. View the Vancouver Stock Exchange near the wharf. Visit the Capilano suspension bridge. Catch a summer symphony. Robson street has many antique shops and an old town flavor. Driving time is negotiable.