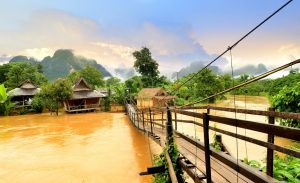 For a country among the 10 poorest in the world transportation on the whole is fairly easy to use.
Buses run several times from the capital city of Vientiane to Vang Vieng along the paved Route 13. The public buses are usually quite crowded and without fans and AC. They are however, among the cheapest ways to reach Vang Vieng from Vientiane. A one way ticket as of mid December 2002 cost 7000 Kip about 60 cents US. Once the seats fill up small plastic stools are offered and are placed down the aisle in order to accommodate more people. This bus makes one bathroom stop about 1/2 way between Vientiane and Vang Vieng. The stop we made was just on the side of the road. Any luggage or gear is tied down & stowed on the top of the bus or in compartments on the buses side.
AC mini buses also run between Vientiane and Vang Vieng. You pay a little more but to me the AC is well worth it. They also shave about 1 hour off of the time it takes the public buses to travel the same distance. The reason being that these buses do not stop as much as the public buses.
You will need to acquire a visa to enter Laos. You may be able to do this from your home country by writing your country's Lao Embassy. The Lao Embassy's web for US citizens is www.laoembassy.com – off of this site you can view and print visa documents.
After you fill them out you can send them and other required documents to the Lao Embassy office and you will be issued a visa. Procuring a visa this way saves a bit of time but is about $20 more expensive than getting a visa at the border once you actually arrive. Getting a visa at the border is fairly painless. It takes maybe 20 minutes or so depending on if there
is a line or not.
If you enter Laos from Nong Khai in the north of Thailand expect your crossing over the border to take about 60 to 90 minutes. The reason is there are several check points between Thailand and Laos – and there is limited transportation between these checkpoints. In other words, you have to wait for a government bus to transport you between several of the checkpoints.