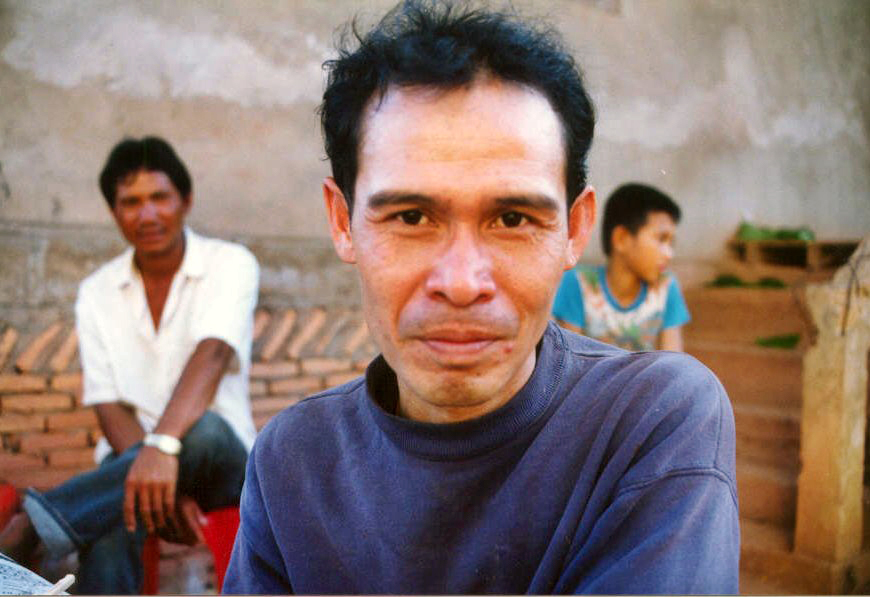 The following is general information to be aware of when traveling in Vang Vieng. These are arranged in no particular order – they are just some insights Dave wants to pass on from his experience traveling in Vang Vieng.
Money
The Lao "Kip" is the unit of currency for Laos. The kip fluctuates tremendously from week to week. The largest bill in circulation was a 10,000 kip note which is valued at slightly more then 1 USD. As a souvenir to give to friends Dave went to a local bank and purchased several thick "bricks" of bills – each note was valued at 100 kip. He paid 10,000 kip for this brick – far less than what you would spend for actual "play money" in the United States.
Laos installed its first ATM around 2002 – this was located in Vientiane, the capital city and initially was only for local use (tied in to local Lao banks). Today there are ATM's all over Vientiane and elsewhere in Laos. Note that when you leave Laos, it can be difficult to exchange Lao kip for other currencies because the Lao kip isn't that desirable. Sometimes along the border you can find independent money exchangers who will do this for you. It's not impossible to do.
The most common request from children in the small villages on the outskirts of Vang Vieng was for pens. I would recommend taking a healthy supply of writing instruments and giving these out in the small villages.
Electricity
is not always on 100% of the time in this town. When I was there it went out for the entire day and came back on around 10pm. From speaking to the locals, this is a common occurrence.
The temperatures were quite mild when I was in Vang Vieng. At night a even a light jacket was nice to have on.
Internet access has substantially improved like it has in many places in the world. We remember first visiting in 2002 and seeing Internet cafes connected to dialup access with many computers strung together in a network! Agg! Sometimes the electricity would go out further complicating correspondence in what was already an agonizingly slow connection. During those days we always made a point of saving emails to a certain directory on the computer just in case the electricity went out while working. Sometimes the net would be down – the cafes never charged for using computers while offline. We always found it very interesting to read emails that fellow travelers had saved to the computer and had somehow forgotten to delete before they left.
Today simply purchase a SIM card for local data and calling plans – we recommend Unitel for excellent coverage throughout the country.
Many of the more "touristy" restaurants show movies during the evenings – often the sound is turned up too high and drowns out conversation in the rest of the restaurant. However, it is easy to avoid these type of restaurants.
Recommended Art Gallery
Vang Vieng does not have many art galleries. The one gallery I did visit was fairly expensive – and many of the framed paintings on the wall were framed in wide bamboo frames (which would make it difficult for packing). The Phixy Silp Art Gallery did have unframed paintings which would be much easier to pack in a back pack. The artist whose work is displayed in this gallery is Vilakone Sisouvanh. Their PHONE NUMBER is: 856-23 511439
Massage
The typical full-body massage lasts about an hour – you can either choose oil or a no oil massage. Prices are very cheap. There are several massage parlors you can choose from – usually the massages are given while you lay on one of several beds in a small room.
Never let your valuables out of your site when you are touring – especially when visiting caves or swimming.

General Travel Information