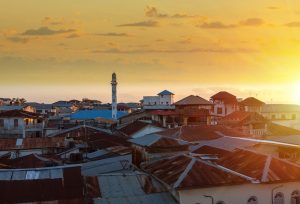 Stone Town is a shopping Mecca for Eastern Africa. I found several incredible antique stores specializing in East African tribal antiques from the 1600's through the 1900's. One such store was like walking back in time. Intricately carved horns, parchment scrolls, rawhide prayer books, wooden masks, wooden statues of every shape and size and many other types of antiques were on display. The owner has several partnerships with antique dealers in Santa Barbara, Beverly Hills and Los Angeles – where at those stores the antiques sell for many many times what they sell for in Zanzibar…..so with this in mind, I left his store with several bags of antiquities!
This store has an antiquity dealer in the USA – Dispela Antiques is located at 459. S. La Brea Ave in Los Angeles, CA. They are open 7 days a week from 10am to 6pm. They can be reached at 323.934.9939.
Javed A. Jafferji, the famous photographer behind the classic Zanzibarian postcards and coffee table books available at many of the stores in Stone Town, has his own store at 170 Gizenga Street in Stone Town. This incredibly talented artist and photographer has had his photographs published in magazines such as Newsweek, Sunday Times, and the Independent Guardian. I had the opportunity to visit his store – and meet Javed while I was there. He took me into his back room and showed me several new photographs he had taken as well as a book he was writing. Javed & his father have a wonderful gallery containing local artwork including paintings, antique carvings, lots of his own postcards, and an excellent collection of books.
More information about Javed:
http://zanzibar.net/zanzibar/javed_jafferji
www.swahilicoast.com
In addition, there are several other galleries in Stone Town that I recommend visiting. I have personally visited these galleries listed below.
Bin Masoud Art Gallery is located in the Changa Bazzar
Images of Spice Island for Unique Art & Hand Craft is located on Gizenga Street. You can call them at: 0812-750565
Lookmanji Art's & Antiques is located near the National Bank of Commerce. You can also call them at: 00255 54 33103
Lookmanji Art's & Crafts Gallery is located opposite the Jani building – phone number: 00255 54 0812 750251