Food
Foods with an International Flavor
The Traveller's Cookbook was conceived under a Ghana-sky, where all late-night-booze-filled discussions turned to food. This blog is for you
11 views
Submitted Apr 5, 2016
The Travelling Chopsticks is where I share my greatest passions in life: Eating, Cooking, Travelling and of course Eating some more

12 views
Submitted Dec 8, 2014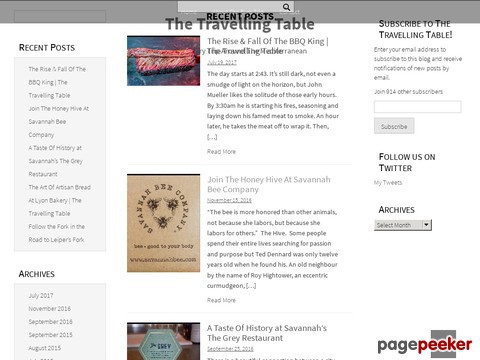 a culinary road trip around America
14 views
Submitted May 28, 2015
Wan-der-ing [won-der-ing] Adj: Moving from place to place without a fixed plan
11 views
Submitted Jun 12, 2014
An adventurer by nature, but a lover of home by heart. This is a collection of tastes from my tables abroad… wherever that may be.
8 views
Submitted Oct 30, 2016
Food and Travel blog by Jacy Calderon
9 views
Submitted Apr 4, 2016
travel, food and lifestyle - The Western Charm celebrates travel and incorporating global experiences into your lifestyle — from the kitchen to personal style and beyond.
11 views
Submitted Mar 21, 2016
Welcome to my online world! I'm Kristy Bernardo, a fun-loving professional chef, food blogger, mom and wife.
14 views
Submitted Jan 18, 2013
Thai cooking school on Ko Lanta Island in Southern Thailand
199 views
Submitted Feb 26, 2010
Bringing you bites & sights from all over the world.
2 views
Submitted Apr 24, 2017
a Thai woman&#39
16 views
Submitted Jul 14, 2013 Thailand's most famous chef - has restaurant in LA - also TV show host of "Lets Get Cooking"
117 views
Submitted Feb 26, 2010
Imagine Cooking with Simonetta & Paola
Eating with an Italian family
Living Tuscan Lifestyle
Combine excellent wines and Seasonal organic food

Ask for classes with your family and kids
99 views
Submitted Feb 26, 2010
Tour de Forks Offers Uncommon Epicurean Adventures
20 views
Submitted Mar 16, 2010
Trailing Rachel is where you can check out the places I go and things I eat, drink, and cook here in Raleigh and wherever else Im heading...
8 views
Submitted Dec 19, 2014
Johanna Read is eating near and far …
6 views
Submitted Nov 22, 2015
exploring the world in search of food and fun
8 views
Submitted Jun 15, 2014
Travel and food observations from an obsessive and compulsive survey of the world. Plus everything New York City
11 views
Submitted Jun 17, 2010
A culinary journey around the world
7 views
Submitted Dec 20, 2014
Food, wine, travel, and the everyday adventures of a 30-something city girl
18 views
Submitted Jun 23, 2010

About Dave's Pick
Category Stats
Listings:
248
Regular:
247
Dave's Pick:
1
Last listing added:
Jan 8, 2018