Travelogues
These are typically individual's websites about their own travel experiences - they often include photographs. These are more geared to "travel stories" rather than blog entires. Click Here for travel blogs.
This site is a personal travelogue featuring many of the places I have visited in my lifetime, my own descriptions and as much other stuff I can remember which is worth mentioning along the way.
13 views
Submitted Mar 15, 2010
Snapshot Journeys travel pictures: Plan trips to fabulous destinations around the world or browse my travel pictures to spark your imagination - Karen's travelogue
11 views
Submitted Feb 27, 2010
travel writing guidelines for a travel magazine catering to those living overseas
176 views
Submitted Feb 26, 2010
great travelogue mostly of European countries
316 views
Submitted Feb 26, 2010
Canada's Adventure Couple - The World is one big adventure playground and Dave Bouskill and Debra Corbeil are out there experiencing everything it has to offer
23 views
Submitted Feb 26, 2010
Travel advisor - hotel reviews, photos and travel advice for hotels, tourist attractions, natural phenomena and travel agencies.
31 views
Submitted Mar 1, 2013
Currently, The World Effect consists of two people: Beau and Meggan. We recently got married in San Miguel de Allende, Mexico. We are now traveling around the world - amazing photos and videos
11 views
Submitted Mar 11, 2010
I have visited 72 countries on 6 continents. Ive created this website to share my experiences with fellow travelers and culture seekers from the comfort of their home. So relax and enjoy the journey!
10 views
Submitted Nov 2, 2013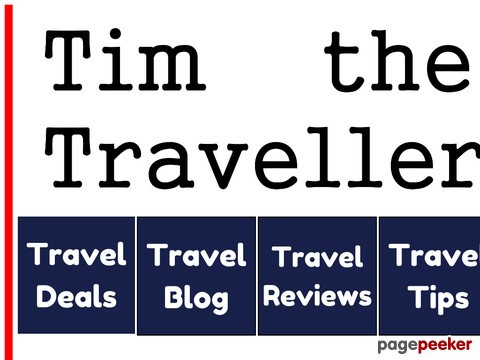 Tim's journals of his travels
19 views
Submitted Jun 22, 2010
Tomgoetz.com is a collection of photo journals from Tom and Jana's
12 views
Submitted Mar 15, 2010
journals and other writings submitted by a variety of travelers
14 views
Submitted Mar 12, 2010
Photo shoots. World travel advice. Tips on Munich & environs.
27 views
Submitted May 4, 2010
Travel Droppings has first hand photo essays and articles on how to work and travel your way around the world. It is a somewhat sarcastic take on world travel.
66 views
Submitted Feb 26, 2010
TravelPieces (dot.com) is a more "public" production than my fiirst website, which is mainly aimed at a professional journalism audience. Please enjoy reading the articles and viewing the photos here. This site also includes some handy information for travelers.
12 views
Submitted Jul 11, 2012
store, search and share your travel experiences
358 views
Submitted Feb 26, 2010
What began as W. Ruth Kozak?s personal journey to visit, then live in Greece, motivated by her life-long interest in ancient history, has now emerged into this travel ?zine where other writers can share their experience of travel and life abroad.
10 views
Submitted Mar 12, 2010
Travel tourism destination attractions visit holidays guide amazing photos
15 views
Submitted Mar 9, 2013
featuring guest travel bloggers
11 views
Submitted Jun 25, 2010
Sheila's videos, photos and writings from around the world
8 views
Submitted May 3, 2010
this site describes the travels and thoughts of truk, this guy that lives in Midtown Memphis.
7 views
Submitted Mar 15, 2010

About Dave's Pick
Category Stats
Listings:
92
Regular:
92
Last listing added:
Jun 6, 2015