It was hard leaving the resort today to start heading back to the "real world". Our sea plane took off in the early afternoon and dropped quickly from the sky to several also stunning resorts, picking up additional passengers who also looked somewhat depressed to be going home to cold weather countries this time of year.
We spent the afternoon in Male (most of Male can be walked in merely several hours). This city is intruiging as is built on such a small island, its one of the most densely packed tiny islands in the world (lots of high rises) as well as being historically interesting. With all the weight of the buildings in such a dense area you would think that perhaps the island is slowly sinking. It is interesting to note that the Maldives have the lowest high-point of any country in the world at only 2.4 meters above sea level (on an uninhabited island). The boat ride from the airport island is about 10 minutes and from there anything on the island is well within walking distance.
A highlight is the National Museum. As expected many of their historical artifacts are made from coral. What is not expected are many of these artifacts are Buddha heads or other items relating to Buddhism. The Maldives are a Muslim country and have been for 800+ years and its interesting to see the locals especially the women covered from head to toe looking at artifacts from a religion that no longer has its roots in their country.
Other places worth visiting include the first mosque on the island (made entirely of coral) and now protected by a metal roof, the main mosque, the outside of the President's home, a tropical fruit market, a fish market and the central park.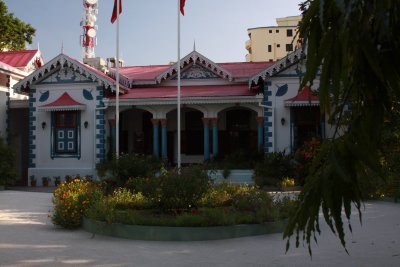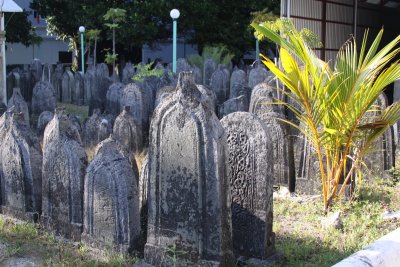 .