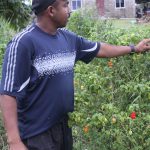 After languidly hanging out on the beaches in and surrounding Maracas I headed across the island of Trinidad. This was no easy feat – I was told to expect treacherous roads and this was certainly a correct assessment. The first sign I reached said 18 km to a small town of Arima (my destination). After navigating this steep, wet, extremely narrow road – which was full of pot holes, some seemingly the size of small golf carts – and branches and bamboo that had covered parts of the road – I reached another sign. It indicated Arima was yet another 20 km away. Oh boy. I later learned from locals that trusting road signs providing distances in Trinidad is highly unreliable.
Eventually I met up with Chanua who I initially met on Couch Surfing. When she saw I was interested in visiting the original home of the world's hottest chili pepper, in the Moruga district in the far southern part of the island – she jumped at the offer to drive down there. She runs a website and blog focusing on her life experiences as well as her own Aquaponics company. She has a keen interest in the natural wonders of her home country.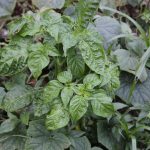 After asking about these hot chili peppers among her friends, she was told to ask for a "Johnny" – our plan was to arrive in the Moruga district and simply start asking around for Johnny. As it were, we arrived in Moruga and started asking around but didn't find "Johnny" – rather we stumbled into an agri business shop based on some vague direction where some guy was loading sacks of what looked like rice. His friend Cody has been farming super hot chili peppers for 30 plus years. After a quick phone call Cody showed up in a truck and off we were to the pepper fields.
Cody claimed, based on all his experience farming that the Trinidad Moruga Scorpion pepper does not exist (contrary to what is apparently an already established pepper) – upon reaching his pepper fields he explained himself. He said the Trinidad 7-Pot pepper is the hottest "base" pepper – and that these particular plants infected with some sort of mite actually manipulates and raises the level of Capsaicin (level of heat) in the pepper, making them even hotter than normal Seven Pot peppers.
Cody identified the picture of what I thought was the Trinidad Moruga Scorpion (the one I am currently growing) as actually a "Moruga Red" species – still incredibly hot (reference my earlier post about dealing with tasting this pepper here).