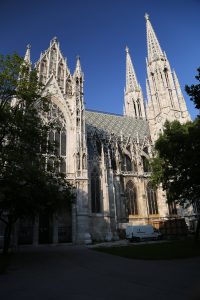 Arriving in Vienna was a shock after the calm and small town feel of Bratislava we have enjoyed the past few days. We were deposited right in the Museum District – which is a busy section of the city filled with massive and imposing historical buildings in all directions. Vienna has so much to see that we quickly decided trying to see some of its impressive architectural offerings on foot was not a good idea. We have been here several times on short trips and it is always an overwhelming feel to try to see the city because of its size.
Finding rent-a-bikes scattered throughout the city we jumped on several of these and began our exploring. Unlike certain cities which charge a hefty price after the first hour of use, the first hour is free here and then just 1 euro each hour afterwards.
We biked through busy streets, past many historical landmarks, along a sizable canal and 90 minutes later with the sunlight fading we found ourselves standing on a bridge overlooking the wide Danube River and watching the sun set. Fortunately these bikes are equipped with LED lights which shine as you pedal so we felt quite comfortable riding them in the darkness. Riding bikes is also a quick way to discover out of the way places that are less frequented by tourists and it gave us a visual on a number of interesting looking restaurants we never would have discovered otherwise – some floating, some with great views and some super busy with locals.
Dinner was in a bar on one of the small side streets; then we enjoyed a gelato after at what seemingly is the most popular gelateria in town – Zanoni's.
Finding a hotel close to where we were standing by typing in "hotel" in Google maps we soon headed to a Flemings property. Never having stayed at this small European based hotel chain before we were surprised to find a shower in the middle of the room surrounded on all sides by see through glass. We were told this is standard in all their rooms. No privacy here apparently – and one can put on a full nude cleaning presentation for his or her partner as they watch from the bed that sits right next to it!
A full moon over Vienna. Riding through the streets with an insatiable appetite to explore this remarkable city. pic.twitter.com/5ft4LfhDzp

— Dave's Travel Corner (@DaveDTC) September 8, 2014