Introduction
Quite simply, Highway 101 that circles the Olympic Peninsula has it all. The approximately 330-mile-long loop offers a bucket-list of natural wonders that have to be seen to be believed. Pristine lakes, waterfalls, striking shorelines, expansive mountain top vistas and even rainforests are all accessible along this stretch of road.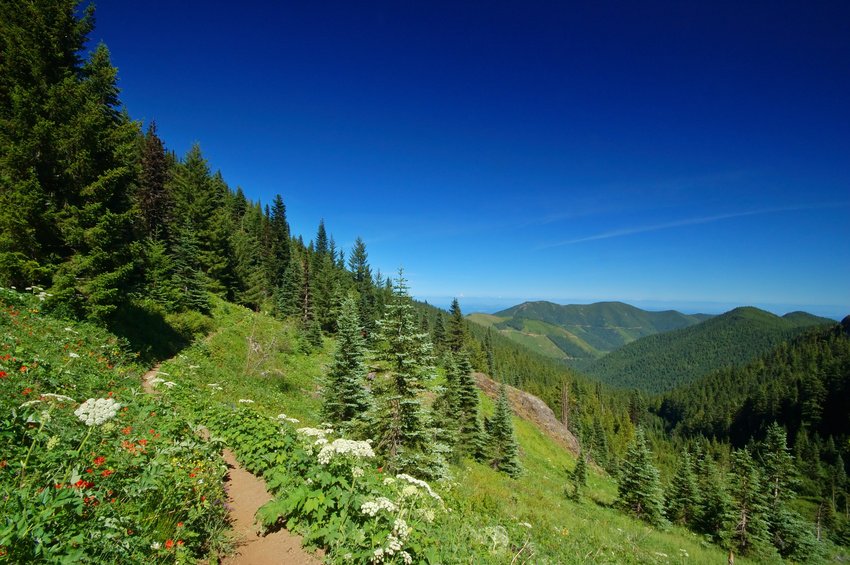 Starting Point
No matter what interests you most, almost any point along the loop is a good place to start your trip. However, due to it being the largest nearby city, Seattle represented a natural starting point so this is where I began my adventure.
To get to the loop, I left Seattle and took the ferry to Bainbridge Island. From there, I headed towards Poulsbo along Washing State Route 305, before continuing along the WA-3 N to the Hood Canal Bridge. Once over the bridge I was on Highway 104, staying on there for about 20 minutes until I reached the junction for Route 101 and the Olympic Peninsula Loop.
The Olympic Peninsula Loop
Before actually getting onto Route 101, I decided to take a detour to Port Townsend (about a 20-minute drive) which a friend had recommended. And it was well worth the visit. Food to die for, stunning architecture and a waterfront to gaze out to make this small town a really big deal. My only wish is I had more time to spend there. On the plus side, gives me a reason to go back one day.
I got back onto Highway 101, heading towards Sequim. Now this stretch of the road provides arguably the best views in the region (and there's plenty of competition), as you approach the Olympic Peninsula's rain shadow. The rain shadow is where nearby mountains block rain producing weather systems (a bit of geo-science for you), resulting in beautiful clear skies and the perfect conditions to view the stunning peaks in the area. If the description I've given sounds good, seeing it with your own eyes is something else entirely. 
Beyond Sequim to Port Angeles
I continued north along Highway 101 past Sequim and was confronted with a number of spectacular natural wonders. First up was the Dungeness Spit; now this place is one of the world's longest natural sand pits (five and a half miles in length in case you were wondering). It was declared a national wildlife refuge in 1915 due to the 250 species of bird that reside there – I'm no bird watcher but if I was this place would be my Disneyland!
Port Angeles was up next, a gorgeous coastal logging town situated on the outskirts of the Olympic National Park. At this point, a number of excursions become a possibility from this pit-stop, one of which is the short drive up to the Hurricane Ridge Road. More jaw-dropping scenery greeted me with the most breath-taking views of the National Park's snowy peaks and glaciers – all from a vantage point of more than 5,000 feet.
Lake Crescent and Forks Timber Museum
I left Port Angeles and continued driving west. I was soon confronted by a fork in the road where I duly turned left, sticking to Highway 101 and onto Lake Crescent. All my driving experience came in very handy as I negotiated the rough terrain that hugs the southern shoreline of Lake Crescent, with many a twist and turn along the winding road. The great thing about this was the unique view of the lake it offers. It really is a picture.
My next stop was the Forks Timber Museum, roughly a forty-five-minute drive from Lake Crescent. The museum features exhibitions that pay homage to the region's timber producing heritage. And if that's not exciting enough for you (you're probably thinking, what could top that?), the nearby town of Forks just happens to be the setting of the Twilight series. Now teenage vampires don't really do it for me, but it was cool to check out the location of a very successful movie franchise.
Hoh and Quinault Rain Forests
A fan of snowy peaks, glaciers and more varieties of tress than you thought existed? Yep, me too. Fortunately, the Hoh rainforest in the heart of the national park had all of these things and much more besides. Big-Leaf Maples, Sitka Spruces, Western Hemlocks and many other types of tree all call the Hoh Rainforest home, thriving on the 150 inches of annual rainfall in the area.
Some of these trees are between 300-500 years old, which helps to create the rainforest's mystical feel. Think a JRR Tolkien novel. A few inches shorter with hairy feet and I could have been Frodo taking in this splendour. I challenged myself to two hiking trails, The Hall of Moses and the Spruce Trail, which lead me through the vast yet accessible paths of the forest's wooden giants.
Now Hoh isn't the only rain forest in the region. About half an hour away along Highway 101 is Quinault Rain Forest. Like Hoh, it offers plenty of hiking opportunities but I opted to stay in my car and drive the loop around Lake Quinault instead.
 
Hoquiam and Pacific Beach Coast Drives
The town of Hoquiam is an hour's drive south along Highway 101. From there, I took a detour that encompasses a lovely scenic drive along the Washington Pacific Shores (simply exit Highway 101 and turn west onto Washington State Route 109). It's a long stretch of road (around 50 miles) but it's full of beaches and wildlife habitats. I particularly enjoyed stopping off at Ocean Shore, Grays Harbor and Copalis Beach.
Completing the loop
To complete the road trip I returned to the town of Hoquiam. Then I got back onto Highway 101, rounding the southern end of the loop before heading north to Seattle. I stopped at the town of Shelton, which was a real highlight on this last stretch of my journey. The Jarrell Cove State Park is a monstrous natural playground of hiking, biking, swimming and boating (plus about a million other things!). Definitely a place to take the family for a fun weekend. The Walter Dacon Winery sold itself to me pretty easily; a beautiful spot to stop and sample wine.
And with that, my journey was complete.
P.S…
For my trip I hired a car and decided to take out excess insurance. This meant that if I had an accident I would have had no excess to pay (up to a set amount). The car rental companies offer this cover at the rental desk but it's a lot cheaper to get it BEFORE you travel from a specialist provider. I got mine through iCarhireinsurance.com.