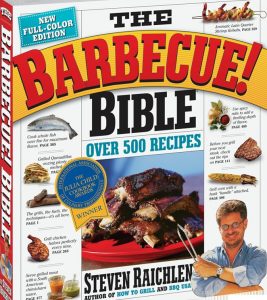 The BBQ Bible by Steven Raichlen The ultimate "must have" BBQ book. Is Dad a BBQ wanna be chef, how about mom? This book will give anyone with a sate for smoke a warm fuzzy.
Author Steven Raichlen has scoured the world over for International BBQ recipes. Not just a BBQ recipe book, The BBQ Bible covers types of grills, grilling mistakes, types of fuel, exotic drinks, salads, vegetarian fare and much more…but meat lovers take note, this is one of the real highlights of the book.
Other International recipes galore – bird, seafood, shellfish, desserts, etc.