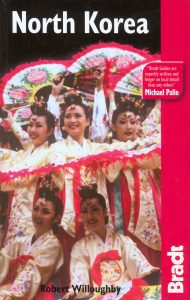 Bradt North Korea by Robert Willoughby Bradt guidebooks are the standard must have travel books for adventurous tourists who plan on visiting countries off the normal guidebook route.
Author Robert Willoughby has done an excellent job sharing his first hand insights about travel and life in North Korea. This book does a good job exposing the facts and debunking the myths behind this sometimes mysterious country.
Good maps, in depth descriptions of attractions, what to beware of, travel companies to use, visa requirements and much more make this the must have guide book for anyone planning a trip to North Korea.