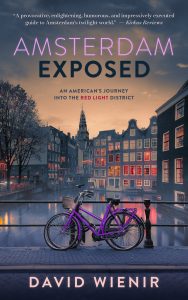 Journalists will tell you that persistence often pays off. Just before the turn of the millennium in Amsterdam a young American became fascinated by the city's well-known red light district. Worlds away from the San Fernando Valley cul-de-sac in which he grew up he became fascinated by the ladies of the night. Not from the perspective of wanting 15 minute thrills – but rather to dig deep into their stories, hopes and dreams and the realities of their work.
Understandably, the working ladies strongly resisted his efforts to talk to them once they quickly determined no money would be exchanged for their services. It is Wienir's persistence and refusal to give up on a potential story that ultimately led him to make a deep connection with one of the women.
Despite the confines of this particular woman's work and the challenges of forging a friendship between people from two entirely different worlds, they very slowly began to get to know each other, but more importantly eventually built trust with each other.
Deeply engrossing, this book strongly merits a one time sit down read from start to finish without interruption.
And this is a story that took Wienir nearly two decades to write; valuable time that he ultimately needed to gain perspective on his months and raw experiences spent living in Amsterdam.
One of the most intriguing reads of 2018.