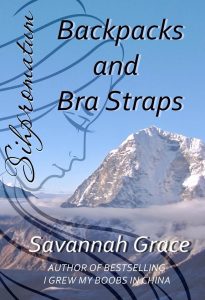 This is book number two of the Sihpromatum series and hopefully not the last as there is still plenty of this family's round the world trip left to cover. Author Savannah Grace continues with stories from the perspective of a wide-eyed 15-year old (her age at the time of this part of their trip) who is in the enviable position of being able to experience a diversity of countries, cultures, foods and people at such a young age.
This is the continuing story of a four-year family backpacking trip that took her, her siblings and her mother around Africa, Europe and Asia. Stories and adventures from on the road are sprinkled among the ties of family dynamics especially the stories that arise from being in such close proximity to each other which invariably happens when individuals are traveling together on the road, the closeness of the backpacking community and Savannah's personal growth on this epic trip.
In this part of the world adventure is sure to be found and they experience their fair share of this from a taxi ride in Kyrgyzstan where the drug running driver tries to extort additional money from them at the end of taxi ride to falling ill in less than desirable conditions. A component of this trip involves stretching their dollar as long as possible – IE spending as little as possible – which at times make for some entertaining stories.
A milestone is reached in this book – 100 days on the road. Little did they know this was to be the very beginnings of a trip that would last for four years.
Author Grace writes clearly, cleanly and creates an engaging read of what is relatively a rarity – a family that leaves their home to go on an extended budget backpacking trip around the world.
To purchase this book