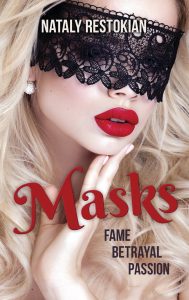 Masks by Nataly Restokian is the story of Anna's life – of all the cast of characters, including the men that come through her life, it is Anna we get to know the best. It is her fame, heartaches and resilience that leaves a lasting impression when one puts down the book after reading the last page.
Stuck in a heartless relationship of 11 years with her husband, Anna explores the online world of dating. Quick to find someone, a night of erotic fun and romance convinces both Anna and Joe that they are meant for each other. Unfortunately we never get to really know Joe – he doesn't come from Anna's world – but he is always on Anna's mind.
Living in a world of constant social, religious and sexual taboos – exacerbated by her social status and public persona, Anna must carefully navigate these constant pressures – especially with concern to Joe. A poignant chapter titled, "I hate you Armenia" is anything but hate filled prose. Rather it is beautiful tribute to Anna's Armenian heritage.
While the story is fiction it is based on real life events – perhaps some mirroring the authors own life. Born and raised in Lebanon, Nataly is the granddaughter of Armenian genocide survivors. This is her first book.
To purchase this book, click here.