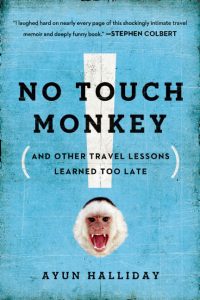 Author Halliday sprinkles a mix of wit and humor among her often eclectic travel experiences (no surprise considering her career in improvisation comedy). From Africa to India she details a number of travel memoirs prior to the advent of the Internet. She realizes the value of human interaction based on her travels pre wireless technology. To this she encourages travelers today to get off of technology and spend more time interacting with other travelers.
Some of the experiences detailed in this book border on the bizarre. Case in point was when she accompanied her mother to a Paris fashion show to be 'entertained" by a doctor doing a real life collagen-implant on some hapless woman. Then there is that time … in Amsterdam when she foolishly whips out her camera in the Red Light District and is immediately accosted by by a woman. In yesterdays world of non digital cameras, this lady tried to remove and potentially destroy her film. In today's world of the latest iPhones – you could delete a photo and then un-delete it later – perhaps avoiding the prolonged confrontation that Halliday had to endure on that cold Amsterdam night, many years ago.
Published by Seal Press – a publishing company founded in 1976 focusing on women writers and feminist issues.
To purchase this book