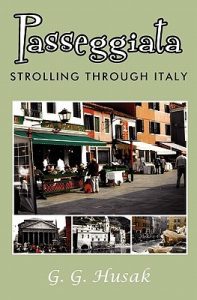 Passeggiata by G.G. Husak which means a kind of walk or stroll in Italian, is a travel memoir based on a couples first trip to Italy with additional insights provided based on a number of trips taken later.
This book is both personal, reflective and informative. Various chapters cover the author's experiences in not only some of Italy's most popular cities and regions including Rome, the Riviera, Umbria, Florence but also the quaint off the beaten path villages and towns that Italy is so known for. A good chapter is the one on "traveling light"; however this is not the only chapter that provides travel tips.
There are also many practical tips about how to travel like the locals and how to make the most of an and enjoy an immersion in another culture.