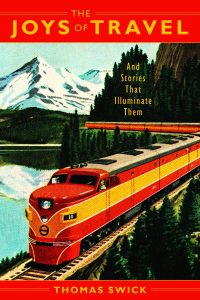 Author Swick highlights "the seven joys of travel" in seven chapters – anticipation, movement, break from routine, novelty, discovery, emotional connection and a heightened appreciation of home". This book is about his experiences, people he meets on the road and the resulting stories from travel when one is open to experiencing these seven joys.
These seven chapters are followed by seven additional chapters focusing on personal stories from Swick's own travels. Two highlights of these subsequent chapters are "My Days with the Anti-Mafia" during time he spends in Sicily and a very unique hotel in Bangkok described in "The Place You Could Be Looking For".
Swick is an insightful and reflective writer; he also uses a number of quotes from other writers throughout this book. This upbeat read will surely inspire you to take your next trip.
To purchase this book