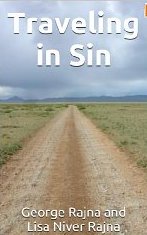 "When traveling, flexibility and solid team work are essential"– Lisa Niver Rajna
When I travel I love to read. It makes the long train, bus or flight times go by much faster. Therefore, on my recent vacation (September 2013) I started reading "Traveling in Sin" during my flight to Bari, Italy. I was immediately hooked.
The book is a travel memoir, a collection of stories, very useful travel information and quite a bit of romance. It is written in two voices: those of Lisa and George; which at first felt a bit …strange. I was afraid I wouldn't be able to follow the story. But, as it turns out, the two voices actually complement each other, making everything easier to understand.
Lisa and George met online in January 2007. Soon after, in the summer of 2008, they went on their first trip together in Fiji. This is when George told Lisa about his dream of traveling the world. And that's how their 11 months journey in Asia began.
"Traveling in Sin" tells the story of this couple, the journey that they follow as their relationship evolves during long term travel. Especially for Lisa, it is a journey of discovery: she loses weight, and gains courage and confidence. And George is there to help and encourage her.
If you are looking for romance, you'll find that here as well. The love story unfolds during their travels and culminates with a proposal. Having received my engagement ring in London, far from home, I could understand how exciting and special the proposal was.
The hard times any couple has when traveling also resonated with me. I have some memories of harsh words flowing between my significant other and me so I wasn't surprised to find them between Lisa and George, too. But communication is always the key to working past these issues.
I read the book as a novel. Pages flew by easily and I was glad to take some time at noon (when it was too hot to go out) to read about their adventures.
Did the book inspire me to travel? It is hard to say because I've been traveling independently for years, now. It did however; inspire me to set a "deadline" for our dream round the word trip.
If you are looking for some motivation to grab those plane tickets and pack those bags, "Traveling in Sin" is the book to read. With the wealth of information on land travel in Asia, on how to solve visa issues and also how to take advantage of the best things countries have to offer, the book is a must read for anyone who dreams of traveling the world.