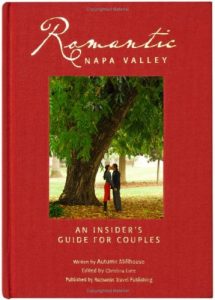 Romantic Napa Valley by Autumn Millhouse Looking for a romantic getaway to the wine country? Why not Napa – take the initial plunge with a purchase of Romantic Napa Valley.
Let author, Autumn Millhouse share her undiscovered secrets for top romantic wineries, restaurants activities and more. Highlights include information and photos about each of Napa's small towns, wine education, and top romantic hotels.
Autumn is a Napa native who knows the valley inside and out. Her knowledge is entirely first hand – great photos!