All listings on this page are alphabetized. We visited or participated in all the activities listed on this page.
Colca Canyon – view our description here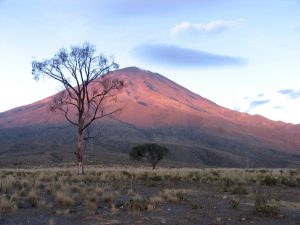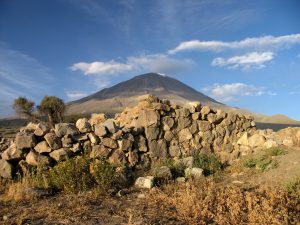 El Misti – towers above Arequipa at 5,822 M or 19,101 feet. Visitors to the city can't miss it; it dominates the skyline. Several options are available for hiking in its vicinity or climbing to the top. A normal climb is 2 to 3 days but those who have problems with altitude or are not yet acclimatized to higher elevations will certainly want to take much longer then this for the climb.
An ideal acclimatization hike is the trail to Tres Arboles or "three trees". This round trip hike lasts from 5 to 7 hours. Tres Arboles are located at about 11,000 feet. In order to get to these one has to drive towards El Misti, then park or have a taxi driver drop you off as close to the trail to the Tres Arboles as possible. Several trails depart from the trailhead – one passes right through one of Arequipa's primary garbage dumps. It is massive accompanied by plenty of nasty smells and probably part of it will be burning. Several homes are also located next to or near the dump.
No more homes are located beyond the garbage dump; from then on its just you, the trail the outdoors and great views of El Misti and of Arequipa, in the valley far below. Tres Arboles have in fact spread and are now probably 20 to 30 Eucalyptus trees growing on a plateau on the side of El Misti. A small altar is located in their shade containing numerous candles; it is common for hikers to light these upon arrival. Each year a large parade of people make a daily pilgrimage to this spot to pray. Its best to start this hike in the morning; you don't want to hike back at night as parts of the neighborhoods near the trash dump feel a bit dodgy.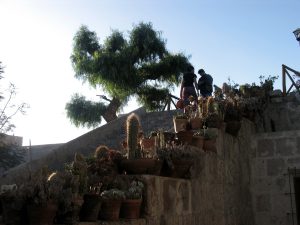 El Molino was founded in 1785 and is located about 20 minutes from the center of town. Running water originally used to power sillar stone wheels for grinding wheat. Essentially this area was a large mill. For reference, sillar is a very white stone commonly used in the buildings in Arequipa. Today one can see a small river running through the property, the grinding stones and a display about how the power of water is used for grinding grain. The entrance fee is approximately 10 soles.
An added bonus is the optional horse riding. One can choose to ride from 30 minutes up to several hours. Travelers will ride through nearby villages, across the local stream and into the hills. Typically you will have a guide riding the horse accompanying you. 30 minutes of riding starts at about 20 soles.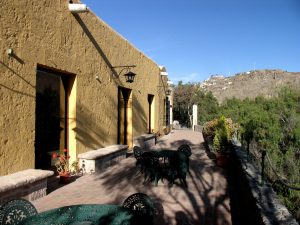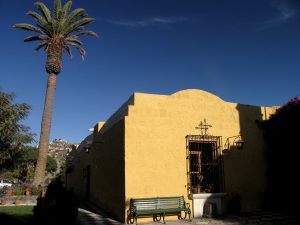 La Mansion del Fundador is located about 30-35 minutes from the center of town. This mansion was originally the home of Arequipa's colonial founder; it sits in a lush green valley. The valley floor is well irrigated and quite green, but the nearby hills are very dry like the rest of the region. This makes a nice visual contrast. The entrance fee is 12 soles. The mansion dates from the mid 1500's – by the late 1970's the property was in a total state of disrepair. A local organization purchased the site and completely renovated the structures and beautified the grounds. Today its a handsome building surrounded by picturesque gardens. One can spend up to an hour here.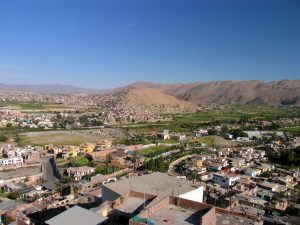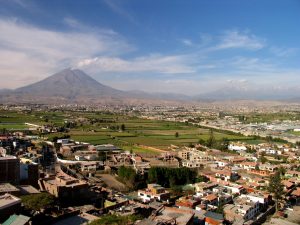 Mirador de Carmen Alto is a lookout over what is probably the most lush part of Arequipa. Features excellent views of the River Chili and nearby green terraced fields. El Misti towers in the background. Often tour groups will stop here as its an ideal photo spot. Admission is free. Some llamas roam on site; some don't mind being petted. Don't forget to get that perfect selfie with a llama!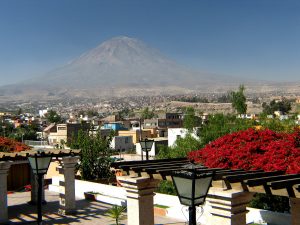 Mirador de Yanahuara is a lookout over the city of Arequipa in the district of Yanahuara. This is well worth a visit; there is no charge for entry. Some of the city's most iconic and panoramic views can be seen from here.
It is common for wedding receptions to take place here simultaneously numerous tourists mill about while their idling buses wait nearby. Great views of El Misti. Popular with selfie takers. We recommend two restaurants in the area: El Cebillano and Sol De Mayo.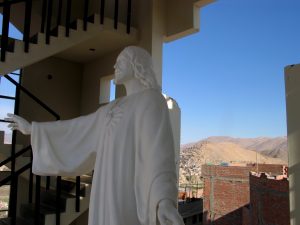 Mirador de Sachaca is the tower on the highest hill in the city of Arequipa – an excellent place to visit either day or night. It is located in the Municipality of Sachaca. Admission is 2 soles – visitors can walk to the top of the tower up 5 or 6 flights of stairs. A white sculpture of Jesus Christ with his arms outstretched is located about mid way up the steps. One is rewarded with excellent 360 degree views of the city upon reaching the top. Sometimes vendors will be hanging around the parking lot including at least one who sells a local specialty, Arequipa Cheese Ice cream.
Museo Santuarios Andinos (Juanita Mummy Museum) – View our description here
Nightclubs – we visited several during the week. Mistake! They aren't very popular until Thursday, Friday or Saturday nights and then they usually don't start "hopping" until after 11pm. The Forum Rock Cafe is a very good nightclub – they feature a lookout over the city near their dance floor. Deja Vu is also a smaller nightclub located just down the street from the Forum Rock Cafe on Francisco 319 B. They require a 10 sole cover charge on Friday & Saturday nights.
Plaza de Armas is in the center of Arequipa; several churches and cathedrals are worth visiting. One of the largest ones is the main cathedral on the east side of the plaza. The inside is impressive and beautifully decorated. Many of the interior decor items were imported from Europe.
People watching or reading a good book on a bench in Plaza de Armas is a good way to whittle away some time. Parades or political marches on the streets in the Plaza de Armas are common – benches fill up with people on the weekends so get here early.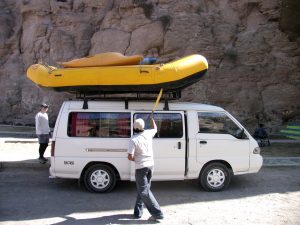 River Rafting on the River Chile near Arequipa offers an engaging set of beginner up to class 4+ rapids. From the center of Arequipa, allow about 30 to 40 minutes to reach the end of the dirt road where rafts are put in the water.
The main part of the river takes at least an hour to navigagte. One section features a tall rock where one can jump and land in the middle of the river. Most of the river is surrounded by tall dirt desert-like walls. A select number of agencies in Arequipa offer rafting on this section of the Chile River. We used Cusipata; they are very professional, experienced with a primary focus on river rafting. They also offer guided rafting trips on the Cotahuasi and Apurimac Rivers, but the Chile River is by far the closest to Arequipa.
Santa Catalina Convent – view our description here
Shopping is a good way to whittle away the day in Arequipa. The city offers some nice shops although not as many as you would find in Cuzco. Alpaca & Vicuna clothing is very popular, in fact Arequipa is the hub of Peruvian alpaca trading. One locally well known Alpaca/Vicuna store is Alpaca 111 – with several outlet stores in Arequipa and other Peruvian cities.
Another Alpaca clothing store, IncaAlpaca is located at Condor 100 Tahuaycani near the train tracks. Several times a year they have huge sales in which they spread out clothing onto tables organized by price. These sales are very popular with locals due to their discounted pricing, especially on alpaca sweaters.
Saga Falabella is a large department store which began in Chile but has since expanded with stores all over select South American cities including Arequipa. Think Macy's but a little bit smaller. This is general department store sells jewelry, clothing, electronics etc. In Arequipa they are located at: Av. Ejercito 793 Cayma. Phone: (054) 60-6023 Visit: www.falabella.com.pe The store is located in a commercial section of Arequipa and would be a very long walk from the Plaza de Armas. Better to take a taxi. Restaurants and other small shops are located nearby.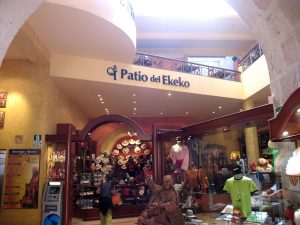 Patio del Ekeko is located 1/2 a block from Plaza de Armas on the north side at Mercaderes 141. It is named after one of the gods of the local Tiawanacota culture. The "patio" is a collection of tourist shops spread out over 5 floors including those that sell alpaca, silver jewelry, handicrafts, souvenirs, clothing and Peruvian chocolate. A small cafe is also located here.
This is probably the best selection of Peruvian arts and crafts in one location in Arequipa. From any of the shops, pick up a free Arequipa historical map. It details all the attractions in and around the Plaza de Armas.