ARTBOX Night Market is a trendy easy to access space, and outdoor market featuring numerous vendors including a strong food presence. originally opened a few years ago as a popup market without any permanent location. Now, open daily from 4pm until midnight at its current permanent home, Chuvit Garden, Sukhumvit 10 Alley. Located a short walk from the closest Skytrain stop of Nana. Popular with youngsters, but not to young – also well frequented by many expats and friends of expats who happen to be visiting and said expat says, "lets meet at ARTBOX Night Market".
Several cool bars are on site including our favorite, Streetbeer 1881 located in the left corner immediately upon entering one of several entrances off of Sukhumvit Street. No food is served at this particular bar but one can bring in food from the nearby vendors provided a drink is purchased. Weak in alcohol but tasty nonetheless, are the 1881 Sangrias. Several beers also offered. Live music sometimes plays at 1881 and at other locations within the market – especially in the back of the market. Bathrooms are available for a few baht – also located at the far end of the market inside C-train containers.
Besides plenty of food (both Thai and western) the market also features some local fashion items, art and vintage pieces.
Boebae Market is typically where many of the vendors you buy from on the streets of Bangkok purchase their items. This market opens at 4am (generally before most tourists are awake) and used to close in the very early morning – but now stays open all day (so sleep deprived tourist like zombies no longer need to stumble around in the wee hours). It is located in an area called Sapan Khaw closest to the Mahanak intersection and near a canal. A fire in late 2006 shut down part of this market – but it recovered rather quickly. Best hours for visiting and for deals are in the early morning.
The market is located in the 'shadow' of the Bo Bae Tower which also contains hundreds of shops – equally as worth visiting as the outdoor market.
During the day this market is home to a large number of small shops selling a variety of both retail and wholesale clothing and fabric – many of the shops sell blank shirts and other upper body wear. Embroidered logos, silk-screening and other designs can then be put on the shirts. Often very affordably priced clothes (although try to bargain in many cases). Also plenty of Thai silk fabric for sale.
The more you buy the greater your bargaining power. Clothing items are often sold in packages of 12 but you can certainly find plenty of individual pieces of clothing for sale. A variety of shops also sell cheap jewelry including a wide selection of rings, bracelets and necklaces. Always a chaotic mix of people, vehicles including cars, tuk tuks and motorcycles.
A number of Muslim vendors own shops here – and is an excellent place to enjoy a variety of Middle Eastern and Halal food from select food vendors.
Closest skytrain stop is National Stadium – about a 10-20 minute drive depending on traffic.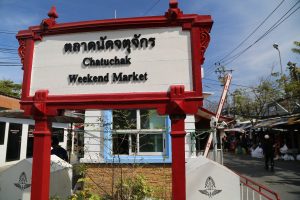 Chatuchak Weekend Market is worth going to if you have some extra time on either Friday, Saturday or Sunday. It is located at Chatuchak Park on Phahonyothin Road. Do not expect this market to be empty! Get off the Sky Train at the Mo Chit Station – this is one of the northern most stations along the Sukhumvit Line. An incredible variety of items are sold here. This market is divided into 26 separate sections according to the type of goods sold. For example, there is a pet section which seems to include household pets as well as other animals which when bought, appeared to be destined for the cooking pot, home and garden, ceramics, orchids, etc.
A bank and several ATM's are located on site for those times when you want something really bad but invariably have run out of cash. Several decent restaurants are also located in the market. While standing next to the clock tower in the middle of the market, during one visit, we were caught in a severe thunder and lightening storm followed by a horrific downpour. Many of the merchants scrambled to cover their wares with blankets and plastic but were only partially successful. When you get rain that strong there is only so much you can do. Fortunately a good majority of the market is covered by tin roofs and we were able to stay reasonably dry.
This market is so large one could easily spend from half a day to a full day here browsing. Fortunately there are plenty of places to eat within the market to accompany you on your shopping journey.
Chang Chui Night Market (opened in 2017) is located at 460/8 Sirindhorn Rd, Khwaeng Bang Phlat. With little traffic, this is about a 15-20 minute drive from the closest Skytrain stop, Bang Wa on the Silom Line. A bit far from the center of Bangkok (can take well over an hour during busy times from either parts of Sukhumvit or Silom) but well worth the effort to get here. While often characterized as a night market, this space actually opens at 11am and remains open until 11pm – open daily other then Wednesday.
A creative place with an eclectic and chill vibe; Time Magazine called Chang Chui one of the world's 100 top places in 2018, Chang Chui features a number of eclectic shops centered around art, design and food. But the market is centered around an old airbus plane looks like it has been sandblasted of its original paint. Now it serves as a focal point for visitors and is certainly one of the main selfie spots here. It is only open for select events despite the inviting looking slide the leads from the plane to the ground.
A number of pieces of art are placed throughout the property including the 'jaw dropping' giant skeleton head. Much of the art is created from recycled and scrap materials. Because this market features so much visual stimulation best to take your time, slowly exploring its nooks and crannies.
One of the world's rarest restaurants is on site; a visit is highly recommended. Insects in the Backyard focuses on premium cuisine featuring a variety of insects. This isn't insect eating by the side of a road – Executive Chef Mai Thitiwat creates innovative, visually and mouth watering delicious cuisine. If you can throw aside any road blocks you might have to eating insects, you will absolutely enjoy the taste of the food here.
But there are other more traditional food options and plenty to drink as well (with several small bars serving a variety of beer).
Part of a visit often involves music – with two performance places, live music is held in the evenings (often jazz). A flea market is held on site on the weekends.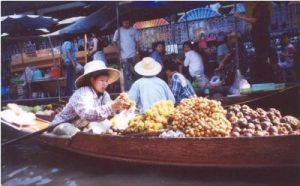 Damnoen Saduak This large floating market (often visited by tourists and promoted by tour operators bringing small groups here) is located about 90 miles southwest of Bangkok in the Rajburi Province at Damnoen Saduak.
Damnoen Saduak is held daily from approximately 8am to 11am. The most opportune time to be here is around when they open – which means you will have to leave Bangkok around 6am. Numerous vendors floating in small dugout canoes along the canals sell everything from freshly cooked food, to exotic fruit to crafts.
By bus, it will take you about 2 hours to reach the market. During the day, both public air and non air-conditioned buses leave from the Southern Bus Terminal continuously (starting at 6am).
Food is cooked on small stoves contained in the dugout canoes. Bring an appetite and a willingness to try a diversity of food for breakfast (even if you are used to eating 'plain foods' such as bread, fruit and or an omelette every morning). I've never had any problems with getting sick from the food served here. Several small tour companies will rent a canoe for you – usually a 90 min to a 2 hour trip is sufficient to fully experience this floating market.

Huai Kwang Night Market is conveniently located within a very short walk of the Huai Kwang Metro stop. It is called a night market for a reason – the street becomes alive around 7pm with a number of vendors, both temporary and the primary already established shops in this area (often with their products spilling out onto the edge of the streets). Although a number of vendors sell their products during the daytime.
The focus of this market is on food – its rather well known for both its street vendors and seafood restaurants. Find everything from chicken, pork and beef dishes to soups and seasonal fresh fruit. More popular with locals then tourists. Also clothing and beauty stores as well as a massage place or two. Not a bad part of town if you are on a budget – as a number of reasonably priced hotels are in the area.
Indy Market – located right next to the Bang Yi Khan metro stop (one can easily see this market from the metro station). Due to its location far removed from the central more touristy markets in Bangkok the prices here tend to be a bit cheaper. Open daily from 6pm until midnight. Like a number of outdoor markets in town, a spray of lights strung overhead greets visitors as they enter off of Charan Sanitwong Road. Focused mainly on locals who live on this side of the Chao Phraya River (Thonburi) one won't see to many foreigners.
A mix of numerous food vendors (if one is not used to Thai cuisine, one will be mesmerized by all the choices!), clothing shops and craft items. Plenty of places to sit down for meals including a lawn like area near the entrance to the market. Like a mini city – containing almost any product one can think of!
Mahanak Fruit Market is located along Luk Luang Road next to one of Bangkok's infamous canals – extending for quite a ways this market features a variety of fruits with a strong focus on fresh seasonal fruits – including the fruit they have loads of all year, pineapples. Opens early – fruit enthusiasts can start shopping at 1am – the market closes around 4pm but we've noticed some vendors stay open a bit later. This is a busy part of town – traffic can be bad even in the earliest of the morning hours. Based on the time of year it seems like each vendor sells the same products – ie mangos, rambutans etc.
Despite a lot of vendors selling the same products if you spend enough time here often you can find a few uncommon types of fruit. Sometimes vendors will be wheeling fruits in baskets up and down the sidewalk next to the canal on the opposite side of the market.
Behind the market are the straw baskets of wholesale pineapples being unloaded (these straw baskets have been used for years and we remember seeing them in this part of town decades ago when we first came to Thailand). If you enjoy fruit, this daily market is a must visit.
Pak Khlong is one of the world's best flower markets. It is open 7 days a week featuring blocks of flower vendors selling a wide variety of various cut flowers. This market is near the Memorial bridge, on the border of China Town down by the Chao Praya River – not far from Wat Po (within about 10 minutes walking distance).
Vendors sell both wholesale and retail and the prices are remarkably inexpensive. This is a fantastic place to spend some time browsing through the different shops even if you aren't in the market for some flowers. Wonderful colors and aromas dominate. If you do end up making a purchase, your significant other will thank you – overload him or her with both quantity and quality! The TV show "The Amazing Race" filmed an episode here.
While Pak Khlong is government owned, two private markets are also a part of this overall space – Yodpiman Flower Market and ICP Market.
Patpong Night Market is open daily from approximately 6pm until 1am. Features a vareity of vendors – most selling cheap souvenir trinkets and knock off products. Has an interesting vibe due to its location next to all the go-go shows, ping pong shows and other sex related clubs and activities in the vicinity. Very popular with visiting foreigners (especially those arriving in Bangkok for their first time). Attracts all ages of visitors – in the early hours of the market, we have often seen families strolling among the vendors.
Always bargain hard if you find a product of interest. Chances are whatever products you find here, you can find in numerous other markets around Bangkok. Plenty of knockoff name brand products. Not known for being a market of unique or premium products.
It is always an interesting dynamic walking through the market with scantily clad women trying to attract male customers into their clubs – or more seedy looking guys holding plastic sheets offering you a wide variety of the services that these aforementioned women can offer including doing things to ping pong balls that one was never meant to do.
And just down the street is the Patpong 2 night market – a much smaller version of the primary Patpong market. Both markets are located only about an 8 minute walk from the nearest Skytrain stop, Sala Daeng.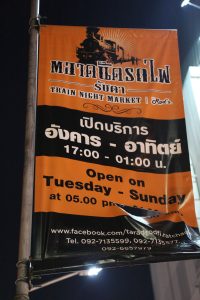 Rod Fai Night Market is highly worth a visit. It is a sea of colorful collection of rambling tents housing a wide diversity of products. Visitors are first greeted by a number of restaurants and bars but keep walking – there is much more to explore here. This market was originally located near Chatuchak but moved to it's current location in 2013.
Highlights of a visit here are a number of the unique products that you might not be able to find elsewhere – this includes clothing, numerous antiques and vintage items and several higher end 'craft' barbershops. Somewhat artsy feel to part of this market. Over 2000 vendors total. The entire market is very popular with young people.
Plenty of food and drink and walking through these stalls is certainly one of the highlights of a visit here. Gets extremely crowded on the weekends – be vigilant for pick pocketers working the crowd – especially when it becomes wall to wall people through some of the alleyways.
Open Thursday through Sunday from 5pm until 1am. No good public transportation stations nearby – probably the closest would be to take the BTS to the on Nut Station and then catch a taxi from there. Traffic often very bad in the vicinity of the market on Srinagarindra Road. Located next to the Seacon Square Shopping Center.
Saphan Phut Night Market – contrary to any conflicting information you may find online about this market, the Saphan Phut Night Market we visited is located on the Thonburi side of the river off of Phaya Mai Road just down the street from the Wongwian Lek Clock Tower. The previous Saphan Phut Night Market which was held near the Memorial Bridge supposedly closed a few years back.
Select vendors start opening before sunset and opens around 5pm – running every day well into the early morning hours the next day (usually closed by 1 or 2am). The focus is on affordable fashion – with plenty of shirts, shorts, shoes and pants available for sale. This market isn't huge – more in the small to medium range. Also food stalls but not as immediately obvious from Phaya Mai Road. Caters mostly to local Thais.
TALAD Neon (also known as the Downtown Night Market) is located about 10 minutes walking from the Chit Lom Skytrain station. Opened in 2016 as a temporary popup market but has since become popular that is is now an established market. Held daily Wednesday through Sunday from 4 until midnight although in our experience most of the food vendors don't actually open until 5pm. The stalls are all neatly lined up – no market chaos here.
A number of eye catching instagram ready objects catch one's eye for first time visitors – including the Neon selfie sign display and fake trees. Located within walking distance of the Platinum Shopping Mall and other heavyweight shopping areas in this part of town. The market offers a dramatic backdrop – featuring a number of nearby skyscrapers. It is held on prime real estate and one could make the financial argument that the land is better suited to building yet another high rise condo – but for the time being this property continues to be used for the market.
Features eclectic products and culinary diversity including some Halal food. Also a 'food court' towards the back oft he market titled Zone Indy Market.
Taling Chan Floating Market – This market is located about 8 kilometers from the Chao Praya River along the Chakphra Canal. From the pier near Siriraj Hospital along the banks of the Chao Praya River, you can either take a taxi (they tend to drive the long way) or catch a small Songthaew (small passenger transportation vehicles with seating in the back). Either way, expect the ride to last about 12-18 minutes one way. We have never had a problem getting a taxi from the market.
This market is only open on Saturday and Sunday beginning at 830am. Mornings are best (before 1130am) as there are more vendors in the canal – but they are open all day for shopping and food. There is a long walkway leading to the actual floating part of the market and there are many fruit and other Thai food vendors along the walkway – however the best seafood and soup is located on the floating part of the market. Long walkways lined with diners eating – sitting on the boards are common place. Fantastic tiger prawns and cooked crab are among some of the seafood culinary treasures.
Many of the vendors speak enough English to have a basic conversation here about food and what you would like to order. Chairs are very tiny and low to the ground and those with 'rusty joints' may have a hard time sitting down for any extended period of time to enjoy a meal here.
No napkins or tissue are provided by the vendors so bring your own. Although there are several cleaning stations located next to the vendors on the floating part of this market – squeezing limes soaking in buckets or water help remove any seafood smell from your hands. This is the type of food where you almost need to take a shower after finishing! A bathroom next to the canal is a welcome respite after finishing your food. Not many western tourists make it out here although in recent years more tourists are starting to visit.
W District is located along the busy flanks of Sukhumvit 71 within a very short walk from the Phra Khanong Skytrain stop. Known for being a hub of activity in this part of town (especially for the expat community), for being open all night, for offering a variety of cuisine ranging from Thai to hamburgers and other western style foods, to Middle Eastern dishes and for being a destination for artists (check out the HOF Art Gallery).
There is no one word to describe the space – its part night food market, creative space, shopping district, livable space and work-space.
The most popular nighttime attraction is the W Market an open space filled with numerous tables and chairs and especially crowded on the weekends. This is located in the 'back' of the W District – so from Sukhumvit you have to walk a short distance through the surrounding buildings. A good mix of both locals and expats – probably would not be on the list of first or second time visitors to Bangkok. Numerous food stalls surround the open dining area – with alcoholic drink venders roaming among the patrons offering a variety of drinks. One walks to the stall they want to order from (even if it's far from where you are seated) and you are somehow found and food is brought directly to your table where you pay.