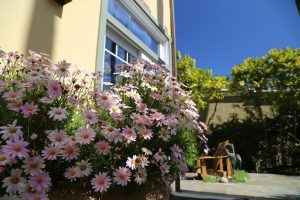 Lodging on Catalina varies in price depending on the time of year you visit the island. High season typically runs April through October. November through March sees less visitors although the weather can still be quite nice during these 'winter' months.
You can often find greatly reduced prices during January and February – especially mid week. Most visitor's to the island stay in Avalon – the town boats a variety of boutique lodging options.
All phone numbers are in the 310 area code unless otherwise noted.
Aurora Hotel is a modern boutique hotel located just up from the harbor. Features a pretty rooftop deck with reclining chairs in a lounge environment. Nice views overlooking part of Avalon and certainly a great place to relax with a bottle of wine (available to purchase from reception). Located at 137 Marilla Ave – a short walk from the center of Avalon. The hotel is located on a steep part of the street.

Rooms are clean and comfortable. No elevator so have to walk up to the 2nd or 3rd floor. Bathroom a bit small as is the sink. A healthy breakfast is served in the AM – including cereal, yogurt and some fruits. To book your room visit: www.auroracatalina.com


Avalon Hotel is one of Catalina's premier boutique hotels. It is located just above the main Avalon Harbor so as you can imagine there are some stunning views from the upper rooms and also from it's rooftop deck. Quiet and romantic location, great for couples. Bottles of wine can be ordered on site and taken to the roof top to watch the sunset.

A peaceful interior courtyard features a koi pond (feeding time is always a frenzy for these large brightly colored fish), plenty of plants and in the mornings a very healthy breakfast. The front desk staff are very helpful and are pleased to offer suggestions for activities, experiences and favorite restaurants. Rooms and bathrooms are decent sized – we loved the old bathtub in our room. Visit: www.theavalonhotel.com

Catalina Island Inn is located in the heart of Avalon, seconds away from shops, restaurants and the beach and waterfront. Location: 125 Metropole. Great harbor view. Have you seen the official island web cam? It is hosted at this hotel. Visit: www.catalinaislandinn.com

Hermosa Hotel is located 1/2 block from the beach. This is a dive friendly hotel with small rooms. A good choice for budget travelers. Hermosa is a historical hotel dating from 1896. Visit: www.hermosahotel.com

Hotel Atwater is located at 125 Summer Avenue within a half block walking distance of the water. Good value for the price. Phone: 510-1788

Hotel Catalina is a Victorian styled hotel with era furnishings. This hotel has a nice courtyard patio with a pool for relaxing and some views of the harbor from the porches outside the actual rooms. They are only 1/2 block from the beach. Visit: www.hotelcatalina.com

Hotel St. Lauren is a romantic Victorian styled hotel. Each of the 42 rooms are luxuriously styled with either a private balcony or Jacuzzi hot tub. Location, 231 Beacon Street in Avalon. Visit: www.stlauren.com

Bellanca Hotel formerly Portofino Hotel, is rated 3 stars and is located at 111 Crescent Avenue. They have 35 rooms – 2 stories. Free continental breakfast is included. 2 night stay minimum. Website: www.bellancahotel.com Phone: 510-0555

Pavilion Hotel is located on Crescent Ave directly across from the Avalon Harbor and mere minutes walking from where the Catalina Express docks. Aside from this perfect location – many excellent services add up to create an enjoyable stay. A representative meets you at the dock to carry your bags. iPads are available for use on the property. Every afternoon a complimentary wine and cheese pairing is offered for guests. During a stay here, you don't want to be anywhere else – after a glass or two of wine, you *really* don't want to be anywhere else. From the patio, enjoy views of the picture perfect made for a "post card" harbor just beyond the white fence at the entrance to the hotel.

There is no pool on the property but the large garden courtyard helps make up for this. It is the perfect place to sunbathe and relax among a natural setting. When you warm up here in the sun – you are merely a minute walk from the harbor and its refreshingly cool and clear waters. To book a stay at this property visit: www.visitcatalinaisland.com/avalon/hote_pavilionHotel.php

Hotel Vista Del Mar is rated 3 stars and is located at 417 Crescent Avenue. They have 15 rooms – 2 stories. Website: www.hotel-vistadelmar.com Phone: 510-1452.