Avalon is the urban center of Catalina. It is a mix of day trippers, at times – cruise ship passengers and locals. The town is centered around the beautiful waterfront and for good reason – most passengers arrive here and it is a visually stunning part of town that at times almost looks European. The town spreads out into the surrounding hills – featuring older and often colorful wooden buildings.
Brightly colored flowering flowing bougainvillea climb the sides of homes while pungent honeysuckle and inviting hibiscus line their walkways. The pace of life is slower here – surprisingly this is still Los Angeles County, but with only about 3,500 full time residents and hilly terrain you certainly won't find any 405's or 110's here!
There are a surprising number of golf carts on the island centered in Avalon. Many locals use their own golf cart as their main form of getting around town. Visitors to the island can also rent golf carts on an hourly basis.
The main street running along the harbor (Crescent Ave), is an excellent place to people watch, enjoy an ice cream, read a good book, or shop along many of the waterfront facing shops. Be sure to continue along Crescent Ave over to the Casino. This is about a 1/4 mile walk from the main pier to the Casino. Mornings or evenings are excellent times to make this walk for memorable sunset or sunrise views.
Avalon is home to many boutique hotels, restaurants and bars. The town features a number of boutique shops, the excellent Catalina Island Museum and the Casino (offers nightly movie showings as well as daily behind the scenes tours (advance tickets needed for the guided tours).
An excellent memento from your stay on Catalina is a Von's Club card. There are two Von's on the island to serve your shopping needs. A Von's Express (a tiny Vons) is located on lower Catalina Ave and a larger Vons is one street over. These two locations are the best places to stock up on groceries. The Von's sandwich, while small, yet still filling is a bargain lunch. Several lunches on Von's sandwiches will allow you to save a few extra dollars for those tequila shots later in the evening.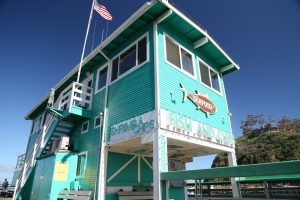 Sunbathing is popular during warm days on the local beaches. Often during busy summer weekends, people will get up very early and place their towels on the beach. The idea behind this is that during the day the beaches fill up with people, so they are saving a space to come back to later in the day.
Sometimes you may see people sweeping the beach with brooms. This was the first time we have ever seen anyone sweep a beach with a broom, so we had to determine the reason for this. Apparently garbage collectors have decided that a broom is the best way to collect dried seaweed and other debris from the beaches of Avalon.