There are several ways to reach Catalina from the mainland including ferry, helicopter and private boat or plane. While Catalina has one airport (Airport in the Sky), this airport is not setup for commercial service.
There are currently four mainland ports serviced by ferry to Avalon: San Pedro, Long Beach, Newport Beach and Dana Point

Catalina Express is the primary shuttle ferry operating out of three locations: Long Beach (the most routes), San Pedro and Dana Point. Their Long Beach location is within easy access (and mere minutes) from the end of the 710 Freeway. A parking structure is on site (within a short walk of the departure terminal). A daily parking fee is charged and overnight parking is fine. Pay at the tollbooth as you leave.
Catalina Express has offered a birthday special for a number of years – where those traveling on their birthday ride free to and from the island on the same day (must be accompanied by at least one other paying adult).
Consider upgrading to their Commodore lounge (upstairs and smaller then the general seating), includes priority boarding and several snacks and a drink including their well-known Bloody Mary! And for an even more intimate experience, consider the Captain's Lounge.
For more information about the Catalina Express including fares, scheduling, directions and other useful information visit their web site at: www.catalinaexpress.com
Catalina Flyer services only Newport Beach and Avalon. Seasonally it may only leave on the weekends – during the busier months it will leave daily.
Each day it operates, there is one morning departure from Newport Beach and one return depature in the afternoon from Avalon. Check their website fares and schedule information: www.catalinainfo.com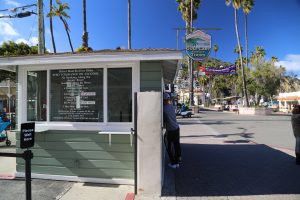 Golf Carts on the island include both electric and gas powered. This is one of the few places in the United States where you don't have to worry about being run over by a car; its quite refreshing to be in a city where are there are few automobiles.
Even though there are not many automobiles present you still find the names Lexus and BMW, only they are not on cars, they are on golf carts. Some of the locals customized their golf carts with fancy rims, ornately decorated sunshades, and our favorites, the heavy-duty humvee type golf cars.
Catalina Island Golf Cart rentals is conveniently located in the center of Avalon. In business for over 30 years they offer golf cart rentals and or tours (rentals are by the hour). They will provide you a map and give you information on must see sights (we highly recommend taking the golf cart up the road past the Zip Line and continuing to follow that one-way road around and above the Casino before dropping back into Avalon.
For more information, visit: www.catalinaislandgolfcart.com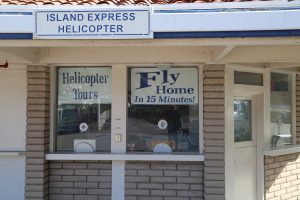 Island Express For over 30 years, Island Express has been touring people around the island as well as bringing people over from San Pedro and Long Beach and more recently from Burbank and Santa Ana. The flight takes between 15 and 20 minutes and lands either near Avalon or at Two Harbors. One way and round trip flights available.
Catalina can certainly be experienced from the ground as well as from the ocean – but what better way to see the island and its rugged beauty from the air – or quickly get to "remote" parts of the island. They offer set packages including a 30 minute scenic tour of the island as well as custom flight options. The main heli port on the island is in Pebbly Beach, minutes from Avalon. The helicopters land on a select number of locations on the island – for hiking as well as near Two Harbors.
A highly recommended tour that includes both stunning views from the air and the remoteness of the interior of the island is to take a helicopter to Empire Landing – then hike 5.5 miles across the interior of the island to Two Harbors. Once you arrive in town, enjoy a Buffalo Milk drink at Harbor Reef Restaurant or a swim or just spend some time beach-side under a palm tree with a good book. Then let the helicopter whisk you back to Avalon above much of the beautiful coastline on the backside of the island.

Los Angeles Helicopters also offers helicopter rides to and from the island of Catalina. You can also request customized aerial tours of Catalina and Los Angeles. For more information call (800) 976-HELI. Flights leave from San Pedro. Visit: www.lahelicopters.com