Colima City is the home to several neat festivals. These are always a highlight and very colorful.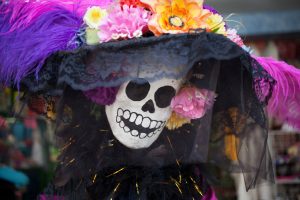 Ferias Charro Taurinas San Felipe de Jesus is held in late January and early February every year. It is held to celebrate the Virgen de la Candelaria. It actually takes place in the Villa de Alvarez – about 2 and a half miles north of Colima.
Giant figures parade around, representations of the mayor and his wife. These large figures are carried or worn by the people. Every day except Tuesday and Thursday these large figures precede a group of people in a march from Colima's cathedral to the village of Villa de Alvarez. A festival like this is an excellent way for visitors to experience first hand the spontaneity and gaiety that are an integral part of these local celebrations. After the celebration arrives at Villa de Alvarez, the locals partake in plenty of food, music, dancing, rodeos, and of course bullfights in one of the world's most unique bull fighting rings, La Petatera, a 'ring' constructed every year since 1857 for this event – made without any sort of nails.
Feria de Todos los Santos is the name of Colima's state fair. This fair features exhibits of agricultural products, as well as local cultural events, and bullfights. This event runs from the end of October to early November.
Dia de la Virgen de Guadalupe is held from the first of December until the 12 of December. This festival consists of women and children dressing up in colorful costume to pay their respects to the virgin at her alter in the cathedral.