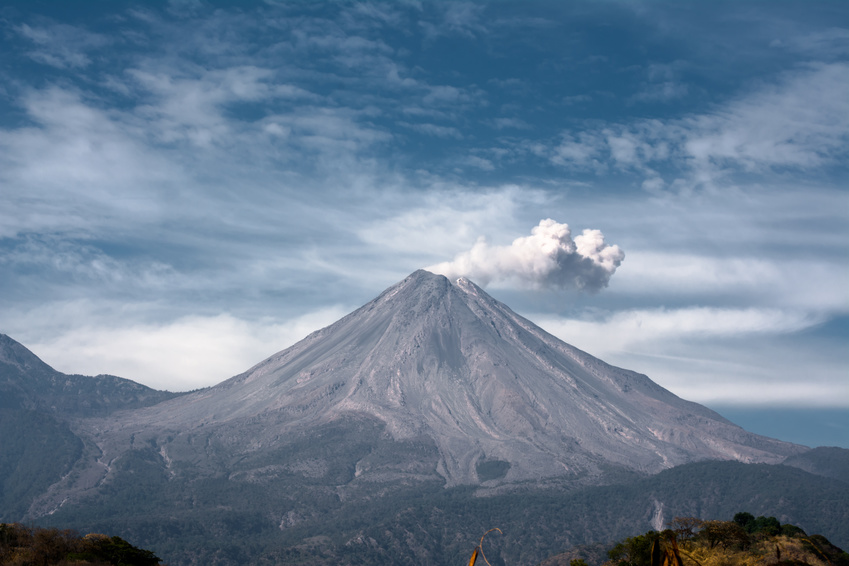 The city of Colima is located within one of the smallest states in the country – also called Colima. The city is located about 90 minutes inland from the more well known coastal town of Manzanillo and is only about a 30 minute drive from the Pacific coastline. Because Colima is at an elevation of between 300 and 550 meters, its climate is cooler then along the coastline.
Colima was founded in 1523 and is the third city founded after the Spanish conquest. Can you name the first two towns founded in Mexico by the Spanish? They are Veracruz and Mexico City. Compared to those cities, Colima has far less tourists because it is not as well known and is not on a primary tourism route. I like this city because it retains a flavor and feel of "old" Mexico.
The highway connecting Manzanillo to Colima is in impeccable shape. Very few people drive this road, and of those that do, it seems like a quarter are broken down on the side of the road. For those of us used to crowded urban roads in the United States, the roads around Colima are a relief from the congestion.
It is important to note that Colima has its share of natural disasters. I can be thankful that none occurred while I was there. The city is located in the shadow of a very dangerous volcano, Volcan de Fuego de Colima (translated this means Colima's volcano of fire). Historically this volcano erupts every seventy years or so. It has erupted at least 9 times in the past 400 years. Based on past eruptions scientists have labeled this steaming giant as "a killer". It is Mexico's most active volcano. This volcano stands 14,365 feet tall. Often one can see smoke billowing out of its summit. Sometimes the smoke looks like wispy clouds, but don't be mistaken, it truly is the gas of the mountain.
If that isn't enough to worry about, Colima is shook by earthquakes quite often, sometimes very large earthquakes such as in 1941. That would have been a very bad year to live in Colima… which featured an earthquake and a volcanic eruption. The poor town must have been devastated. The last major earthquake to hit the area was January 21, 2003 (7.5 earthquake) and before that, an 8.0 in 1995. Even though Colima was the third city founded after the Spanish Conquest, and the first one in western Mexico, it is because of the devastating earthquakes that there are extremely few colonial buildings left in town.
Lastly, the coast of the state of Colima is sometimes subject to violent storms.
I hope these disasters don't scare you off from visiting Colima. Perhaps they occur more often then most other places, but in reality, they are fairly spread out. This information isn't what usually sells a destination, so I won't dwell on it any longer.
—
Colima is a major agricultural state and city – including coconuts, (these can be seen for miles and miles as one approaches the ocean from the city of Colima), lemons, bananas, and mangoes.
Historically Colima was famous for its pottery. Remnants have been found by archaeologists in over 200 different sites. Most of the pottery has been dated to between 200BC to 800AD. Much of this pottery contains images of both humans and dogs. Dogs held an important role in the lives of the ancient people who inhabited what is now present day Colima. It was believed that dogs served as a pathway from earth to paradise. To these ancient peoples, dogs also had practical uses. They made up a substantial part of their diet.
Today Colima city has a population of approximately 150,000 yet has the feel of being a small city. Many of the small roads are shaded by numerous varieties of tropical palm trees. I love driving slowly through villages on narrow streets framed by white-washed homes. I also enjoy sitting on one of the benches in the Mexican zocalos near the center of town. This is an ideal place to watch locals or listen to live music.