In addition to collecting information first hand from numerous trips to Death Valley, a big thanks goes out to the Death Valley National Park guide books, the guides at Scotty's Castle and park rangers for helping supply information for this article.
Flash Flood, Panamint Valley – waters flowing down to the very seasonal Lake Levart
Mojave Brown, always be careful hiking or biking near rocks in cooler weather in Death Valley
Additional Resources
Travelers can pick a free national park guide to Death Valley or a long black-striped map to Death Valley at local ranger stations or the Furnace Creek Visitor Center.
The newspaper styled Visitor Guide to Death Valley is available at park info kiosks or the visitor center at Furnace Creek and highlights current information about the park. Visitors may also write to:
Death Valley National Park
P.O. Box 579
Death Valley, CA 92328
Printed Information
Death Valley with an Essay by Jeff Nicolas is a good Death Valley picture book. Printed by Sierra Press out of Mariposa.
A Travelers Guide to Death Valley National Park by Lawson, has great color photos as well.
Stay Safe
In addition to the extreme heat in the summer visitors should be aware of several other factors:
– cell phone service is sporadic – some providers don't provide any coverage, others only work in certain parts of the park
– do not camp directly in a dry wash in a canyon if there is any chance of rain (flash floods, while not common do occur)
– stay out of mine shafts (they may contain toxic gases, animals, falling rocks or other dangers)
– in case of a car breakdown, stay with the vehicle rather then walking away
Farabee's Jeep Rentals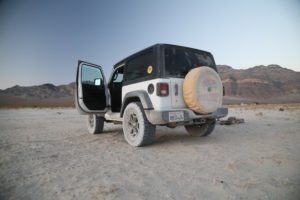 Farabees, established in 1988 is still family owned and operated with multiple generations of family involved in the operations. Their trailer office is located directly next to the Furnace Creek gas station. Will rent jeeps by the day or offer guided tours – some are well established tour routes, others can be customized by clients to tailor to their interests.
Their jeeps are in good shape and allow one to explore parts of the park that otherwise one would not be able to access with lesser vehicles. All are automatic transmission – no previous experience needed to drive these (although one should not take them on the worst of the 4wd tracks in the park without significant off road driving experience. For more information and to schedule a tour or a jeep rental, visit: www.farabeejeeps.com
General
The Heat