If you set your expectations low for culinary options prior to visiting Death Valley you won't be disappointed at all. In our experience, the food tends to be average and over priced. But you have to remember, this is in the middle of the desert – it's not like you can just walk out and pick fresh lettuce in the 120+ heat at times!
PANAMINT SPRINGS
Restaurant & bar review coming soon!
STOVEPIPE WELLS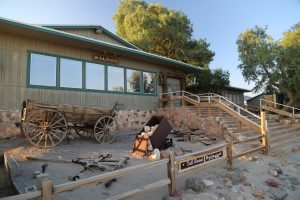 Badwater Saloon – like the Tollroad Restaurant below the service here is terrible. During our latest visit, we walked in and asked one of the waiters if we could order and she said sit down and someone will be with you. This was after we waited well over the 15 minutes estimate at the connecting Tollroad Restaurant for a table.
We waited nearly 20 minutes at a table at the Saloon but no one never came to take our order (food is also served here in addition to the drinks from the bar).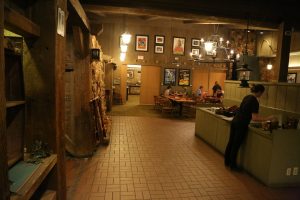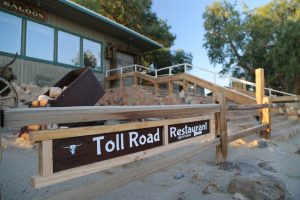 Tollroad Restaurant – there are not a lot of culinary options in Death Valley in general and certainly not in Stovepipe Wells; this is probably the worst in the park both in regards to food and service.
We have eaten here several times – the service is always terrible with waiters forgetting items, taking orders for items that ultimately they inform you they are out of and forgetting to bring you items. The food is absolutely nothing special. We have experienced long wait times in getting our food and in waiting to just get a table.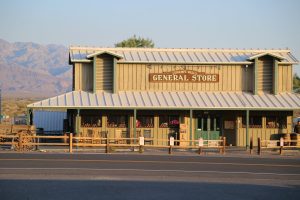 General Store – we have always found the staff here friendly and helpful answering a number of tourist related questions about what is available in the area, heat questions etc.
They sell a number of cold drinks and cold take-and-grab items including sandwiches. Good for quick bites to eat. A pay at the pump gas station is located directly outside of the store (which shuts down during high wind events).



FURNACE CREEK

1849 Buffet – we have eaten here for either lunch or dinner a number of times because of their buffet menu. Pricey but at least it is all you can eat and helps satiate our appetite after a long day of exploring the desert. Nothing fancy with the food but a wide variety of items including plenty of salad.
Serves up hearty breakfast and lunches (supposedly open for dinner but we haven't seen them open the past few times we have been here). We have only eaten here for breakfast and can recommend the somewhat average Eggs Benedict.
Simply smother them in the provided Tabasco sauce for a bit of a needed kick. Plenty of desserts for later meals and some wines as well.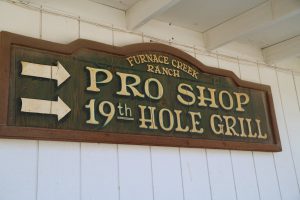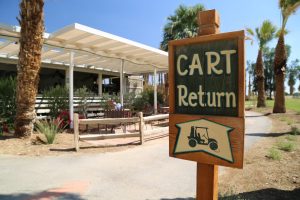 19th Hole – this 'hidden' away secret is worth a stop for a relaxing dining experience overlooking the lowest golf course in the country. Appropriately named, you sit overlooking the green. Small with both table and bar seating. Very friendly staff. Did you know food tastes better when you receive quick service and the staff is friendly? Believe it.
Decent food, nothing special – highlight is their sizable spicy kielbasa sausage. And check out their cool looking golf cart drive up ramp – it brings you right up the bar where you can order drinks from your cart. Pretty sweet, eh?!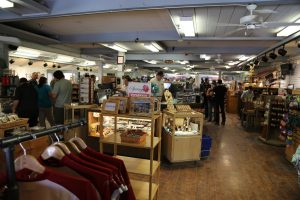 General Store is a sizable space serving up plenty of Death Valley memorabilia – the food part of the store is located in the back – with a little grocery section as well as cold bites and some nice self-serve frozen vanilla or chocolate frosties.
Often they will have several checkout stations open but lines tend to congregate at the one in the front.

Inn Pool Café – not yet reviewed.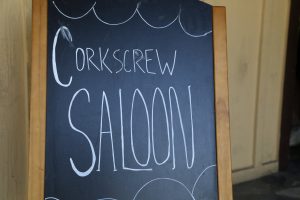 The Last Kind Words Saloon – this fun 'bar' serves up food to people of all ages (plenty of families frequent this establishment) as there are a number of dining tables in addition to the bar seating. Often busy in the evening as one of the few places that serve dinner here. Their Badwater Ale is a crowd favorite.
Also the Death Valley Sunset. Somewhat pricey, don't necessarily come here for the food but with friends and family for a good time (helped in part by the drinks and the fact you are on vacation). The spicy chicken wings were decent – helped in part perhaps by a insatiable appetite after hiking all day. Like other spaces here, this saloon underwent a major renovation and upgrade in 2018 and now shows beautifully.

The Inn Dining Room – not yet reviewed.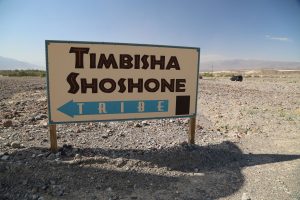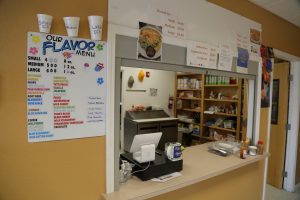 Timbisha Village Fry Bread Tacos and Shave Ice is located in the Recreation Hall on the Timbisha Shoshone Reservation on the southern edge of Furnace Creek in the (a short drive from the Furnace Creek General of flavors for the ice!).
Relaxed communal type seating at long tables – this is one of the cheaper food options you can find in Death Valley. Visitors can drive and park to the Recreation Hall but can not enter the reservation without prior ok from the tribal council.