CAMPING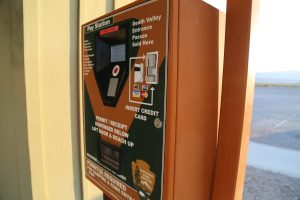 Death Valley National Park features a variety of campgrounds, some quite large like the 1000+ Sunset campground near Furnace creek (only open in the winter months), to just a few camp spaces. Many campgrounds close for the summer season – approximately mid April through mid October. For the campgrounds that do stay open in the summer months, often the prices will be cheaper.
We have often found campgrounds closed in the park due to upgrades – check the Death Valley National Park Service Campground Page for the latest updates. Campgrounds currently range in price from free to around $36/site/night/hookup.
Camping passes can be obtained from one of the kiosks located near all the primary campgrounds. These machines accept credit cards and will print a receipt listing the date(s) that you paid for. Flexible stakes are anchored next to each camp spot – and usually contain a metal clip where you can fasten your receipt to let others know that you have reserved a particular spot. These clips work remarkably well even in strong wind and dust storms (proven by yours truly multiple times).
Fiddler's Campground is located near and behind the gas station at Furnace Creek. It is not managed by the National Park Service. It is reasonably priced; guests who stay here also are given access to the swimming pool (on the grounds of the Furnace Creek Ranch and a bit of a walk from the campground), showers and several of the sports courts including for tennis, basketball and shuffleboard.
Within a short drive of the restaurants at Furnace Creek. Also located right next to the lowest golf course in the world. Popular with RV's and trailers. No water, sewer or electrical hookups.
Furnace Creek Campground is one of the best campgrounds in Death Valley – it is a 136 site campground located at -196 feet below sea level! Where else in the western hemisphere can you sleep below sea level! Note that there are only 18 spaces with full hookups at this campground.
You need reservations from the middle of October to the middle of April at $22/space. If you camp at this campground during the middle of the summer on a weekday, June-August, expect you will be either camping alone or with not more than 1 or 2 other parties. When temperatures get above 120 and hover around 100 at night, you just don't find that many people camping outdoors in Death Valley! There are many trees at this campground – under which you can find shade.
Note, that since the sun rises from the east try to find camp spots located on the western side of the trees. There are bathrooms here and flush toilets as well as garbage bins, nice movable aluminum tables raised BBQ's and fire pits in the ground. Note that if you camp here in the summer during some of the 120+ days and temps around 100 at night, you will find that the running water in the bathrooms is extremely hot – and often is so warm that its painful to put on your skin. Those that do camp here in the middle of the summer months will usually rise around 5am and be out of the campground at a quarter to 6 in the morning.
Note that there is an annoying noise in the distance coming from the Furnace Creek Resort at night – probably some sort of air conditioning unit or generator. Some tips to consider for July camping.
Wetting your clothes at night seems to help keep one cooler than taking all your clothes off. Its easier to sleep outside of a tent rather than inside. Try not to sleep on a plastic mattress as you will just be sleeping in pools of water by morning. Consider drinking at least 2 liters of fluid overnight as you will most likely be greatly perspiring even as you sleep or try to sleep.
There are several other campgrounds scattered throughout the park and of course there are back country camping options. If you plan on camping in the back country be sure to pick up your free permit at any of the ranger stations or visitor centers. If you are here in the summer, a good option for cooler camping is at the Wildrose Campground (cooler because it is at high elevation on the slopes approaching Telescope Peak).
Mahogany Flat Campground is located slightly above 8,100 feet and is the highest campground in all of Death Valley National Park. During the winter the road is typically closed at the gate near the Wildrose Charcoal Kilns. One would have to hike in all their gear and be prepared to sleep on snow. This is about a 1.6 mile hike – up a significant grade at times.
This campground features 10 camp sites – no fresh water is available on site. A convenient place to camp if planning to hike to the top of Telescope Peak as the one-way 7 mile trail head begins right across from this campground. No charge for camping here and no reservations needed.
Mesquite Campground is located about 5 miles from Scotty's Castle in the northern part of the park. It is open all year and is $15/site. Its located at about 1800 feet so it is slightly cooler in the summer months than the valley floor. But still blazing hot at times! Located down a graded dirt road.

Stovepipe Wells Campground can accommodate up to 200 sites – it is located in the flats (no shade) on the other side of the road from the actual Stovepipe hotel. Its open from mid October through April and the cost is $14/site. There are hookups for RV's here also. One can walk to the bathroom located somewhat in the center – or there is also several bathrooms a bit further on the east side of the General Store. One can also walk to the Saloon and Restaurant across the highway.
Sunset Campground is essentially a large dirt slightly sloped rock space for both tents, vehicles and RV's. It is within a very short drive of Furnace Creek but there isn't much in the way of shade here. Makes a good winter campground if the other more desirable nearby campgrounds are full. Closed in the summer – IE you don't want to camp here in the blazing sun! Also has an overflow section that may or may not be opened depending on demand. Always closed in the summer.
Texas Springs – is located east, nearby and slightly higher in elevation than Furnace Creek. The elevation gain is not huge so that it will make a great difference in temperature. This clean, modern campground has pay phones, bathrooms with running water and many camp spots. The back of the campground is nestled against the nearby hills. If there is availability at the Furnace Creek Ranch – shower passes may be purchased there.
This is a more desirable campground then its neighbor, Sunset as this campground has trees, is slightly higher in elevation and as the warm embrace of nearby hills. Always closed in the summer.
Thorndike Campground is perched at the edge of the rough road leading up to the Telescope Peak Trailhead. Located at about 7,400 feet this rustic site has only 6 campsites. But there is a permanent restroom on site (not flush). 4wd vehicles recommended although if one is careful they can drive a 2wd vehicle in here during the dry season (the road gets a bit steep around this campground as it continues its climb up to its terminus another mile or so beyond this campground.
Easy access due to its location right next to the dirt road. The road is usually closed during the winter months due to snow; if one plans to camp here then, be prepared to carry all your gear in from near Wildrose Charcoal Kilns (about a 3/4 of a mile hike). No reservations needed, no cost and no running water on site. First come first serve.
Wildrose Campground is located just off the road that leads to the Charcoal Kilns and further to the trailhead to Telescope Peak. This campground is at an elevation of approximately 4,200 feet. Features thirty sites, no reservation needed and is accessible via a paved road the entire way.
Due to it's elevation its cooler here then the lower climes – it can get very cold here in the winter months during the night and sometimes during the day. The cold can be exacerbated by the wind that commonly blows through this canyon.
LODGING

Panamint Springs Resort
is located about 35 minutes driving from Stovepipe Wells. This privately owned resort (founded in 1937) exists because of the nearby Darwin Falls – the local springs stopped running in the 1940's after an earthquake – and 75% water rights was secured from Darwin Falls (the other 25% goes to the tiny community of Darwin) – the water is piped in to Panamint Springs. This resort is not located on the grid – rather is powered by generator. At one point they tried solar but weren't able to successfully keep the batteries cool.
A good deal cooler then the floor of Death Valley due to its higher elevation at 2000 feet (often 10-15 degrees cooler then either Stovepipe Wells or Furnace Creek). Offers a motel with several cottages and cabins, camping sites including RV hookups, a restaurant and bar, a gas station, ATM and a very well-stocked general store. Known for their milkshakes, expensive, but from personal experience, are delicious. The Panamint Springs store sells some products that city folk like to drink including coconut water. Also features a mini take-or-leave a book library.
A roughly hewn dirt strip backs up right next to the store and sometimes its not uncommon to see light airplanes landing here and coasting right up, almost to the edge of the parking lot.
For those not staying here, shower passes can be purchased directly from the store. Visit: www.panamintsprings.com
Stovepipe Wells Village Motel is located in the Stovepipe Wells Village. Stovepipe Wells is about a 30 minutes drive to Furnace Creek. This is a basic comfortable motel with a small pool located on site. Open year round. No telephones in any of the rooms. A small gift shop is located next to the hotel registration. Accommodation ranges from basic to deluxe. A restaurant and bar are located on site.
You won't find much food selection at Stovepipe Wells (other than a few microwavable items at the Stovepipe Wells General Store which is the closest "civilization" to the Furnace Creek area at 17 miles away). And the Tollroad Restaurant with it's adjoining saloon.
To make reservations call: (760) 786-2387 or visit their website at: www.deathvalleyhotels.com
The Inn at Death Valley formerly known as the Furnace Creek Resort, is a beautiful 4-diamond resort nestled into the hills just above Furnace Creek. Great rooms, including a number of stand alone casitas, views, a spring-fed pool and attention to detail make this Death Valley's superior resort accommodation. Unlike most of California, Death Valley's "summer" season is in the historical winter season. As a result, this resort is open from about mid October until early May and closed the rest of the year.
The resort opened in 1927 with just 12 rooms – due to demand, this was later expanded to the current 66 rooms available today. Interestingly enough, architect Albert C. Martin designed the hotel (he also designed the still prominent Los Angeles City Hall). Over the years a number of Hollywood stars would visit including Greta Garbo and Clark Gable.
The Ranch at Death Valley is located on the grounds of the Furnace Creek – this is the year round hub of activity in all of Death Valley. There are several restaurants here, the world's lowest golf course (literally), a motel, a swimming pool (a constant 82 degrees year round!), a Borax & mining related museum, post office, 3000+ foot airstrip and several other amenities. Rooms range from Cabins to Deluxe to Park side accommodations. As expected, all rooms have air conditioning (and from personal experience, work wonderfully even at 125 degrees plus)!
Consider this place, Death Valley's oasis! This family oriented motel is open all year round. The swimming pool is spring fed. This is a wonderful location to relax and often meet families from around the world. If you are not a guest you can check in at the reception for paid pool use only. The air conditioning works well even during high summer temperatures – if you are in a room where the AC is not working well – request to change. Fast wifi is included in all the rooms and is available for a fee for non paying guests.
Several restaurants are available on the "ranch". The Forty Niner Cafe serves up tasty fairly inexpensive American style cuisine (Breakfast, Lunch & Dinner). The next door Corkscrew Saloon has a full bar and sit down tables. If you are looking for late night snacks, this is your only dining option after 9:30pm – not cheap but at least there is an option for food.
The Wrangler Restaurant, next door – offers a popular Buffet breakfast and lunch. Pay with the receptionist as you enter and then you are free to "pig out"!
General Store at Furnace Creek Ranch offers a plethora of Death Valley souvenirs and is located directly on your left (towards the back of the building past the restaurants) once entering the grounds. Want to hear languages from around the world – visit this store during a busy weekend. Also vegetables, other groceries and ice cream is available. On several occasions we've noticed frayed tensions on the boardwalk in front of the saloon with regards to smokers and non smokers. These tensions seem to be exacerbated the hotter the day. There are ash trays outside in front of the saloon but no signs mentioning "no smoking".
Another highlight of Furnace Creek which most visitors miss seeing is the Xanterra Solar facility towards the back of the ranch. At the time of installation in late 2007 144 huge palm trees were uprooted and then moved to a new nearby location. This was a major job involving cranes. Today the solar panels cover almost 4 acres and is one of the largest privately held solar stations in the USA. They tilt with the sun for optimum performance; Death Valley is an ideal location because it is one of the sunniest spots on the planet. You can see the cells from near the golf course. Sometimes if you show interest in the solar facility at the Borax Museum, they can call over to the cell facility to see if there is someone to show you around and provide additional information.
For detailed information regarding both The Inn at Death Valley and The Ranch at Death Valley, collectively referred to as The Oasis at Death Valley, visit: www.oasisatdeathvalley.com/lodging