Columbia is a small mining town in the heart of California's gold country. This town is located on Highway 49 at the intersection of Parrotts Ferry Road and also Big Hill Road. Columbia is between an arm of New Melones Dam and the town of Sonora. This town is well worth a visit.
In one month in 1850 after gold was discovered nearby, Columbia grew by 5000 people. In 20 years between 1850 and 1870 over 87 million in gold was extracted from the nearby placer mines. At the historic theatre in Columbia the play, Paint Your Wagon is often shown. Paint Your Wagon is a classic gold mining story that is somewhat modeled after Columbia's own history.
In the 1940's the Parks and Rec department purchased most of the downtown district and restored many of the ancient mining buildings. At the time these buildings were badly in the need of repair and were in disarray. Today admission is free to the downtown area and is blocked off to traffic (pedestrians only). Make sure you pick up one of the walking tour brochures. This brochure is similar to the one put out by Coulterville's Chamber of Commerce. It lists buildings by number and then provides detailed descriptions of each building's history.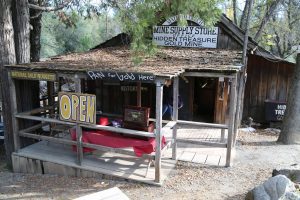 Among the attractions are the 1860's brick jail, the hand pumped fire engine, a restored blacksmith shop, and the Fallon Theatre. Docent guided tours are also available for a small donation. The Hidden Treasure Gold Mine offers tours through their 800 foot mine tunnel. Guided tours leave from the Matelot Gold Mine store. Good for the kids. The tour office opens at 10am and tours begin at 10:30am.
The mine temperature is 54 degrees F. General tour admission is $12. For more information call Phone Number (209) 532-9693.
Columbia Candle and Soap works is worth a visit. They are located at 22719 Parrotts Ferry Road in the old feed store. This store is a great place to watch candles being made.
Even though this is a state park it is still an active community; people live here and the town contains several hotels and historic restaurants. I always enjoy eating at one of the nicer restaurants in town and then catching a play at Fallon Theatre operated by the Sierra Repertory. Admission usually runs $28 to $50 per person. Students with an I.D. can get in at a discounted rate.
Important phone numbers: For play information call (209) 532-4644. For stagecoach or horseback rides call (209) 532-0663 and for the gold mine tour call (209) 532-9693.
Columbia Chamber of Commerce: www.columbiacalifornia.com